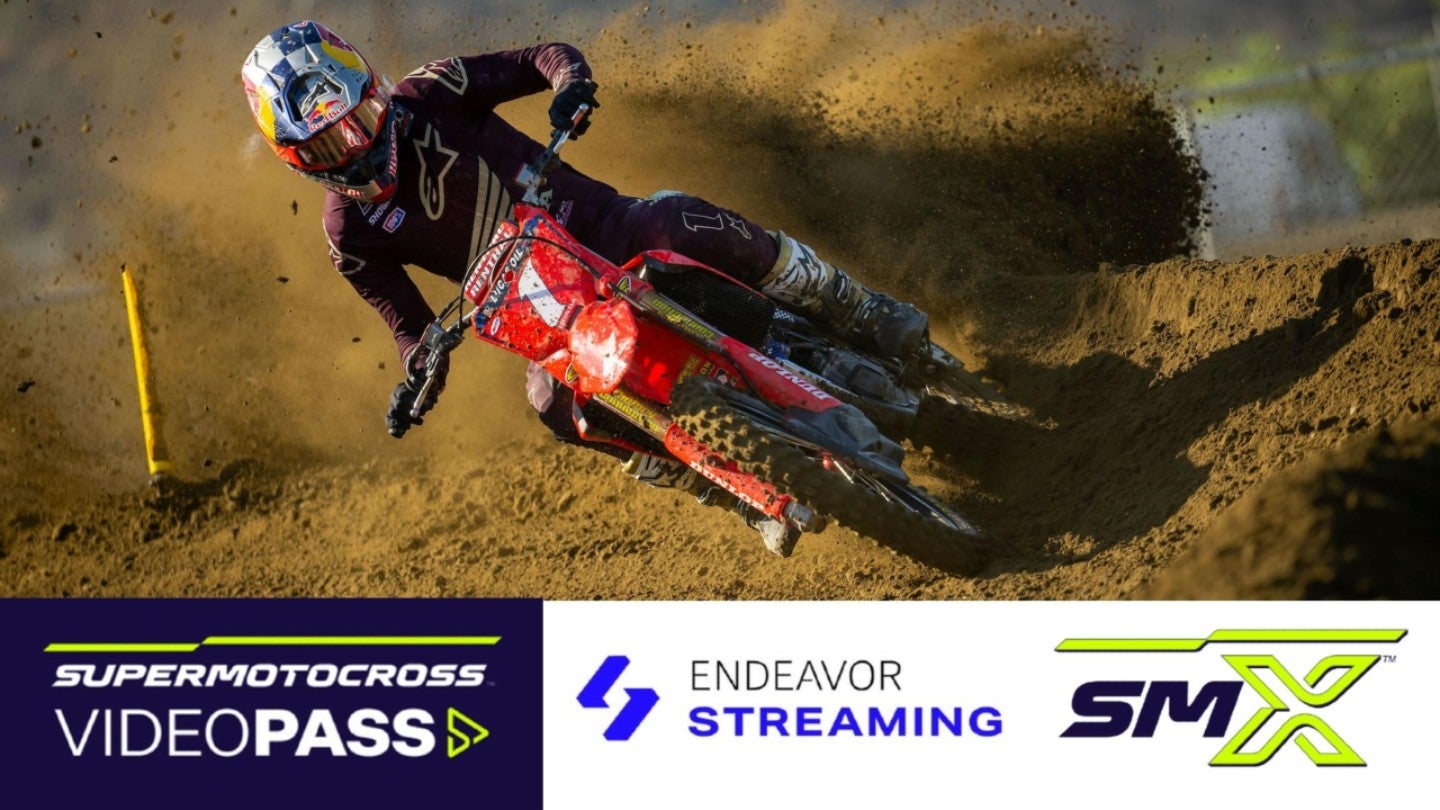 The SuperMotocross League, the newly established league unifying the off-road motorcycle racing series' SuperMotocross Championship and Pro Motocross Championship, has partnered with Endeavor Streaming, a subsidiary of the international entertainment agency giant, to create a new global streaming service to house content from both competitions.
The launch of SuperMotocross Video Pass next month will see fans outside the US able to watch all 17 Supercross and Pro Motocross rounds, as well as the newly formed SuperMotocross World Championship, which will be staged at Los Angeles Memorial Coliseum on October 14, 2023.
The SuperMotocross Video Pass service includes live and on-demand coverage of all races, the Race Day Live pre-show, 250 and 450 class race highlights, and archived programming dating back to 2010, for $159.99 per season.
The pass is available outside the US via the web and will be rolled out through apps on IOS, Android, Amazon Fire, Roku, and Samsung CTV ahead of the 2023 Supercross season.
Stephen Yaros, senior vice president of global media and Supercross for parent company Feld Entertainment, said: "With the creation of the SuperMotocross World Championship we anticipate the international demand for our sport will be greater than ever before.
"Working with an industry leader like Endeavor Streaming, we want to ensure that fans have the best and most reliable streaming service available.
The SuperMotocross Video Pass will give fans premium access to the sport's most elite athletes as they compete for the ultimate World Championship title."
Next year will mark the first year of the SuperMotocross League, which unifies the stadium-based Supercross and outdoor Pro Motocross championships. It will also feature the inaugural edition of the season-ending SuperMotocross World Championship where the top racers in the world will compete for a title in a new style of racing that includes both indoor and outdoor courses.
Earlier this month, US streaming service Peacock announced it would stream live coverage of all Supercross and Pro Motocross races in the US as part of a multi-year media rights extension between NBC Sports and promoter Feld Motor Sports.
The deal will see the service air a record 31 races, as well as qualifying, heats, and full-event replays across both series.
As part of the deal, select races will also air live on the NBC network and cable channel USA Network, while CNBC will air a next-day encore for all 31 races across both series.
The 2023 SuperMotocross Championship, which involves off-road motorcycles on a constructed dirt track inside a stadium, begins on January 7, 2023, with a season-opening event at Angel Stadium, California
Meanwhile, the 2023 Pro Motocross outdoor series begins with the Fox Raceway national in Pala, California on May 27.