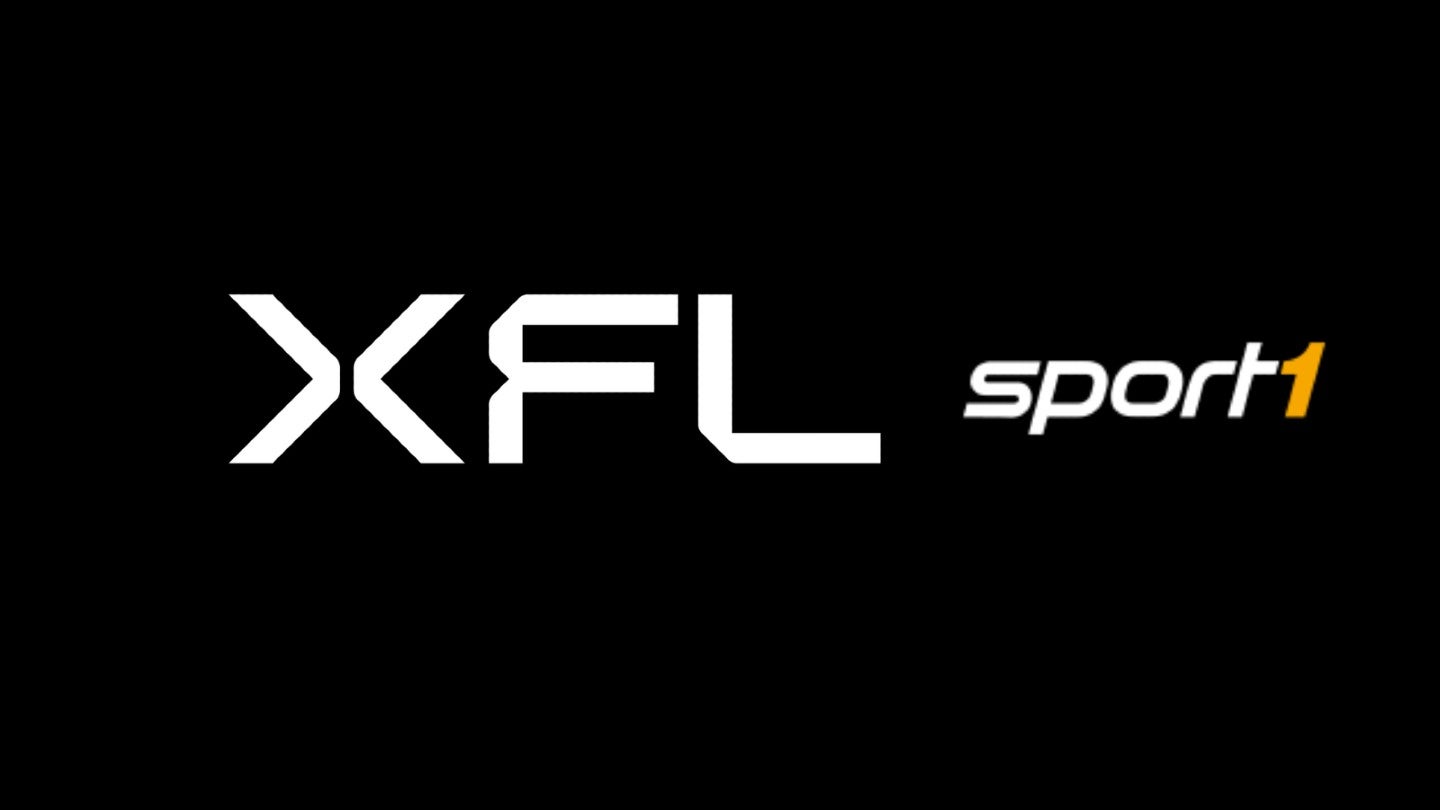 German sports broadcaster Sport1 has acquired rights to the XFL, the US-based American football league set to return next month after a three-year hiatus, in Germany, Austria, and Switzerland for the next two years.
Under the agreement, Sport1 will cover 43 games, with a minimum of 10 games aired on its free-to-air Sport1 linear channel and its website Sport1.de, with the rest of the games locked behind a paywall on its Sport1+ pay-TV channel.
Highlights and news coverage throughout the seasons will be shown across Sport1's various social media channels.
The rebooted XFL will begin on February 18, six days after the 2022 NFL season concludes with Super Bowl LVII in Glendale, Arizona.
Two games will be played each Saturday and Sunday before the XFL playoffs, which start on April 29. The season-ending Championship will be held on May 13.
Jay Rothman, XFL senior vice president of broadcast operations, said: "We have been working for months to develop a live event broadcast that allows our fans to immerse themselves in the action and on-screen talent is absolutely critical to bring the energy and excitement from the field through the screens of our fans.
"We're thrilled with the team and behind-the-scenes crew that has been assembled and we're looking forward to kick off in less than a month."
American football is enjoying a popularity boom in Germany following the National Football League (NFL) staging its first regular season game in Munich last year. Such was the interest in attending, the league said it received three million ticket requests after an instant sell-out earlier that year.
A crowd of 69,811 watched the Tampa Bay Buccaneers beat the Seattle Seahawks 21-16 at the Allianz Arena. Almost immediately after the match, the league said it would likely stage two regular season games this year.
German broadcaster ProSieben generated a record 2.7 million viewers, making it the most-watched NFL regular season game ever in the country, behind only the last three Super Bowls as the most-watched game ever. DAZN Germany said the game was the second most-watched NFL broadcast on their streaming platform after the Super Bowl.
The NFL said its German social media channels during the week leading up to the game generated 20 million video views, up 360% compared to an average week, as well as 3.4 million fan interactions, which represents a 717% rise compared to an average week. The channels also gained 30,000 followers.
Annika Rody, director of media rights at Sport1, said: "The great demand for American football in the German market continues unabated due to the NFL.
"We want to supply the football-interested public with exclusive football content on our sports platform after the end of the NFL season. We will put the XFL in the spotlight through live games, highlights, and stories around the league deliberately appealing to younger fans that crave this content."
The eight-team XFL will be broadcast domestically across the ABC, ESPN, and FX networks through a four-year rights deal with US media giant Disney, their parent company.
In November, the league announced the names and logos of the eight teams that will take to the field, while, Under Armour was unveiled as its official uniform partner.
The XFL has been working towards a relaunch since it was bought by a group including US investment firm Redbird Capital Partners, US celebrity Dwayne Johnson, and his ex-wife Dany Garcia in 2020. The $15-million deal included all the intellectual property such as team names and colors.
WWE majority owner Vince McMahon first relaunched the league in February 2020 – 19 years after its first and only other season in 2001 – but was suspended five weeks into its 10-week season due to the coronavirus pandemic and filed for bankruptcy.
Meanwhile, the XFL has announced a partnership with sports technology firm Catapult to capture the performance data of players via its video and wearable solutions.
The agreement will see Catapult's video technology used by all eight teams, coaches, and staff.
Catapult's MatchTracker video technology, which became part of the company's suite of products through its acquisition of SBG Sports Software last year, will be used to capture match data such as team strategies as well as some individual attributes, while its Vector wearables will capture additional individual performance and physiological data.
Data captured will then be visualized using Catapult's Focus video analysis software.
Using the technology, the XFL will be able to establish baseline metrics for players, which will help determine the safest and most effective way to prevent and rehabilitate injuries. Players will also have complete access to their Catapult data, allowing them to optimize their training based on real-time and post-session insights.
Among the other teams around the world that use or have used Catapult's technologies are all 32 of those in American football's NFL, various clubs in English soccer's top-tier Premier League, some from Major League Rugby in the US, and England Netball.
XFL president Russ Brandon said: "Catapult's cutting-edge technology and football-specific insights will allow our coaches and training staff to monitor player safety more precisely and accurately than ever before.
"Catapult's data capturing capabilities will drive performance gains for players, reducing their chances of injury, and help inform our League's return to play protocols by analyzing baseline player load metrics. The XFL is committed to exploring innovative football technology that can advance the game of football for players, coaches, and fans alike."