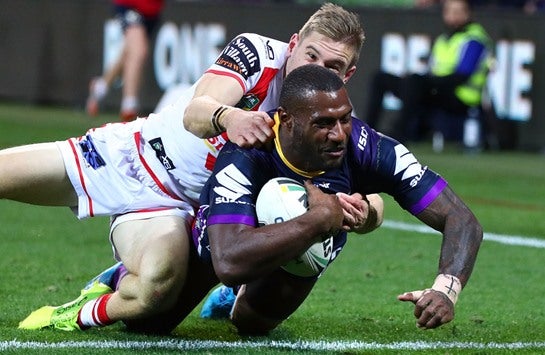 Sky New Zealand, the pay-television broadcaster, has extended its exclusive rights deal for Australia's National Rugby League until the end of the 2027 season.
The broadcaster agreed an early renewal with the Australian Rugby League Commission, the sport's governing body, as its existing agreement was not due to expire until the end of the 2022 season.
Under the five-year extension, State of Origin fixtures and a selection of 'premium' NRL matches will be available on free-to-air television in New Zealand for the first time.
Selected games in the NRL's Anzac round and Magic round will also be shown for free
Earlier this month, a game from his season's State of Origin between Queensland and New South Wales was shown live on free-to-air television in New Zealand for the first time in 19 years via commercial channel Three.
Three, owned by US media giant Discovery and operated by Newshub, struck a sub-licensing deal with Sky to simultaneously broadcast the game.
However, the remainder of the series will only be on Sky, including Sunday's game two at Brisbane's Suncorp Stadium and the third and final encounter at Stadium Australia in Sydney.
The NRL features the New Zealand Warriors as the sole representative from the country.
Sky moved quickly to renew rights to one of its most important properties after Spark Sport, the streaming platform, last week secured exclusive domestic rights in New Zealand to this year's Rugby League World Cup, and there were reports that it was also targeting the NRL.
Sky has held exclusive live rights to the NRL and State of Origin since 2016.
The new agreement with ensures live coverage of every match in the NRL and the women's NRLW.
In addition, the ARL Commission and Sky will work closely alongside New Zealand Rugby League to co-invest in initiatives to grow the sport.
NRL chief executive Andrew Abdo, said today: "This is an exciting deal for rugby league fans in New Zealand and highlights Sky NZ's ongoing commitment to growing our game. Sky's increased commitment for the duration of this deal will assist in expanding our reach in New Zealand, including coverage of our emerging development competitions.
"There's around one million Kiwis who follow rugby league and partnerships like this play a vital role in growing our fan base and ensuring even more coverage.
"This deal also highlights the importance of the New Zealand Warriors. Despite the Warriors not having played in Auckland for over a year [because of Covid-19 restrictions], Sky was committed to not only extending their deal, but significantly broadening it."
Sophie Moloney, Sky New Zealand chief executive, added: "Through our partnership we have committed to working even more closely with NRL and NZRL to grow the game of rugby league in New Zealand.
"We'll do everything we can to attract and develop the next generation of league fans and players. We also commit to making some important matches available free-to-access."