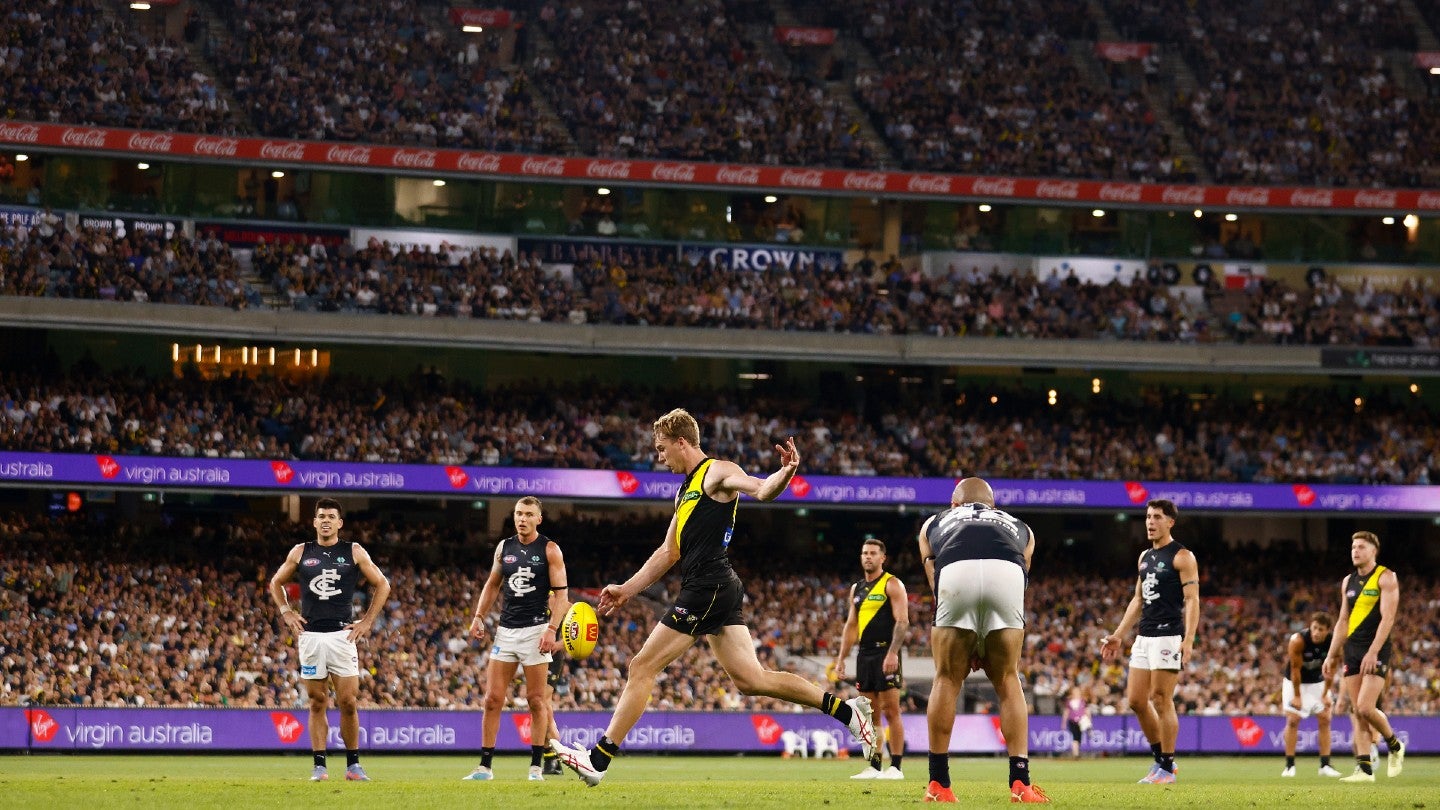 The opening round of Australian football's AFL season delivered strong audiences for domestic rightsholder Seven Network as more than 4.4 million viewers tuned in to the commercial broadcaster's lineup of matches.
The league's opening match between Richmond and Carlton last Thursday (March 16) was watched by 2.14 million viewers nationally across Seven's linear channel and 7mate streaming service. The game peaked at 1.7 million viewers nationally, with the match averaging 753,000 viewers, up 13% on last year's season-opening match.
The next match between Geelong Cats and Collingwood on March 17 peaked at 980,000 viewers and drew an average national audience of 728,000 – up 24% on the 2022 season average.
The network's Saturday night (March 18) coverage of Melbourne FC's clash with the Western Bulldog drew a peak audience of 848,000 viewers, with an average national audience of 549,000, while its Sunday afternoon (March 19) broadcast of Essendon's clash with Hawthorn peaked at 883,000 viewers, with an average national audience of 499,000.
The league said the opening round was also the third-highest attended round in history, with 392,248 fans attending up to the nine games that took place across the country.
The AFL is currently broadcast in Australia by Foxtel and Seven as part of a long-term agreement reportedly worth AUD473 million ($338 million) per season until 2024.
Foxtel, which has broadcast the AFL since 2002, has the rights to five and a half matches per round, which it shows on its linear channels and streaming platform Kayo, while Seven shows three and a half games on its linear channel. Seven also has exclusive television rights to the AFL Grand Final.
Telecoms operator Telstra held the streaming rights for the AFL until 2021 when it was taken over by Foxtel's Kayo.
Last year, Seven and Foxtel struck a new seven-year deal with the AFL that will span the 2025 to 2030 seasons.
The new deal, worth a total AUD4.5 billion ($3 billion) or AUD643 million per season, is a significant uplift on the $473 million per season under the terms of the current two-year deal with Foxtel and Seven.
Under the extended deals, Seven and its 7Plus streaming platform will provide live and free-to-air coverage of the AFL on Thursday nights, Friday nights, selected Saturday nights, and Sunday afternoons, as well as 'marquee' matches, the Brownlow Medal, all AFL Finals, and the AFL Grand Final.
In addition, at least 30 home and away games from the women's AFL (AFLW), the AFLW finals, and the AFLW Grand Final will be aired on Seven and 7Plus.
Meanwhile, All AFL and AFLW home and away games and finals (excluding the AFL Grand Final) will be broadcast on Foxtel and its Kayo streaming platform, along with all pre-season matches.
Foxtel and Kayo will also exclusively broadcast a 'Super Saturday' of games in each of the first eight rounds of the season (except Anzac Eve, Anzac Day, and Dreamtime if they were to fall on a Saturday), in addition to all AFL events including the AFL draft and awards nights (excluding the Brownlow).
The AFL will retain control of the timing of the Grand Final.
Image: Daniel Pockett/Getty Images