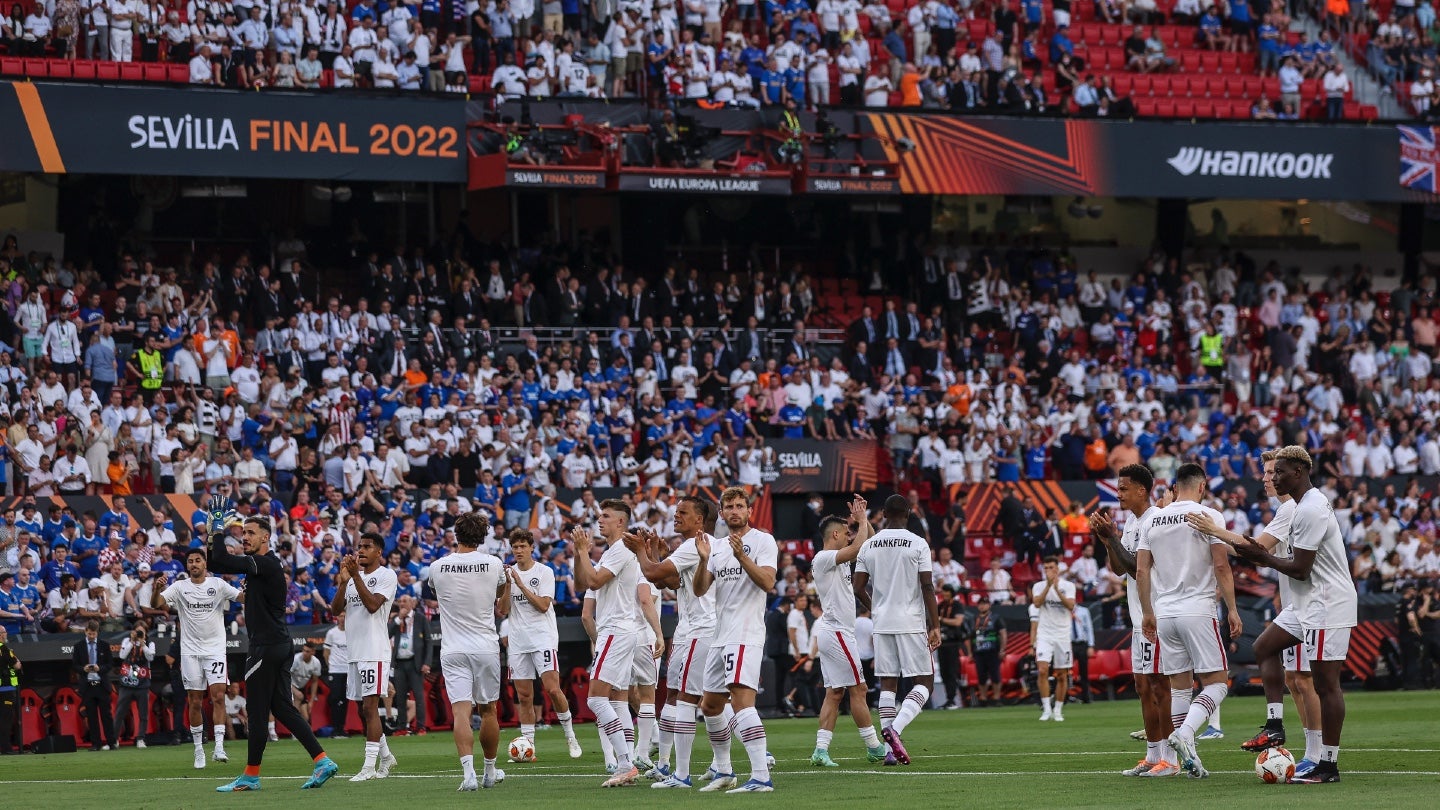 RTL, the German commercial broadcaster, has retained rights to the UEFA Europa League and Europa Conference League club competitions for the 2024-27 cycle.
The network announced the exclusive extension for the second- and third-tier European soccer competitions with the UEFA governing body yesterday (March 8), covering the three seasons from 2024-25 onwards.
Action will continue to be shown by the free-to-air (FTA) channels RTL and Nitro, as well as by the RTL+ streaming service.
RTL has covered the Europa League FTA in Germany since 2018 and the Conference League since the competition's inception at the beginning of 2021-22.
The last deal between UEFA and RTL, through which the broadcaster extended Europa League rights and picked up Conference League games for the first time, was struck in January 2020.
UEFA began its tender process to find broadcasters for the 2024-27 cycle of its club competitions in Germany, in mid-October, with a deadline for bids of November 14. Team Marketing, UEFA's partner agency, has handled the process.
Top-tier UEFA Champions League action during that three-year cycle will be shown in Germany by a combination of Amazon Prime Video and global subscription service DAZN. A joint deal to that effect was announced in early December.
Stephan Schmitter, RTL Germany's chief content officer, said: "We are very pleased to continue the extraordinarily successful partnership with UEFA and to continue to give soccer the widest possible stage on our channels and platforms in the years to come. Only with us can fans experience top European soccer for free on free TV and, thanks to the new game mode, more games than ever before."
Last May, Eintracht Frankfurt's victory in the 2021-22 Europa League final against Rangers was the "most successful TV show of 2022 on RTL," bringing in an audience of 9.05 million viewers, according to the broadcaster.
From 2024-25 onwards, there will be more group-stage games across both the Europa League and the Conference League, as a new UEFA club soccer format featuring more teams and fixtures across all three continental competitions comes into effect.
In Austria, international soccer content portal OneFootball agreed a distribution deal late last month with ServusTV, the German-language FTA broadcaster, to provide highlights of the three UEFA club competitions until the end of the ongoing season.
All highlights will be in German commentary and will be available via the OneFootball app, on desktop, and on the OneFootball TV platform.
From 2024-25, UEFA action in Austria will be shown by a combination of Sky, Puls 4, and Canal Plus.
In Switzerland, meanwhile, Europa League and Conference League fixtures during the 2024-27 cycle will be shown through FTA broadcaster SRG, and pay-TV's Blue (formerly Teleclub).
Image: Maja Hitij/Getty Images