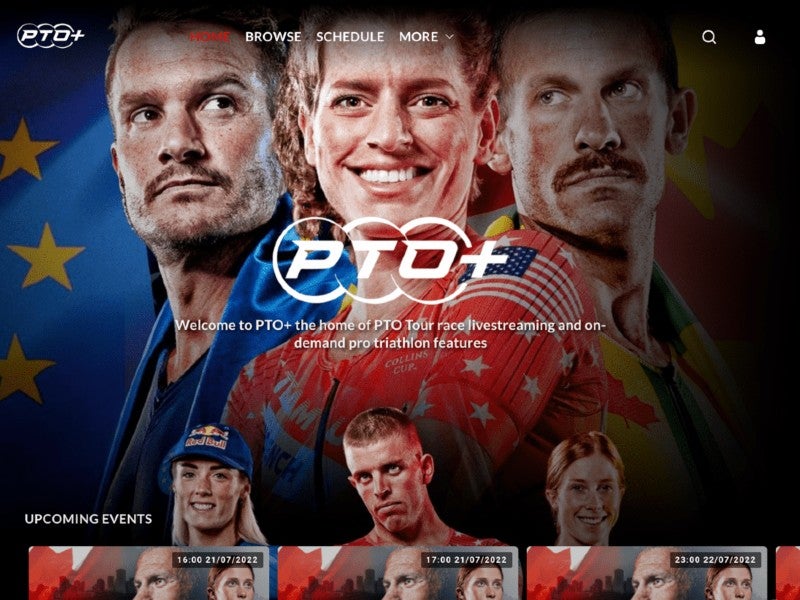 The athlete-backed Professional Triathletes Organization (PTO) has teamed up with Endeavor Streaming, a subsidiary of the international entertainment agency giant, to launch a new over-the-top platform ahead of its inaugural Canadian Open this weekend (July 23 and 24).
The launch of the PTO+ streaming service comes a year after the PTO created a pop-up streaming platform for its flagship Collins Cup event, with the organization now entering a multi-year partnership with Endeavor streaming.
The partnership also builds on Endeavor's established relationship with the PTO through its IMG agency, which helps with media rights distribution.
The PTO said the streaming service will go live with its inaugural PTO Canadian Open in Edmonton this weekend and will be free to view after users register.
The new service will also stream the rest of the 2022 PTO Tour, which comprises the Collins Cup in Slovakia (August 20) and the US PTO Open in Texas (September 17 and 18), as well as preview shows, highlights, live media events, and documentaries.
Across next year and 2024, there are plans for the PTO Tour to be expanded by adding a European Open and an Asian Open.
Tim Godfrey, chief marketing officer at the PTO, said: "This is another important milestone for the PTO as we promote our PTO Tour events and athlete storytelling to sports fans around the world.
"The PTO will leverage Endeavor Streaming's end-to-end D2C capabilities with branded front-end device application, video streaming capabilities, and subscriber management tooling to deliver a dedicated triathlon content destination, so the fans can follow all the action."
Warner Bros. Discovery (WBD) will stream the 2022 PTO Tour and shoulder content outside Europe and the Indian subcontinent after the broadcaster struck a three-year rights deal with the PTO earlier this month (July).
Under that deal, WBD holds exclusive live rights to PTO events in 63 markets across Europe and the Indian subcontinent, as well as non-exclusive live rights in Cambodia, Hong Kong, Indonesia, Malaysia, Mongolia, Myanmar, Papua New Guinea, the Philippines, South Korea, Taiwan, and Thailand.
The deal built on Discovery's coverage of the inaugural Collins Cup triathlon event last year, the PTO competition which sees three teams – Europe, USA, and International – take part.
Pete Bellamy, senior vice president global head of sports and international M&E at Endeavor Streaming, said: "We are pleased to partner with PTO who have a keen eye for delivering impactful content, and who are in an exciting phase of their digital evolution.
"PTO+ represents a new and dedicated home for viewing triathlons, including original content catered to fans around the globe. We're excited to see Endeavor Streaming support and embrace PTO's ambition to connect with fans and deliver their live events this summer and beyond."
In October, Endeavor Streaming partnered with the Austrian Ski Federation to launch a new OTT platform, the SkiWorldCup.Live service, which delivers a variety of FIS World Cup ski and snow sports content across, freestyle, snowboard, Nordic combined, and ski jumping disciplines taking place in Austria.
It has also provided an OTT service for the International Cricket Council and offers a variety of prominent live sports events and previous services in multiple markets, including WWE's WrestleMania and WWE Network, UFC shows and the UFC Fight Pass, Glory kickboxing events, NBA League Pass, Univision Now and PrendeTV.