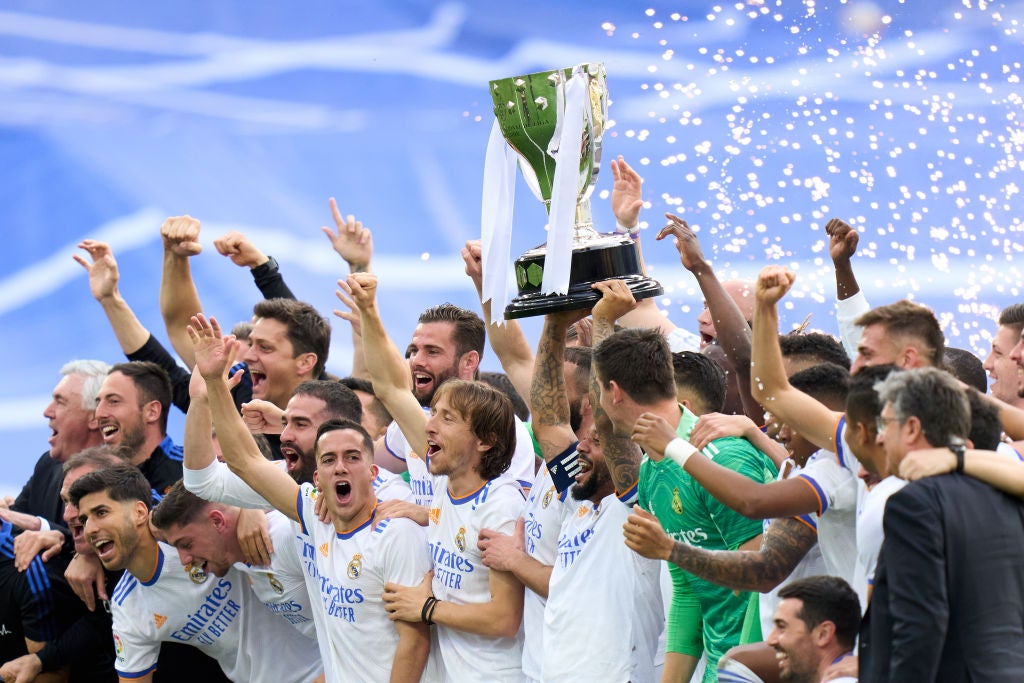 Premier Sports, the pay-television operator, will remain the home of LaLiga in the UK and Ireland after renewing its exclusive broadcast rights deal for the top Spanish soccer league for another three years.
The agreement, announced today (June 7), will cover the 2022-23, 2023-24, and 2024-25 seasons.
Additionally, Premier Sports has confirmed that LaLigaTV, the competition's 24/7 channel offering all live matches, will remain available on Amazon Prime Video Channels and the Premier Sports Player over-the-top streaming service.
Premier Sports first secured LaLiga rights in the 2019-20 season under a three-year agreement.
Melcior Soler, audiovisual director at LaLiga, said: "These past three years have seen LaLiga reach British and Irish viewers via a unique distribution strategy forged in partnership with Premier Sports.
"We look forward to continuing to innovate in our offering to the UK and Ireland markets, allowing viewers everywhere to enjoy the best that Spanish football has to offer."
As part of the extension, matches will continue to be shown live across the two pay Premier Sports channels, with some games and a weekly highlights program to be carried on the free-to-air Freesports channel.
Through the initial deal with Premier Sports, which is carried on the Sky platform, LaLiga became the first soccer league to have a 24/7 dedicated channel in the UK and Ireland carrying all live games via all major TV platforms.
LaLigaTV was made available by Premier Sports as part of its channel bundle on the Premier Player and on the Sky TV platform.
Fans also had the option to add LaLigaTV as a standalone service via Premier Sports.
The agreement with the pay-TV operator in 2019 ended a frustrating period for LaLiga as it struggled to find a permanent broadcast partner in the UK.
LaLiga did a short-term deal with ITV, the UK commercial broadcaster, covering the first three weeks of the 2019-20 season before Premier Sports took on permanent rights from the fourth week of that campaign.
The brief ITV deal came after LaLiga canceled its tender for media rights in the UK and Ireland for 2019-20 to 2021-22, claiming the offers did not meet its guide price.
In May 2018, international subscription broadcaster Eleven Sports secured exclusive rights in the UK and Ireland to LaLiga in a three-year deal, dealing a blow to Sky, the pay-TV broadcaster, which had held rights for over 20 years but was not willing to match its previous outlay of €22 million per season.
However, by the end of 2018, having failed to strike carriage deals with the likes of Sky, BT Sport, and Virgin Media, Eleven Sports repositioned itself as an OTT platform in that market, retaining digital rights only to LaLiga for the remainder of the 2018-19 season, streaming every game.
LaLiga subsequently sold pay-TV rights to Premier Sports, covering four games per week until the end of that season, and then a free-to-air package of a weekly game and midweek highlights program to ITV4 which effectively ended Eleven Sports' ill-fated stint in the UK market.
Premier Sports recently acquired a package of broadcast rights to UEFA national team soccer competitions in the UK featuring the 'home nations' of Scotland, Northern Ireland, and Wales, as well as the Republic of Ireland from 2022 to 2024.
The two-year agreement includes rights to show UEFA Nations League matches and European qualifiers for Euro 2024.
Richard Sweeney, chief executive of Premier Sports, said: "We're pleased to extend our relationship with LaLiga until 2025. Since 2019, as Premier Sports and LaLiga have worked hand-in-hand to actively promote Spanish football, we've come to appreciate the deep-seated passion that makes LaLiga the most popular foreign league on these shores.
"With our recent addition of rights to the UEFA Nations League and Euro 2024 qualifiers, we continue to position Premier Sports as a go-to destination for football fans across the UK and Ireland."