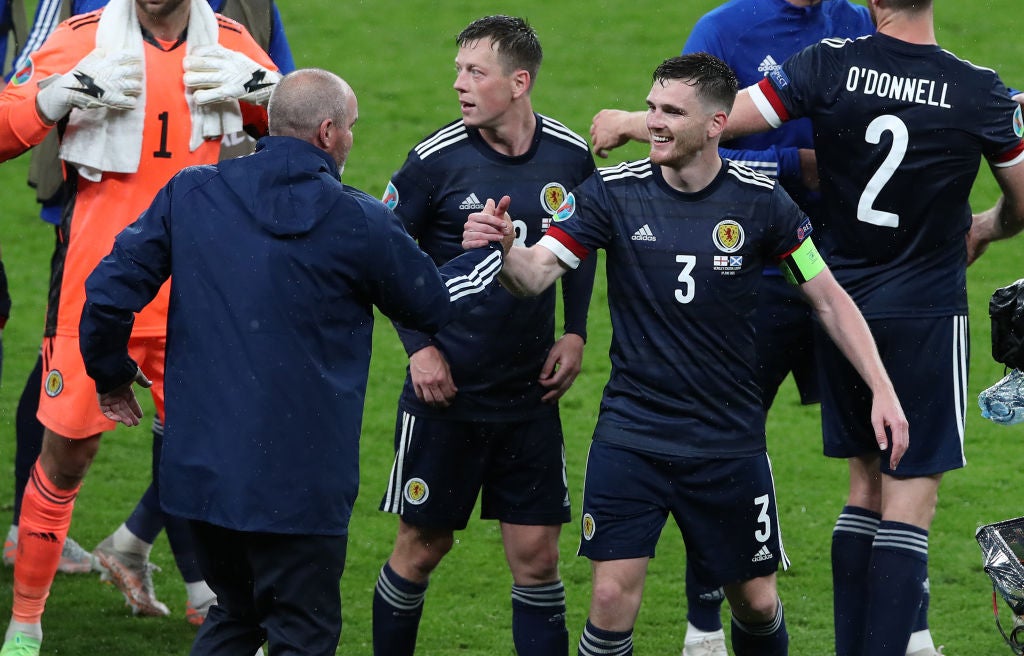 Premier Sports, the international pay-television operator, has today acquired a package of broadcast rights to UEFA national team soccer competitions in the UK featuring the 'home nations' of Scotland, Northern Ireland, and Wales, as well as the Republic of Ireland from 2022 to 2024.
The two-year agreement includes rights to show UEFA Nations League matches and European qualifiers for Euro 2024.
In total, the broadcaster will air over 400 games over international weeks throughout 2022, 2023, and 2024.
Premier Sports will have exclusive coverage of 60 games involving Scotland, Northern Ireland, and the Republic of Ireland. Wales matches will be shown on a non-exclusive basis.
Highlights and certain live matches featuring Scotland and Northern Ireland will also be available via free-to-air.
The coverage will also include live rights to all other matches involving non-UK teams.
The deal with Premier Sports fills the void left after subscription streaming service Viaplay acquired a similar set of rights from 2024-25 to 2027-28 as it made a significant move into the UK market.
Rights to show Scotland, Northern Ireland, Wales, and Republic of Ireland matches were previously held by pay-TV giant Sky.
In a shake-up of national team coverage in the UK, commercial broadcaster Channel 4 last month (April) secured rights to 20 games featuring England's men's team until 2024, marking the first time the country will feature live on the channel.
The deal runs for the next two years, covering all of England's qualifiers for the 2024 European Championship, all games the team plays in the 2022-23 Nations League, and every international friendly they contest.
Premier Sports' deal with European soccer's governing body kicks off with coverage of the Finalissima match between the winners of Euro 2020 and the South American equivalent Copa America last year as Italy take on Argentina at Wembley stadium in London on June 1.
CAA Eleven, UEFA's partner agency in charge of the distribution of rights for national team competitions and tournaments, went to market with the UK rights for six seasons on January 13.
However, rights in the first two seasons were initially not awarded to afford Viaplay time to establish its footing and OTT service in the UK. The platform will go live in the UK in the second half of this year.
CAA Eleven's was offering rights to the European qualifiers from 2022-23 to 2027-28; the three Nations League tournaments (in 2022-23, 2024-25, and 2026-27) and Nations League Finals; and any centralized friendly matches over the same period.
Rights to the Euro 2024 and Euro 2028 finals went on the market in August last year.
Starting in two years' time, Viaplay subscribers in the UK will be able to see "at least 40 exclusive live matches" from Scotland, Northern Ireland, and Wales in the qualifiers for both the FIFA World Cup (2026) and UEFA European Championship (2028), as well as games from the Nations League (2024-25 and 2026-27) and international friendlies featuring those sides.
The number of games will come to at least 40 for each nation with over 800 matches from that four-year European soccer cycle to be covered in total – the deal also includes the UK rights to qualifying and Nations League matches played by all other European teams (with the exception of England) in those competitions.
Richard Sweeney, Premier Sports chief executive, said: "We are thrilled to be awarded this fantastic package of UEFA national team matches.
"This summer when the domestic season ends, our subscribers will enjoy a feast of international football with live coverage of the UEFA Nations League. From 2023 we will bring fans every game of their team's vital qualification process towards UEFA Euro 2024."
The UEFA Nations League and European qualifiers add to a portfolio of soccer on Premier Sports that also includes Spain's top-flight LaLiga and Copa del Rey cup competition, the Coppa Italia, German Cup, and North America's MLS.