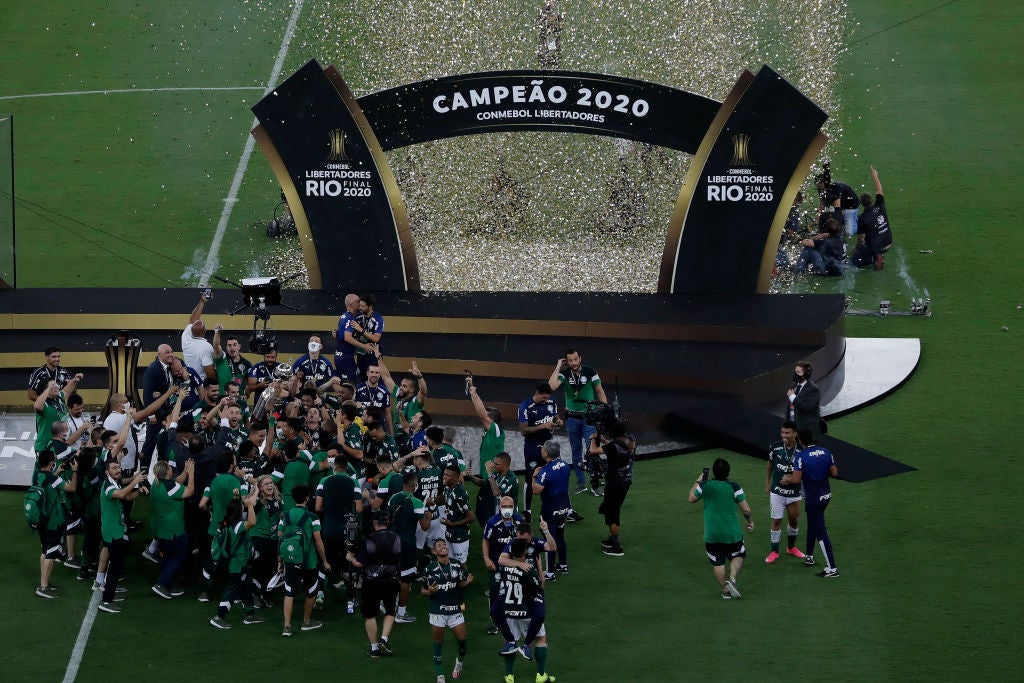 Paramount, the US national network formerly known as ViacomCBS, has secured free-to-air rights across South America – with the exception of Brazil – to the 2023-26 cycle of South American soccer's top-tier Copa Libertadores clubs competition.
CONMEBOL, soccer's governing body on the continent, announced yesterday (May 12) that the network had secured rights to the four Copa Libertadores seasons, while pay-TV rights throughout the region have been awarded to sports heavyweight ESPN.
Currently, pan-regional rights are held by pay-TV's Fox Sports, alongside social media giant Facebook.
In Brazil, where rights are awarded separately, free-to-air coverage will be provided by commercial giant Globo, which has reportedly secured access to 25 games per season, with ESPN and Paramount to share paid coverage. This represents a significant shift from the current cycle, in which rival commercial network SBT covers the competition on free TV.
OneFootball, the online soccer ecosystem and streaming site, meanwhile, has secured live-streaming rights to the tournament across all South American nations, including Brazil.
Rights have also been awarded to that same four-year cycle for the Copa Sudamericana, the continent's second-tier clubs tournament. Only pay-TV coverage will be available on a cross-continental basis for that, with DirecTV having snapped up those rights at a regional level and OneFootball also securing digital streaming rights.
As with the Libertadores, Sudamericana rights are carved out separately for Brazil. There, SBT will provide FTA coverage of 13 games from each campaign, while ESPN and Paramount will again split the paid coverage.
In terms of those two latter broadcasters covering games in Brazil, for both competitions, ESPN has the first picks of all matches per game week, with Paramount taking the other fixtures.
CONMEBOL opened the bidding process across South America on March 18, with assistance from FC Diez Media, the company which is its exclusive partner agency for selling and distributing club competition rights, and there was a deadline of April 20 for proposals.
Ernst & Young, the international consultants and professional services firm, monitored the process.
FC Diez Media was founded in 2018 as a joint venture between IMG, the international sports and entertainment agency, and Perform (now DAZN Group), the digital sports media specialist, after the two companies jointly acquired rights to CONMEBOL competitions from 2019 to 2022.
IMG took full control of FC Diez Media early last year when it bought DAZN's 50% stake.
There were eight available packages to choose from, ranging from pay-TV through free-to-air and also including the new addition of an 'instant clips and highlights' package, with the rights running from the start of 2023 until the end of the 2026 campaign.
In February, it was reported that CONMEBOL would be willing to accept bids from streaming-only media outlets for exclusive Libertadores rights, as long as they make commercial sense and would still generate a reasonable level of exposure.
The pan-continental rights secured by Paramount, ESPN, and OneFootball also extend to Central America and the Caribbean.
For the current cycle, 2019-22, CONMEBOL is collecting $1.4 billion in total for the sale of rights to both the Libertadores and the Sudamericana.
The first stage of the 2022 Libertadores started across February 8-9, with the competition set to run through to the final on October 29 in Ecuador.