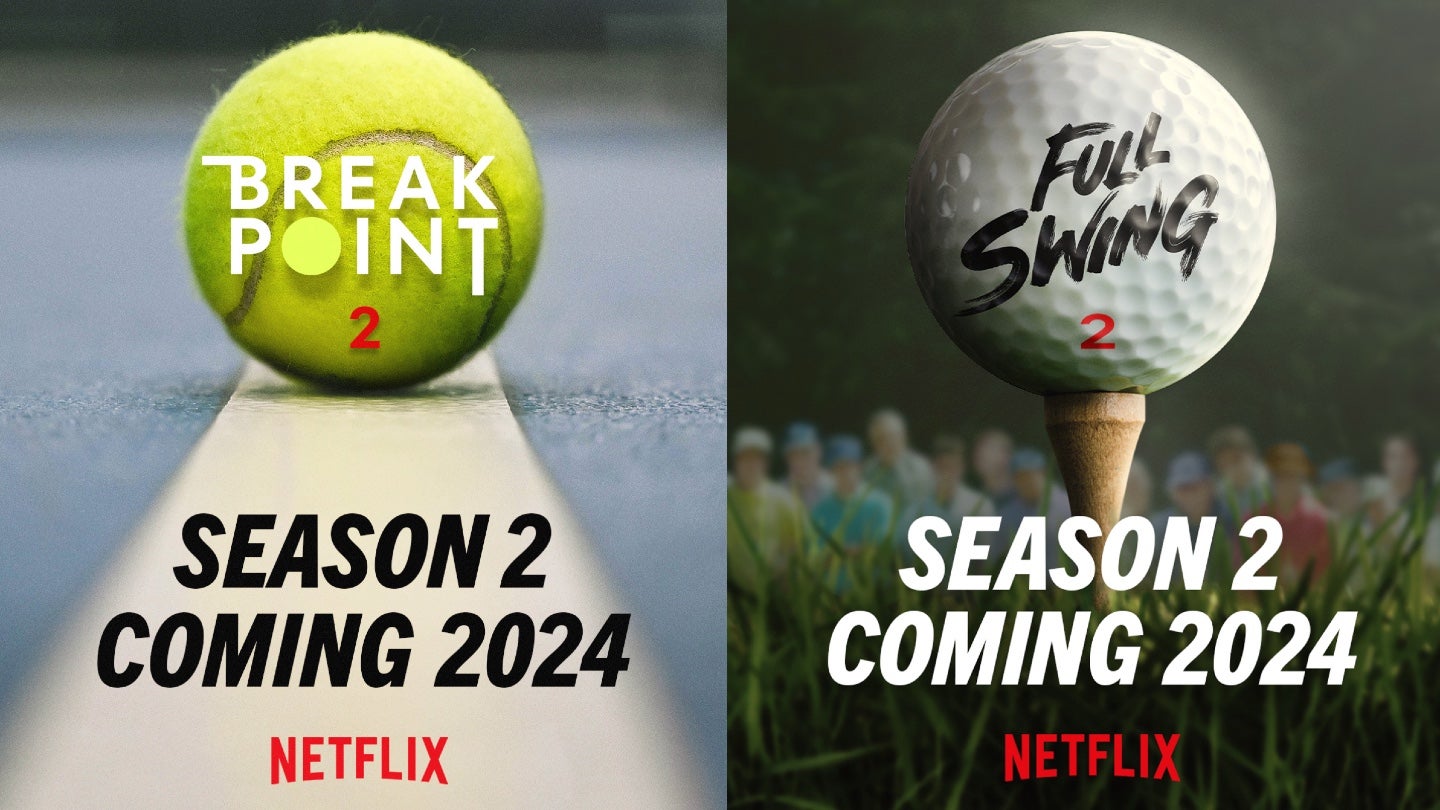 Netflix, the international content and streaming platform, has renewed deals for two prominent sports docuseries in 2024 – golf's Full Swing and tennis' Break Point.
Through an announcement made yesterday (March 7), Netflix confirmed that filming throughout the 2023 seasons of US golf's PGA Tour and top-tier tennis' ATP (men's) and WTA (women's) tours has begun.
Both series' first editions have gone live over the last two months. Break Point premiered on Netflix on January 13, while Full Swing debuted on February 15. The renewed series taking a look at 2023 action will both air next year.
Break Point follows a group of top players on- and off-court across the whole tennis calendar annually, with viewers receiving a "behind-the-scenes look at the pressure-tested lives of these pro tennis players … in the biggest and most grueling events."
The show covers both the ATP and WTA tours, across all four tennis grand slams, "from physical injuries and emotional heartbreak, to triumphant victories, to personal moments off the court …"
The first five episodes were released in January, focusing on Australian Open, Indian Wells, Madrid, and French Open (Roland Garros). The next five episodes, looking at the Wimbledon Championships, Eastbourne, Queens Club, the US Open, WTA Finals, and ATP finals, will drop in June.
The series is produced by Box to Box Films, which has been behind several other Netflix sporting documentaries including the popular Formula 1: Drive to Survive motor racing series.
Full Swing, meanwhile, follows "a diverse group of professional golfers on and off the course, across a relentless season of competition … including behind-the-scenes access to the PGA Tour."
The documentary, "gives fans a chance to get to know the players through their wins and losses …"
It is co-produced by Box to Box Films and Vox Media Studios.
Brandon Riegg, Netflix's vice president of unscripted and documentary series, said: "These shows quickly appealed to core fans of golf and tennis, and also recruited brand new fans from all around the world.
"Like so much of our growing sports slate, the compelling characters, competitive stakes, and vibrant storytelling reveal sides of the game you've never seen before, and we're excited to follow the unpredictable turns of the year ahead."
In mid-February, Netflix and Spanish soccer's top-tier LaLiga announced a partnership to develop the streaming giant's first documentary series in that country.
The docuseries, currently in pre-production, will focus on the 2023-24 LaLiga season and will be launched worldwide on the platform next year.
Other current and upcoming sports-based titles, meanwhile, include Quarterback (produced through a partnership with American football's NFL), an untitled docuseries on global soccer superstar David Beckham, a behind-the-scenes offering from the 2022 FIFA World Cup soccer tournament in Qatar, and Six Nations, which gives an inside look at the annual international rugby tournament.
The LaLiga offering will offer a behind-the-scenes look at that 20-team league, in a similar fashion to Drive to Survive – which has been hugely successful in generating fresh interest in F1 and is currently filming its sixth season.