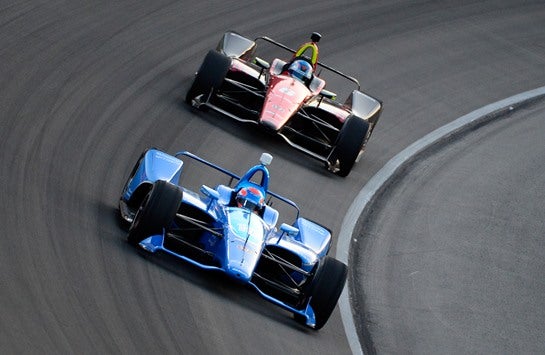 Nordic Entertainment Group (NENT), the European media giant, has today secured rights across nine countries to US motor racing's IndyCar series until 2024, extending its deals in five markets and striking new arrangements in four.
The outlet's Viaplay streaming service will continue to show every race from the series in Sweden, Finland, Denmark, Norway and Iceland, while for the first time viewers in Poland, Estonia, Latvia and Lithuania will also be able to watch IndyCar action through NENT.
The streaming service, from the start of the 2022 campaign next February, (the 111th IndyCar series overall), will show every race from the next three seasons live, including the iconic annual Indianapolis 500 from the US.
NENT has covered IndyCar in the four Nordic markets and Iceland since 2019, while the motor racing series is currently being shown (until the end of the 2021 season this coming weekend), by Eurosport in Poland.
However, in Latvia, Lithuania, and Estonia, coverage of the series has not previously been available on linear television.
NENT only launched Viaplay in Poland early last month and across the three Baltic countries in the first quarter of 2021.
For the next three years, NENT will offer both accompanying studio programming as well as local-language production in all nine countries.
Peter Norrelund, group chief sports officer at NENT, said: "Extending our partnership with IndyCar for another three years is great news for Viaplay viewers in the Nordic region and our latest markets – and a perfect fit for one of the world's fastest-growing streaming companies."
Mark Miles, president and chief executive of IndyCar's controlling Penske Entertainment Corp, added: "The international following for the IndyCar Series is as substantial as ever. Drivers from a record eight different countries have won races this season. We look forward to Viaplay's robust coverage showcasing our bold and daring athletes for years to come."
Two Swedish drivers – Marcus Ericsson of Chip Ganassi Racing and Felix Rosenqvist from the Arrow McLaren SP team – are already confirmed amongst the lineup for 2022.
Next year's IndyCar Series is set to start on 27 February in Florida and end in California on 11 September.
IndyCar on NENT forms part of a comprehensive stable of top-tier motorsport properties to which the Nordic media giant holds rights, including the prestigious Formula 1, US stock car racing's Nascar, the women-only W Series and motor cycling's MotoGP.
Earlier this week, meanwhile, NENT announced it would launch Viaplay in five new markets – the UK, Canada, Germany, Austria and Switzerland – by the end of 2023.
Viaplay will then be present in a total of 16 countries, surpassing NENT's original target of 15 announced in November 2020.
NENT is now targeting 12 million subscribers by the end of 2025, with approximately 6 million expected to come from international markets.
Viaplay is already available in the nine countries mentioned above and plans to enter the US later this year (without sport), with the Netherlands to follow in the first quarter of 2022.