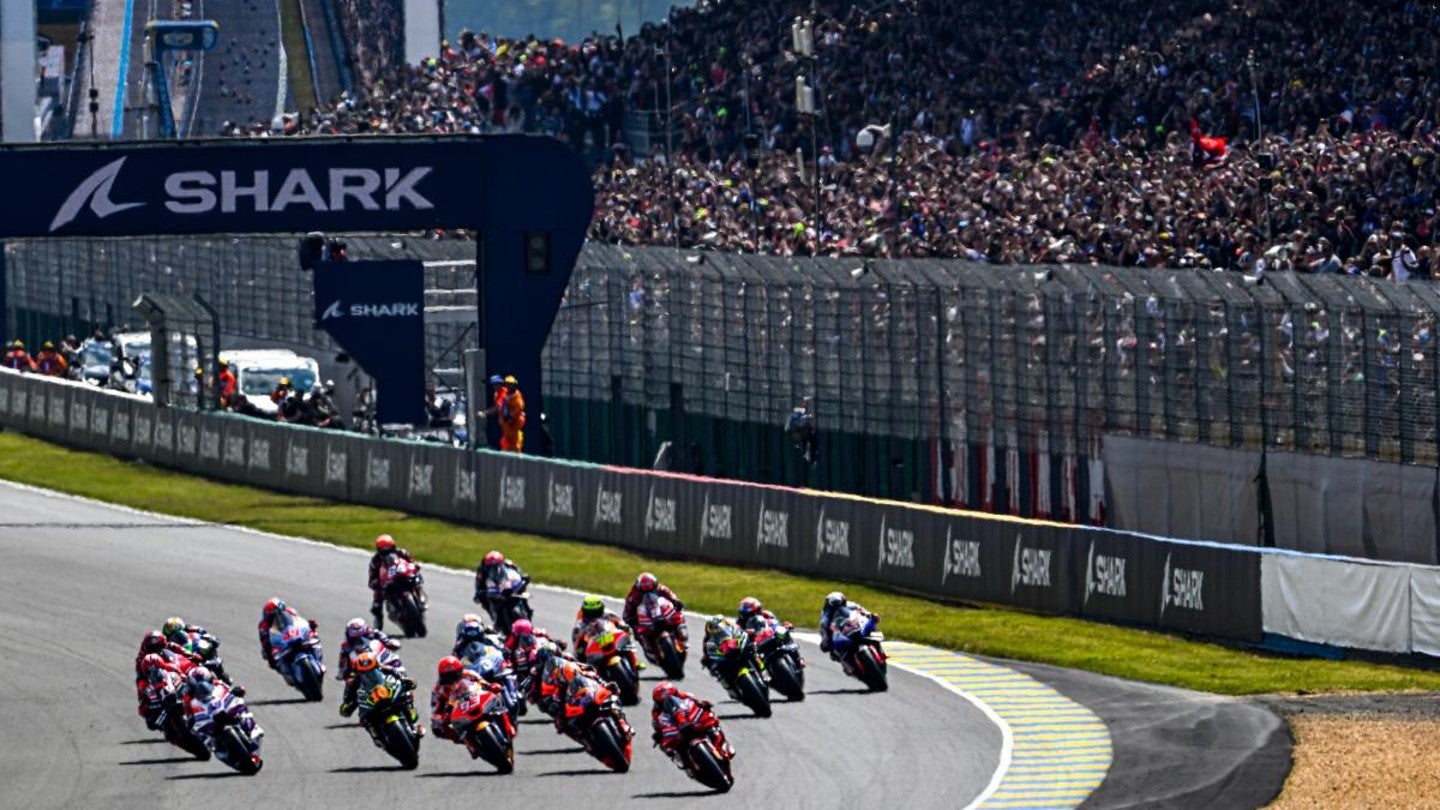 The 2023 French Grand Prix broke attendance records for motorcycling's MotoGP premier series after 278,805 fans flocked to the historic Le Mans circuit for the world championship's fifth round.
The French GP, held over the weekend (May 13 to 14), is traditionally one of the most attended events of the MotoGP calendar, with last year's event attracting 225,000 fans.
However, this year's race marked the world championship's 1,000th event since its launch in 1949, with 14,900 coming through the gates on Thursday for the pre-event pitlane walk.
That figure was followed by 58,894 fans attending the circuit on Friday for the practice session, while a record 88,319 watched Saturday's qualifying and sprint race. Sunday's race-day crowd reached 116,692.
The previous attendance record for a MotoGP event was the 2015 Czech GP at Brno, which saw 248,434 fans show up during the race weekend. Before that, the highest attendance was 245,039 at the same race in 2007.
Two riders currently represent France Johann Zarco and Fabio Quartararo. Quartararo won the 2021 world championship to become the country's first MotoGP title winner.
The race weekend, meanwhile, is one of the most affordable events on the MotoGP calendar, with a three-day general admission ticket costing €98 ($106) this year. Under 16s are free to attend alongside an adult ticket holder.
The cheapest general admission pass for the next GP at Mugello costs €160 by comparison.
Carmelo Ezpeleta, chief executive of MotoGP organizer Dorna Sports, said: "All weekend the atmosphere here in Le Mans has been incredible, so we knew the attendance was going to be high.
"But to break the all-time record and see it's well over a quarter of a million people is something truly special. We'd like to thank PHA Claude Michy for the incredible event they stage every year at Le Mans, truly one of the highlights on the calendar, and my final word, of course, goes to our fans."
Last month, MotoGP announced the inaugural GP of Kazakhstan had been canceled due to the host circuit not being ready.
The cancellation creates a six-week break in this year's calendar between the Dutch TT on June 25 and the British GP on August 6. It also removes a possible 37 points from the season.
The season still has another inaugural race in Asia, with its debut at the Buddh International Circuit in India's state of Uttar Pradesh on September 24.