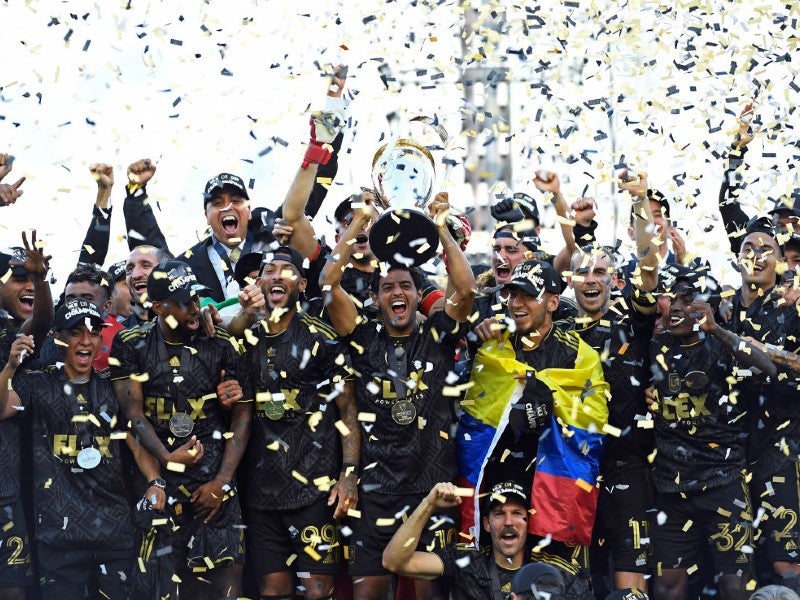 The championship game of US soccer's top-tier Major League Soccer (MLS) generated its highest domestic television viewership since 1997 after securing a combined 2.155 million viewers for national network Fox and Spanish-language channel Univision.
The match, the MLS Cup, saw Los Angeles FC crowned champions of the league after they dramatically defeated Philadelphia Union on penalties at Banc of California Stadium in Los Angeles on Saturday (November 5).
Nearly 1.5 million viewers tuned in to English language broadcaster Fox while 668,000 watched on Univision, making it the second most watched soccer MLS Cup match behind the 1997 final between DC United and the Colorado Rapids, which generated 2.22 million viewers.
The combined viewership numbers also made the match the second most-watched club soccer match in the US this year after European club soccer's UEFA Champions League final between Real Madrid and Liverpool FC in May generated 2.67 million viewers for national network CBS.
The game was broadcast at 4PM ET and competed against a slew of college football matches, including ABC's broadcast of Penn State and Indiana. As the match went into extra time and penalties, it also overlapped with Fox's coverage of Major League Baseball's World Series.
The league said viewership of the match increased 38% from the 2021 MLS Cup, which saw Portland Timbers beat New York City FC also after extra time and penalties. In addition, it was the fifth-highest-watched MLS Cup within the key 18-49 age demographic, with 976,000 viewers.
The national ratings come as the league prepares to begin its landmark 10-year, $2.5-billion media rights partnership with tech giant Apple starting next season.
The deal, which will see all live MLS matches shown around the world, including the US, on the Apple TV streaming service until 2032, marks the end of the league's coverage across national networks.
The MLS is yet to announce any linear broadcast deals for the 2023 season and beyond.
Apple's deal also includes games from the Leagues Cup, the annual competition contested by clubs in MLS and Mexico's Liga MX, and select matches from the MLS NEXT Pro affiliate league and the MLS Next youth league.
Last month, it was reported viewership for MLS' 2022 season had increased 16% from the previous 2021 campaign for domestic rightsholder Disney, the media giant.
News outlet Forbes said the 34 regular season matches broadcast by Disney's networks ESPN and ABC delivered an average audience of 343,000 viewers, an increase of 16% from 295,000 last year.
Elsewhere, Spanish-language channels Fox Deportes and ESPN Deportes saw a 13% year-over-year viewership increase, and TSN in Canada's viewership increased by 8%.
MLS will increase to 29 teams next season with St. Louis SC becoming the latest expansion franchise.
Meanwhile, Molson Coors, the North American brewing giant, has struck a multi-year deal to sponsor the annual Leagues Cup.
As the exclusive beer, hard seltzer, and flavored malt beverage partner of Leagues Cup, Molson Coors will gain a presence during the tournament through in-store programming, giveaways, and on-site experiential activations on match days.
The brewer will also provide its Topo Chico Hard Seltzer brand at games across North America.
The deal was struck with Soccer United Marketing, the marketing arm of MLS.
Carter Ladd, executive vice president of Soccer United Marketing, said: "Now, soccer fans can experience a World Cup-style tournament every summer in this region of the world, and Coors Light is the ideal partner to help us bring the inaugural 2023 League Cup to life for soccer fans."
Next year's edition will feature a new World Cup-style tournament format in which all 47 MLS and Liga MX clubs will pause their league seasons to compete in the competition from July 21 to August 19.
Image: Kevork Djansezian/Getty Image