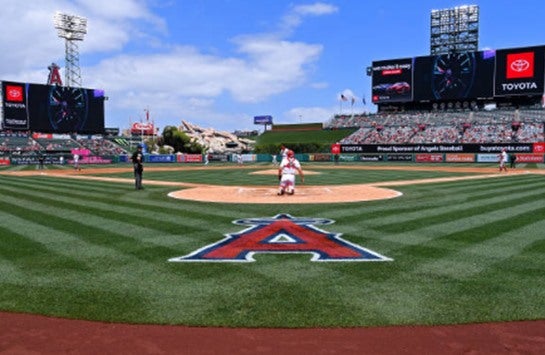 By Tariq Saleh
Major League Baseball has locked down another significant long-term rights partner after finalising an extension with major US sports broadcaster ESPN, albeit on reduced terms.
The two parties have signed off a seven-year renewal to 2028 in a deal understood to be worth around $3.92 billion, or $560 million per year.
ESPN's existing eight-year, $5.6 billion deal with MLB, which began in 2014, expires at the end of this season.
The new agreement therefore represents a reduction of $140 million on the amount the broadcaster currently pays.
The relationship between ESPN and MLB dates back to 1989.
Under the extension, which takes effect next year, ESPN will exclusively show 30 regular-season games annually, including 25 editions of its flagship Sunday Night Baseball offering and the MLB Little League Classic.
This is down from the 90 games ESPN shows in its current deal, as it will end its Monday and Wednesday coverage.
Despite showing fewer games overall in the new contract, it will broadcast more marquee matchups.
The league is believed to be seeking a deal with a streaming platform to pick up the games ESPN is dropping.
ESPN will also exclusively air five additional midweek games each season, including opening night fixtures, and continue to exclusively carry the Home Run Derby as part of its cross-platform MLB All-Star Game coverage.
From 2022, the broadcaster will televise the entire MLB wild card series, if the league expands the playoffs.
ESPN carried seven of the eight wild card games last season when the league expanded the postseason due to the disruption caused by the coronavirus pandemic.
If this season's traditional format remains for next year, ESPN will continue to exclusively televise one of the two wild card games, and will have eight additional regular season games each year.
ESPN has committed to a deal despite the league not finalising plans for the playoffs from 2021 onwards as talks continue with the MLB Players Association to potentially expand it to 14 teams.
The league is keen to push this through for the next collective bargaining agreement with the current deal set to end in early December.
MLB traditionally has 10 teams in its postseason, but last year the league and the MLBPA expanded the playoffs to 16 teams, with a best-of-three series format.
The expansion was forced upon the league as the 2020 regular season had to be reduced from 162 games to 60 in order to complete the season.
The expanded format allowed MLB to retain around $1 billion in national TV revenue (of which a percentage went to players) after losing nearly two-thirds of its regular season due to the pandemic.
ESPN is believed to be strongly in favour of the expansion.
For each of its live events, ESPN will receive the rights to produce alternate presentations across its platforms and simulcast all ESPN and ABC games on its ESPN+ streaming service
In addition, ESPN will create new MLB content for ESPN+, including studio and highlight-driven programming.
The OTT platform will also continue to show an MLB game, subject to local blackout restrictions, almost every day of the regular season, as well as select Spring Training coverage.
Robert Manfred, MLB commissioner, said: "ESPN has been one of MLB's longest and most important partners. This extension continues the evolution of our relationship with a focus on utilising ESPN's extensive assets to shine a spotlight on key match-ups throughout the year.
"With reach across broadcast, cable, streaming, and social, ESPN is able to deliver MLB action to our broad fan base across multiple platforms. As the way in which fans consume baseball continues to change, this partnership provides expanded opportunities for fans to engage with our content and we are excited to present those new opportunities."
Furthermore, the agreement increases ESPN's highlights rights for all of its platforms.
As part of the renewed deal, ESPN has also retained its audio and Spanish-language telecast rights.
ESPN Radio will continue to nationally broadcast MLB events, including the World Series and the full postseason, the All-Star Game, opening night, and Sunday Night Baseball.
Live events and studio coverage throughout the regular season and postseason will feature on Spanish-language channel ESPN Deportes
As well as ESPN's regular season and postseason packages, it has the rights to nationally televise up to 10 Spring Training games each year, which will be co-broadcast in the local markets.
The network said the new rights deal "provides flexibility to maximise the current and potential future distribution of ESPN".
ESPN announced this week that its viewership for Sunday Night Baseball is up 33 per cent compared to the full-season average in 2020, with 1.65 million viewers, up from 1.25 million.
James Pitaro, chairman of ESPN and sports content, added: "ESPN's longstanding relationship with Major League Baseball has been a driver of innovation for three decades.
"This agreement solidifies Baseball's ubiquitous presence across ESPN platforms. The impactful collection of exclusive content, including Sunday Night Baseball which has served as the signature MLB series for more than 30 years, will be amplified by the surrounding rights we have to make these live events even bigger."
Last September, US media giant Turner finalised a deal with MLB to retain domestic rights in a seven-year agreement until 2028, worth around $3.2 billion.
WarnerMedia, the parent company of Turner Sports, will pay the league an average $470 million per year, a 40 per cent increase on the $325 million it pays in its present eight-year deal, which also expires after the 2021 season.
In November 2018, Fox signed a $5.1 billion renewal with MLB in which it retained rights to the World Series through 2028.
The MLB extension, which was confirmed yesterday, is the latest in a string of recent high-profile rights deals secured by ESPN, including Spanish soccer's top-flight LaLiga in a bumper eight-year agreement.
In recent months, the network has also acquired ice hockey's NHL and renewed its deal for American football's NFL.