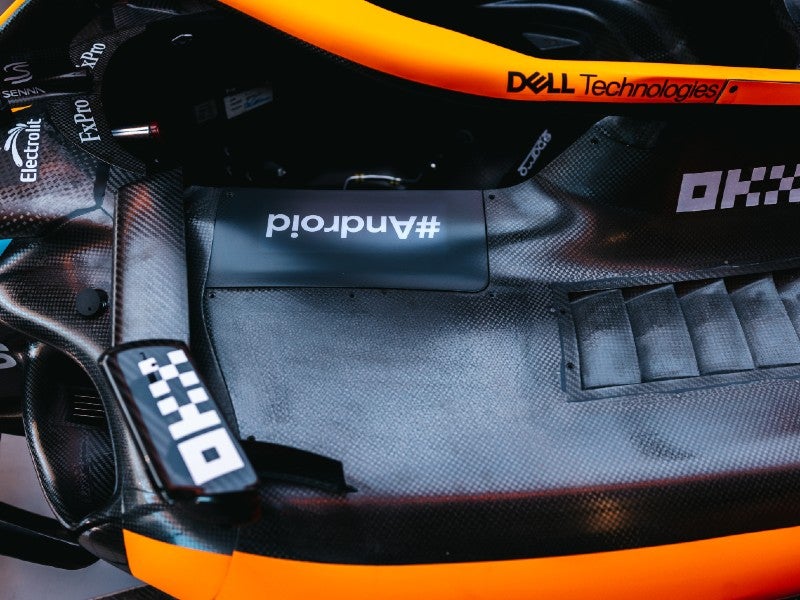 The McLaren team, of motor racing's premier Formula 1 (F1) series, has today (September 13) announced that it will debut new digital advertising panels on its cars at this weekend's US Grand Prix, allowing it to feature several different sponsors during practice sessions.
In partnership with digital agency Seamless Digital, McLaren has fitted dynamic panels along each side of the cockpits that are visible from onboard cameras, allowing the team to change the branding on its cars as it chooses, even while the cars are out on track.
Louise McEwan, McLaren's executive director of brands and marketing, said: "We are pleased to work with Seamless Digital to debut one of the most exciting innovations in digital advertising technology.
"Being able to rotate different brands on our cars is a game-changer in this space, and we are looking forward to seeing the impact this has on the wider industry."
The debut will see McLaren become the first team in motorsport to use the technology, allowing it to increase its sponsorship deals in the future.
The deal covers practice sessions only for the rest of the season and will begin with this weekend's US Grand Prix at the Circuit of Americas.
Mark Turner, founder and chief executive at Seamless Digital, said: "We are delighted to be able to unveil this technology which represents the next step in the future of motorsport marketing. Being able to change branding in real-time on a Formula 1 car will give greater flexibility and value to teams and partners. Our technology enables more creative options for brands to communicate situationally relevant messages.
"We have found the perfect partner in McLaren who share our ambition for innovation and breaking convention as pioneers in the fields of technology.
"We believe this is just the beginning of flexible on car branding and motor racing assets. By ensuring the technology works on a Formula 1 car we have already cracked the toughest place to innovate and are set to disrupt advertising across F1, motorsport, golf, US sports, and ultimately, wider more mainstream use."
Commercial partners that have recently come on board or expanded their deals with McLaren include Goldman Sachs, Cadance, SunGod, VMware, OKX, Castore, Intercontinental Exchange, Cisco, Google, and Jack Daniels.
Meanwhile, fellow F1 team Haas has secured payments and money transfer company MoneyGram as its title sponsor from next season after striking a multi-year deal ahead of this weekend's race.
Under the terms of the deal, the team will be commercially known as MoneyGram Haas F1 Team from 2023, when the F1 calendar will increase to 24 races across 21 countries and five continents, including three in the US.
To celebrate the partnership, Texas-based MoneyGram will activate in and around Austin throughout the weekend.
A source told news outlet Sports Business Journal that a title sponsor asset for a team like Haas is valued at around $40 million per year.
The sponsorship deal will inject some much-needed cash into the series' only US-based team after its most recent partnership with Russian fertilizing giant Uralkali ended ahead of the 2022 campaign. This was due to Uralkali's Russian billionaire owner Dmitry Mazepin being placed on a European Union sanctions blacklist over Russia's invasion of Ukraine.
The termination of the sponsorship also saw Russian driver Nikita Mazepin, son of Dmitry Mazepin, dropped from the team and replaced by Kevin Magnussen.
Before that, British energy drinks brand Rich Energy held the naming rights to the Haas team but that partnership ended in 2019 after an ownership battle.
Gene Haas, the team's founder, said: "We are pleased to welcome an incredible brand like MoneyGram as our new title sponsor.
"Since our entrance into the F1 World Championship in 2016, Haas F1 Team has earned a reputation of strength, agility, and resilience. MoneyGram brings a similar drive to the world of financial services, and we're ready to work together to maximize results on and off the track."
Greg Hall, MoneyGram's chief marketing officer, added: "Next year's racing calendar has a uniquely strong overlap with MoneyGram key markets, so we are excited to unlock new channels to hear from our customers and understand their specific needs.
"As we look to capture growth from new customer segments, we're also looking forward to the endless opportunities this sponsorship will bring for additional exposure to a broader consumer base."
MoneyGram is no stranger to sponsoring sports organizations, having already partnered with the International Cricket Council governing body and FC Dallas, of US soccer's top-tier MLS.