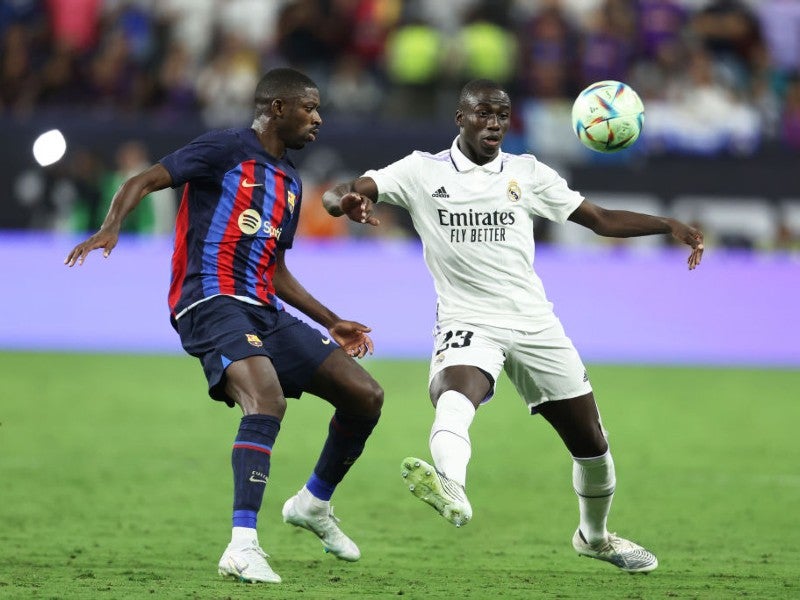 Spanish soccer's LaLiga will receive free-to-air exposure in the UK for the next three seasons after commercial broadcaster ITV today (August 12) struck a sub-licensing agreement with pay-television operator and main UK rightsholder Premier Sports.
Under the deal, which runs until the end of the 2024-25 season, ITV will have rights to show 10 matches per season, with either Barcelona or Real Madrid appearing in all of those games.
The broadcaster will air one 'top' LaLiga fixture per month, starting with the match between Real Sociedad and Barcelona on August 21.
The commercial network will provide live and exclusive free-to-air (FTA) coverage on its main ITV channel, ITV4, and ITV Hub streaming platform.
Niall Sloane, ITV director of sport, said: "This deal ensures FTA coverage for all football fans of one of the most entertaining leagues in the world. The deal with Premier Sports will give fans the chance to see some of the most iconic clubs and world-class players in action, live on ITV."
ITV has recent history of showing live LaLiga content as it stepped in and signed a short-term deal with the top Spanish league to cover games in the first three weeks of the 2019-20 season as the competition failed to secure a permanent broadcast deal for the start of the campaign.
Rights were eventually snapped up for the remainder of that season by pay-television operator Premier Sports which has shown the league since.
In June, the broadcaster renewed its deal to show LaLiga in the UK and Ireland for another three seasons from 2022-23 to 2024-25 and will air over 300 live matches annually.
The matches on ITV will also be available on LaLiga's 24/7 channel, LaLigaTV, which can be streamed via Premier Sports and on Amazon Prime Video Channels.
In addition, Premier Sports will also show two matches per round from Spain's second-tier Segunda Division on a non-exclusive basis.
All 11 matches from each round will be available on LaLigaSportsTV, the league's own streaming platform.
LaLigaTV, the competition's 24/7 channel offering all live matches, will remain available on Amazon Prime Video Channels and the Premier Sports Player OTT streaming service.
Melcior Soler, audiovisual director at LaLiga, said: "Fans in the UK have a strong emotional connection to Spain and Spanish football in particular. This season, through our relationship with Premier Sports, we're happy to offer more of LaLiga than ever before, including consistent free-to-air coverage, access to LaLigaTV content and full coverage of both divisions, LaLiga Santander and LaLiga SmartBank."
Meanwhile, LaLiga has today also agreed a new rights deal in China with Migu, the streaming platform of state-owned China Mobile Communications.
The agreement will see Migu broadcast all 380 LaLiga matches until the end of the 2024-25 season in a three-year deal.
Migu has shown LaLiga in China for the past two seasons through a sub-licensing deal with sports marketing firm Super Sports Media (SSM) which was the main rightsholder in the country.
However, Migu was given the opportunity to take full control of the rights and negotiate a deal directly with LaLiga after the Spanish top-flight recently terminated its digital rights agreement with SSM due to missed payments.
The partnership with SSM represented one of LaLiga's most lucrative international broadcast agreements.
LaLiga has initiated legal action against the company in both China and Spain after terminating the deal.
The Spanish league will be available on Migu's ecosystem through a freemium model, which combines six free matches and four paid matches per match day.
This follows the same model adopted by LaLiga Plus, the dedicated new streaming platform launched by the league in China earlier this month (August).
The service was created in partnership with Beijing-based Streamline Media Technology and will show live action from Spain's top two divisions.
Additionally, as part of a multi-faceted agreement, Migu also becomes an official sponsor of LaLiga in China for the next three seasons.
The LaLiga deal means Migu will have rights to all five major European leagues this season as it also shows the English Premier League, Germany's Bundesliga, Italy's Serie A, and the French Ligue 1.
The new LaLiga campaign begins tonight with Osasuna facing Sevilla in the opening game.