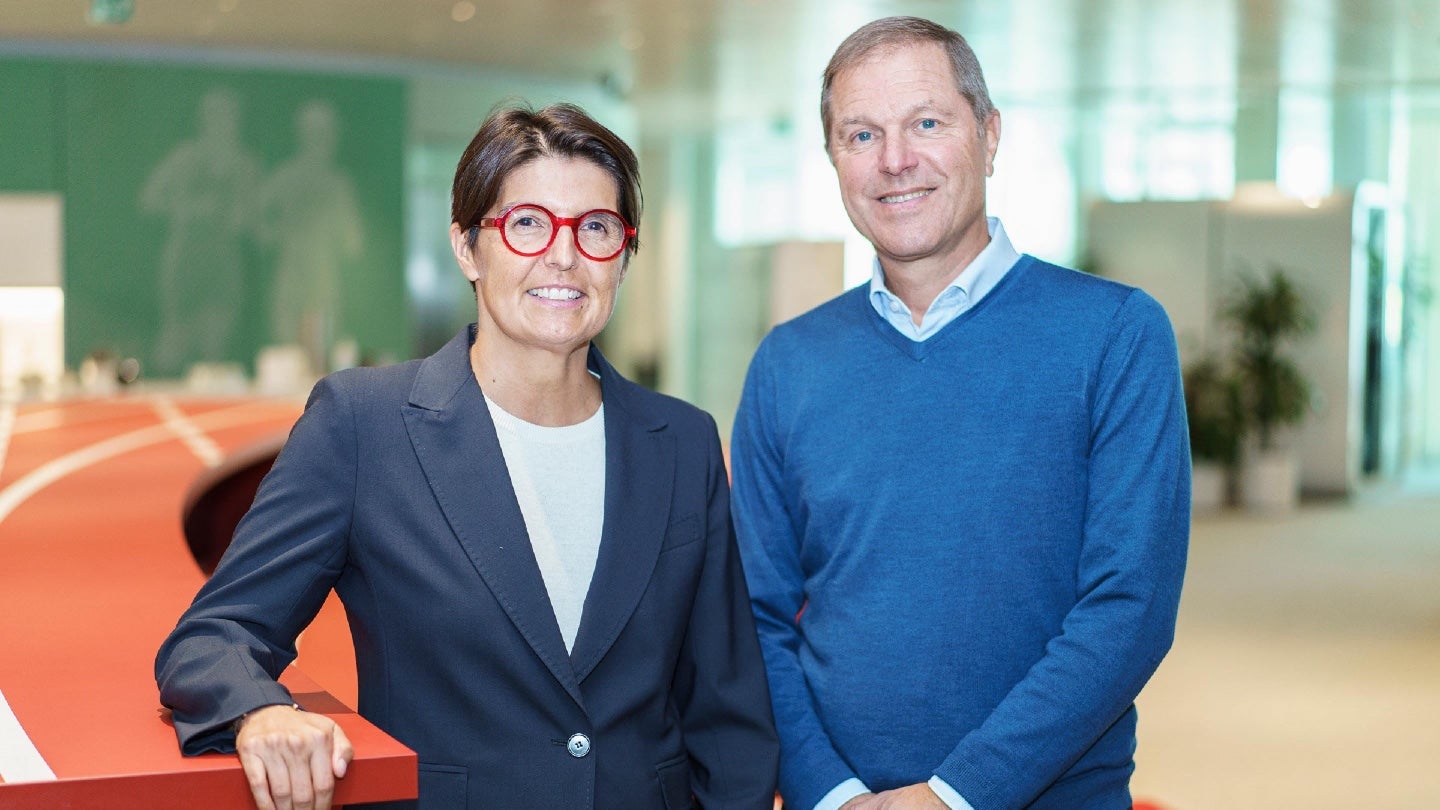 In terms of business roles within sporting organizations, jobs do not come much bigger than the head of TV and commercial at the International Olympic Committee (IOC).
The managing director of the IOC's Television and Marketing Services (TMS) branch controls the overall direction of the broadcasting and brand-alignment sector of the governing body behind the Olympics, arguably the planet's largest and most engaged with sporting property.
They are essentially the main protagonist behind shaping the arm which is the IOC's key financial driver, and which allows the body to gain mass visibility through carefully-selected media and brand partnerships.
The position's incumbent, as of January 1, is Anne-Sophie Voumard (pictured, left), who has made the step up from the role of vice president of broadcast and media rights at TMS.
She replaces Timo Lumme (pictured, right), who had been with the IOC for 18 years before stepping down at the end of 2022.
Speaking to GlobalData Sport before taking up the new role, Voumard outlines her expectations, what challenges she envisages across both the sponsorship and broadcast sectors, and her response to the idea that the Olympics may have potentially lost some of its luster over recent editions.
New role, new opportunity
Discussing the new role, Voumard, who holds joint Swiss and Portuguese nationality and whose background includes time with the European soccer governing body UEFA and at sailing's America's Cup, says: "It's a shift of course, but I'm looking forward to this new opportunity … I've worked very closely in the past with Timo, and previously I've seen how he's worked to bring sponsors to the table.
"The evolution of my role means I'm not going to be as hands-on, but on the contrary, I'm actually not worried about missing that element.
"I'm very confident the team that's in place will be able to continue our work to the best of their abilities, and deliver the same success we did in the past in terms of bringing in the best media partners possible.
"I'm excited about the prospect of seeing the team develop from afar."
Voumard points out that in her 13 years at IOC TMS, first joining in September 2009, she has at some point come into contact with most of the body's current brand partners, so taking responsibility for the sponsorship side of the IOC's affairs is not completely new to her.
Sponsorship renewals are a priority
In terms of that sponsorship element, the new TMS managing director has said that a pressing priority for her is to renew a number of existing top-tier brand associations that the IOC has in place.
Currently, the IOC has 14 TOP partners – Airbnb, Alibaba, Allianz, Atos, Bridgestone, Coca-Cola, Deloitte, Intel, Omega, Panasonic, P&G, Samsung, Toyota, and Visa.
As of now, the deals with Atos, Bridgestone, Intel, Toyota, and Panasonic are due to expire after Paris 2024.
However, in terms of timeframe and urgency, Voumard simply says that "conversations with our key partners never really stop, we're always talking to them and we're very happy with all of them right now."
Of the governing body's commercial program, when asked if brands still feel the association involves a prestige element, Voumard states: "We see the enduring appeal of the Olympics every day in our dealings with our sponsors – we have plenty of very long-term partnerships with some of the biggest brands in the world."
"We see how healthy the games are, and the interest in our properties are, based on the approach of those big corporations that are heavily involved in our commercial programs.
"I'm very confident about the future from that perspective."
Brand diplomacy and global politics
So how does the IOC deal with the situation that develops when some brands do not want to activate at certain games?
Referencing last year's winter games in Beijing, she says: "We're a global event, we go to different places to deliver the games, of course, there was a situation where some of the brands may have felt slightly …. Where they may have been a business decision by some of them not to activate, and it might have been more difficult."
Analysis from the BBC before last year's event showed a significant reduction in posts from the various top-tier IOC sponsors, in comparison to the build-up to the Tokyo 2021 Summer Olympics.
This came amid a diplomatic boycott of the games by the governments of several countries – including the UK, the US, Canada, Japan, and Australia – with a range of allegations around perceived human rights allegations by the Chinese state swirling.
At the time, an IOC statement pointed out that its commercial partners "are not involved in the selection of Olympic or Paralympic hosts," providing a separation between those top-tier partners – who are sponsors of the Olympics as a whole, instead of specific editions.
"What I will say mainly here is that the IOC is rooted in corporate responsibility, and our events demonstrate – Olympics after Olympics – that sport can definitely contribute towards a better world," Voumard explains.
The Winter Olympics, a "strong event" for broadcasters and brands
The IOC TMS managing director adds that in terms of audiences on TV and brand recognition for Beijing, "for our partners through those games, it was a very strong event."
The IOC has said that the Beijing 2022 Winter Olympics reached a global broadcast audience – across linear, streaming, and mobile platforms – of 2.01 billion.
She adds: "That's a very important aspect of the work we do in delivering to partners, in putting their content and their messaging in front of Olympic audiences.
"One of the great developments the IOC has started to deliver is a very robust digital strategy, so we're now a world leader in terms of sports on platforms that allow our sponsors to activate and use the Olympic audiences to get more traction out of their deals.
"This is very attractive to brands, and we feel is one of our core strengths … It's attached to what they're looking for in the partnership, and because of the strength of our TMS program we can respond very quickly to the objectives they have."
Moving onto the current media rights situation – an area obviously close to home, given her previous role – Voumard confirms that the vast majority of deals for Paris 2024 have been closed, with Australia the only major territory where a tie-up for those games has not been officially announced.
One of the last significant tie-ups to be signed off was for the Indian subcontinent, with leading entertainment network Viacom18 having snapped up rights in that region in late 2022.
Although no agreement has been publicly concluded in Australia, commercial operator Nine Network is likely to be named as the IOC's latest broadcast partner, in a deal beginning with the 2024 edition and lasting through until Brisbane in nine years' time.
Interest is growing in Australia
On that front, Voumard says the IOC sees "a lot of momentum in Australia [in terms of interest in the games], the Brisbane 2032 announcement [in July 2021] has sparked a lot of engagement."
Of the balance between linear TV and digital, the TMS director points out that "there is no media entity we partner with that doesn't have a complete mix in terms of distribution – the audience can now consumer Olympic action wherever they feel the most comfortable.
"It might be more convenient for them to watch the games at home on a big screen during one part of the day, and then switch to a mobile device to watch content at another point.
"We now have all our partners able to deliver our content to fans in different ways, able to respond to people's different needs and schedules."
This commitment to securing coverage deals for the games across all platforms can be seen in the joint deal concluded earlier this week in Europe with Warner Bros. Discovery and the European Broadcasting Union of free-to-air networks.
Through that agreement, WBD will make coverage available, from the 2026-32 Olympic cycle, on both the Eurosport linear broadcaster and the discovery+ streaming service, extending an initial agreement that began in 2015.
The EBU's members, meanwhile – including broadcasters such as the public-service BBC in the UK, France Televisions, Rai in Italy, and Germany's ARD and ZDF – will also cover the action on a combination of linear, online, and mobile platforms.
Multi-platform consumption is the future
Voumard goes on to say that Olympic events now and in the future will be "consumed on multiple devices, anytime and anywhere people want to watch.
"Digital is very, very important, of course … Our audiences now reach across a vast number of platforms and I think we've now seen the evolution from traditional TV to consumption across a combination of linear and digital.
"That's certainly a strategy I'll be honing in on.
"We can see the way content consumption is changing and shifting at different paces in different regions, we have to be cognizant of that fact. Then we can respond with our content distribution in a way that matches these changes, so our property continues to remain relevant across the globe.
"Of course, linear TV is still what some of our partners want to focus on – so I would say the mix between the two is crucial."
One way Voumard says the IOC will look to step up its work in the digital content and broadcasting sector is the enhancement of the Olympic Channel, the platform set up following the Rio 2016 games that offers a range of live action, highlights, documentaries, and feature series on Olympic sport.
The IOC is currently attempting to expand the channel to be a content hub that gives fans of an event once every two years a reminder of the Olympics on a much more regular basis.
"We've moved the Olympic channel to a proposition that is much wider than just one channel," she says. "It's now a platform where Olympic fans can gather, not only during the games but also in between, so we can harness all that passion that people demonstrate towards the Olympics in one place.
"We want to ensure that our fans continue on that journey and keep consuming our content all year round, even when the games are over."