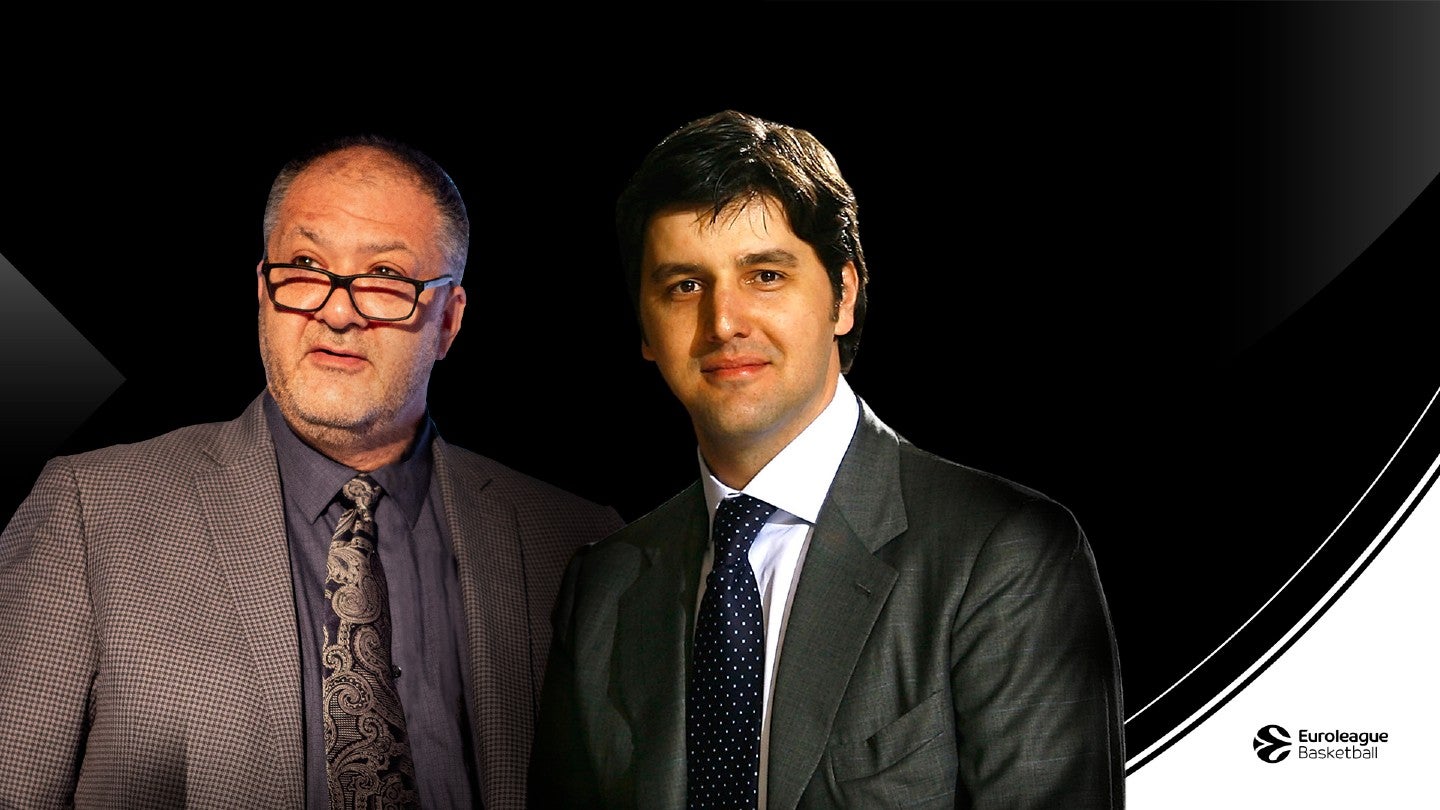 Euroleague Basketball, the organizer of top European club competitions, has announced that acting chief executive Marshall Glickman will step down from his role when his contract expires next month (July).
The organization said yesterday (June) that the board of directors of its Euroleague Commercial Assets operating company "will reconvene in the next two weeks to discuss his potential future role in an advisory capacity and the next steps to retain a new chief executive for the organization."
Glickman (pictured, left), who will officially depart on July 31, took on the role last September, replacing Jordi Bertomeu, who was forced to step down in June 2022 after 22 years in the role.
As well as acting chief executive, Glickman has been serving as director of Euroleague's affiliated companies and as a special advisor to Euroleague Properties.
The American, who is also the chief executive of sports consulting firm G2 Strategic, also has a seat on the board of Euroleague Ventures, the league's joint venture with IMG Media.
His focus has primarily been on the business side, working closely with IMG.
Glickman oversaw a successful 2022-23 EuroLeague campaign that saw the competition set new attendance records during the regular season.
Broadcast deals were also recently secured in key markets such as the US and India with major sports broadcaster ESPN and digital sports platform FanCode, respectively.
Additional rights agreements were previously struck with Fedcom Group in France and Monaco, United Media (Greece, Serbia, Cyprus, Slovenia, Croatia, Montenegro, Bosnia and Herzegovina, and North Macedonia), and Deutsche Telekom (Germany).
Last month (May), the Euroleague renewed its broadcast rights deal in Lithuania with LRT, the country's public service broadcaster, and TV3 Group, the prominent media company in the Baltic states, for another two seasons.
Meanwhile, the competition generated record engagement numbers during the 2022-23 season with double-digit increases across its social media platforms.
The total number of accumulated impressions on social media topped the 1 billion mark following a 55% increase from last year's figures.
In terms of engagement, this figure rose by 71% to 40 million. The biggest leap came with video views, increasing by 130% to 393 million. There was also a 17% uplift in followers to 3.4 million.
Instagram, the photo and video-sharing platform owned by tech giant Meta, delivered the biggest numbers over the season with a 50% increase in impressions compared to last year's output at 549 million.
There were 31 million engagements, a 68% increase on the 2021-22, while video views climbed by 213% to 233 million.
The league drew 231 million impressions on Twitter (up 67%), with two million engagements (an increase of 119%). Video views climbed by 57% to 32 million.
EuroLeague posts on Facebook had a reach of 173 million people, an increase of 46%, while engagement levels reached 2 million (a rise of 88%).
There was also significant growth on TikTok with a total of 69 million impressions, (up 166%), while the number of followers rose by 378,000 (up 92%).
The Euroleague additionally generated record digital engagement for its Final Four championship finale of its league campaign.