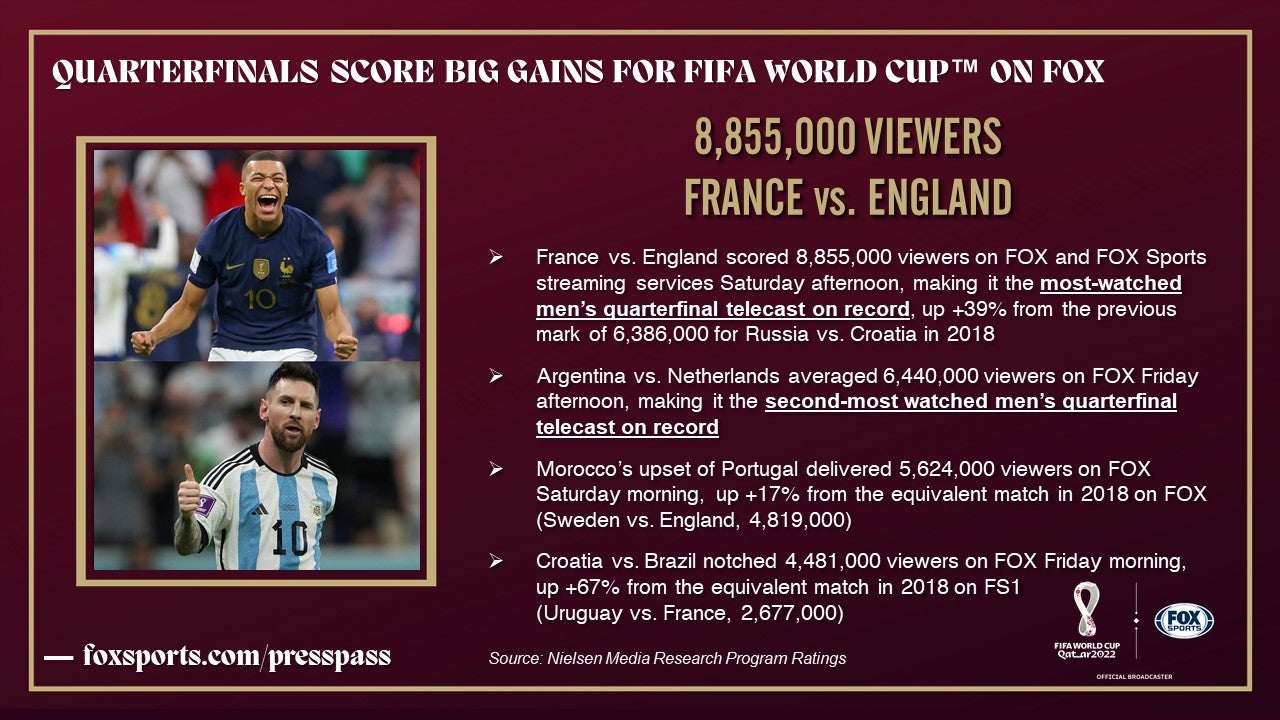 Fox Sports, a division of the US national network, has announced record-breaking viewing figures for its coverage of the four quarter-finals of soccer's FIFA World Cup over last weekend (December 9 and 10).
For France's 2-1 victory over England, Fox has claimed that the average of 8.86 million who tuned into the game makes it the most-watched quarter-final from a FIFA men's World Cup on record in the US.
The previous record is said to have been the 6.38 million who tuned in to Russia versus Croatia during Russia 2018, 39% below this year's figure.
The France-England clash saw a peak audience for Fox of 11.71 million as the game entered its final stages.
The Argentina-Netherlands quarter-final, meanwhile, which ended with Argentina progressing after a penalty shootout, saw an average audience of 6.44 million and a peak of 9.25 million.
The other two quarter-finals also recorded sizeable audiences for Fox. Morocco's impressive against-the-odds victory against Portugal brought in an average of 5.62 million, while Croatia's penalty shootout triumph over Brazil was watched by 4.48 million.
Argentina have since advanced to the final on December 20 by beating Croatia 3-0 yesterday (December 13), where they will play either Morocco or France, with those two countries facing off today (December 14).
The final of the 2022 FIFA World Cup in Qatar will take place on Sunday (December 18).
That Argentina versus Croatia game, meanwhile, brought in an audience for Brazilian free-to-air network Globo of 18.5 million.
In Sao Paulo, 5.1 million people tuned in, while in Rio de Janeiro the figure was 3.2 million.
Meanwhile, the BeIN France pay-TV broadcaster has said its viewing figures since the start of the competition have hit 18.8 million in total.
In audience figures released today (December 14), BeIN France has said it secured a record peak audience of around 2 million for its coverage of the Brazil versus Croatia encounter, with an average of nearly 1.3 million, which was a record for a World Cup match on its channels.
Its coverage of the France-England game was watched by an average of just over 1 million. That game, like many World Cup games, was covered by both BeIN and TF1, the French commercial broadcaster with which BeIN holds joint rights to a selection of fixtures.
The other quarter-finals, BeIN France said, secured peaks of 1.6 million viewers (Morocco versus Spain) and 1.4 million (Japan against Croatia).
For digital coverage, BeIN has said it recorded a figure of 359 million for the total views of its videos across the entire tournament.
Laurent de Camas, BeIN Sports France's managing director, said: "These tremendous results confirm the attractiveness of the FIFA World Cup for our subscribers and the success of the editorial coverage provided by BeIN Sports …
"These are remarkable performances with a record peak for a World Cup match on BeIN Sports …"