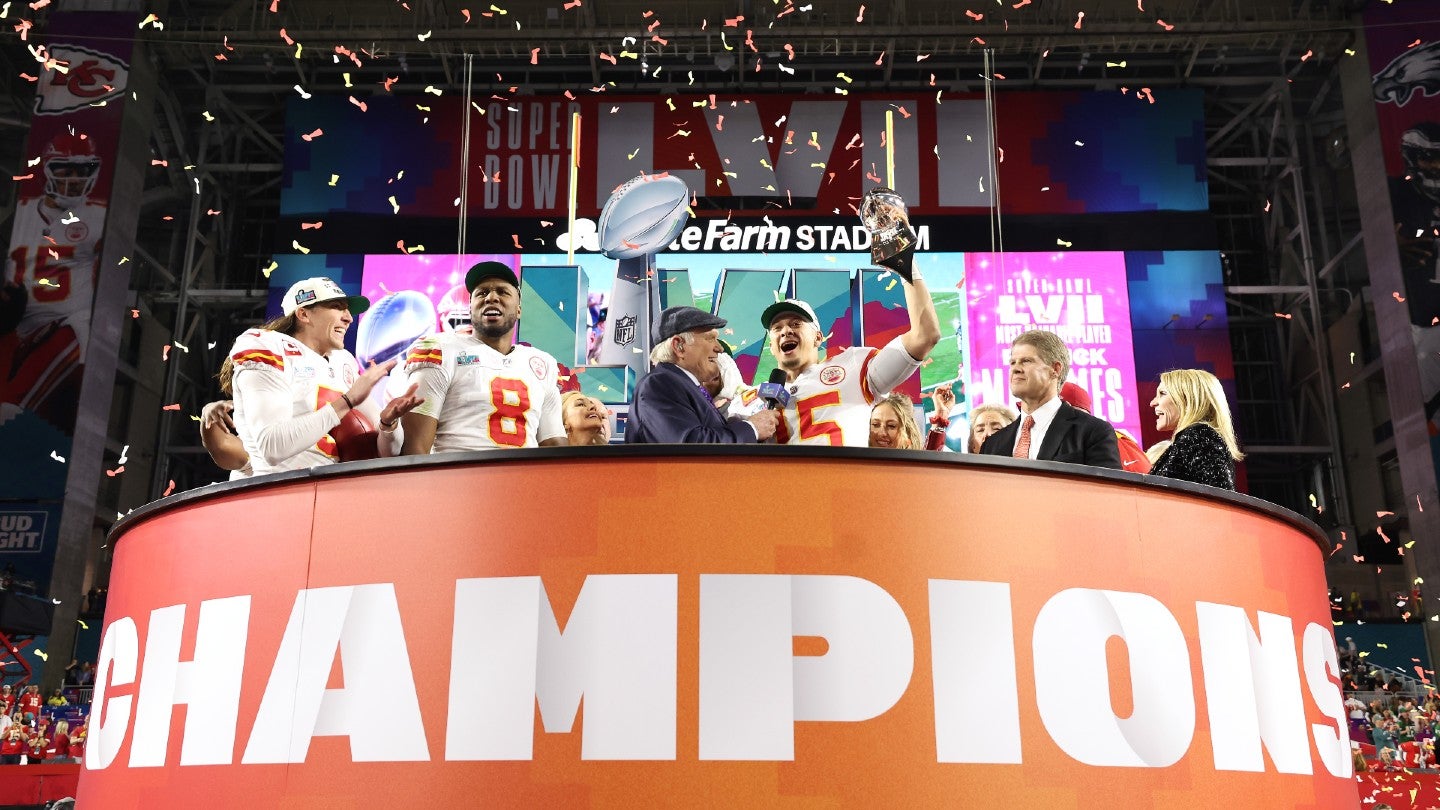 US national network Fox drew the largest audience in six years for the NFL's showpiece Super Bowl as the Kansas City Chiefs secured their third championship on Sunday night (February 12).
The Chiefs' 38-35 win over the Philadelphia Eagles at State Farm Stadium in Glendale, Arizona was watched by an average of 113 million viewers.
This ranked as the most-watched Super Bowl since 2017.
The 113-million audience was across television on the main Fox channel and Fox Deportes, and through digital on both Fox and NFL platforms.
Fox's average audience represents the second most-watched non-overtime Super Bowl on record and the second most-watched program in Fox Sports history.
The viewership peaked at 182.6 million viewers on Fox and the Spanish-language Fox Deportes.
Super Bowl LVII was also the most-streamed in history, delivering an average of 7 million streams, up 18% over last year (6 million) and up 103% over Fox's last Super Bowl stream in 2020 (3.4 million).
The live streaming audience includes consumption across FoxSports.com, the Fox Sports app, Fox.com, the Fox Now app, NFL digital properties including the NFL mobile app, the NFL Fantasy mobile app, NFL.com, the NFL connected TV app, and NFL+ for subscribers.
On Fox Deportes, an average viewership of 891,000 watched the game in Spanish, setting the record for the most-watched Super Bowl game in Spanish-language cable television history.
Fox Deportes' total audience includes connected TV devices and Fox and NFL digital properties.
Super Bowl LVII on Fox Deportes was, in addition, the most-watched non-soccer event in Spanish-language cable history on the network – which broke its own viewership record of 762,000 set in 2020 by 25%.
Fox Deportes now holds four of the top five highest-rated Spanish-language telecasts in Super Bowl history.
The NFL championship game additionally became the third most-watched television show of all time in the US, it has been claimed.
The popular halftime show, headlined by Rihanna, drew an average of 118.7 million viewers across TV and digital platforms.
This made it the most-watched Super Bowl halftime show since 2015 and the second-highest on record.
The Chiefs secured their second championship in three years after also triumphing in the 2019 season.
Image: Christian Petersen/Getty Images