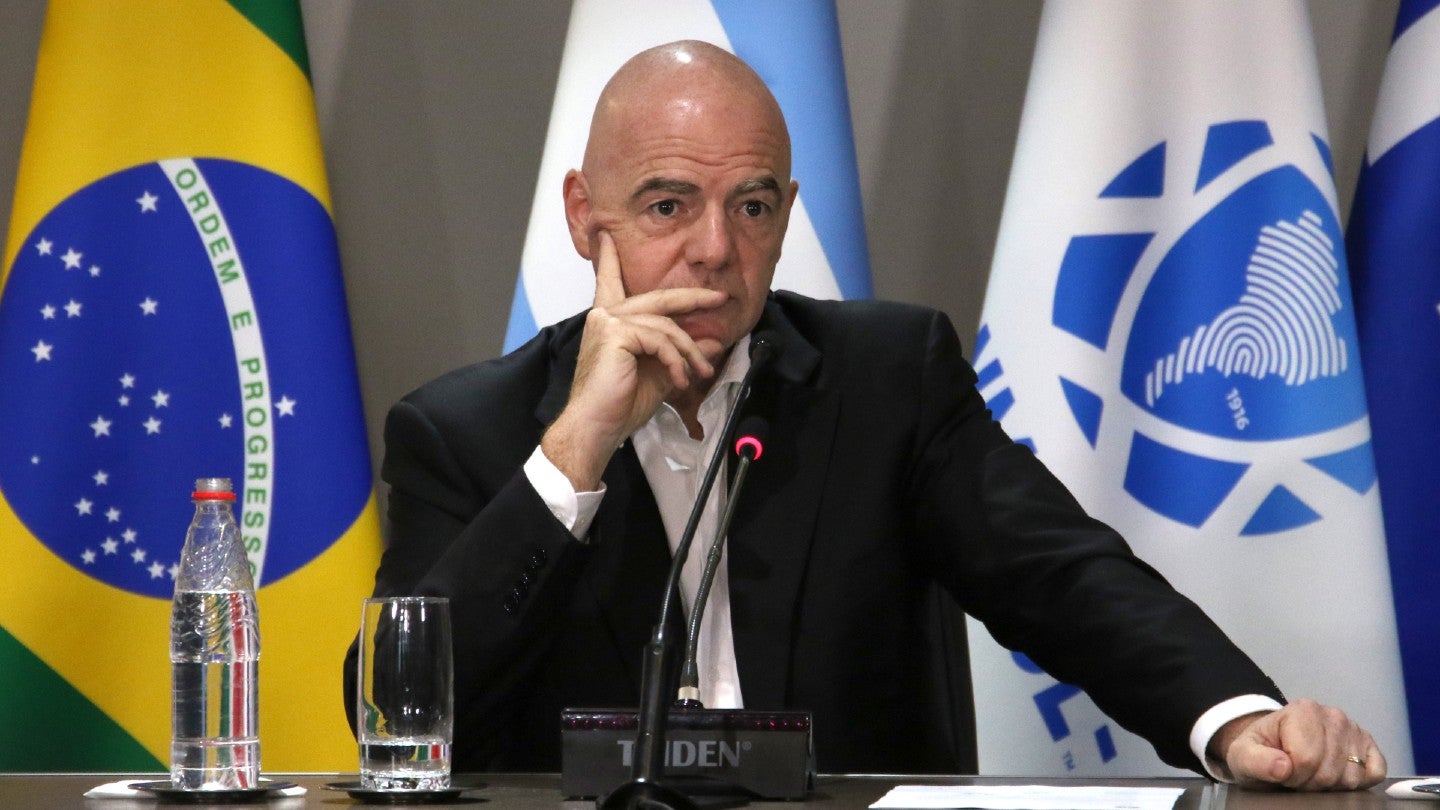 Europe's top soccer nations have been threatened with a broadcast blackout from this year's flagship Women's World Cup after submitting rights offers to FIFA that the world soccer governing body deems inadequate.
In a speech yesterday (May 1), FIFA president Gianni Infantino said offers made by media organizations from the 'Big Five' European countries – Britain, Spain, Italy, Germany, and France – were "disappointing" and "simply not acceptable."
Infantino said broadcasters in those nations had only offered $1 million to $10 million for the rights to show the upcoming edition of the women's tournament compared to $100 million to $200 million for rights to last year's men's World Cup in Qatar.
He added: "This is a slap in the face of all the great FIFA Women's World Cup players and indeed of all women worldwide.
"Should the offers continue not to be fair (towards women and women's football), we will be forced not to broadcast the FIFA Women's World Cup into the 'Big Five' European countries."
While Infantino did not specify which networks had submitted the offers, rights for the 2019 Women's World Cup in France were held by the BBC (UK), TF1 and Canal Plus (France), Sky Italia (Italy), DAZN, ARD, and ZDF (Germany), and Mediapro (Spain).
For the 2019 edition, FIFA secured around $300 million in TV rights revenue, while the men's competition last year generated just under $3 billion.
The 2023 Women's World Cup is being held in Australia and New Zealand from July 20 to August 20. This year's tournament will be the first comprising 32 teams after an expansion from the 24 that contested the 2019 edition.
Infantino repeated his call for broadcasters to pay a fair price for the rights to the flagship tournament, adding public broadcasters in particular have a particular duty to promote and invest in women's sport.
He said: "We did our part: FIFA has raised the prize money to $152 million, treble the amount paid in 2019 and ten times more than in 2015 (before I became FIFA president).
"It doesn't make any economic sense because the viewing figures are there. Maybe, because it is in Australia and New Zealand, it's not played on prime time in Europe, but still, it is played at 9AM or 10AM, so it is quite a reasonable time.
"To be very clear, it is our moral and legal obligation not to undersell the FIFA Women's World Cup."
The statement comes after Romy Gai, FIFA's chief business officer, said in October last year the governing body had rejected multiple bids from European broadcasters for rights to the tournament for being too low.
At the time, Gai said a combined 1.12 billion viewers had tuned into official broadcast coverage across all platforms of the final between the US and the Netherlands, which showed the potential viewership for interested broadcasters.
For the 2023 event, domestic rights have been secured by Optus in Australia and by Sky NZ in New Zealand, while deals have also been struck in the Netherlands, Poland, the Nordics, and the US.
Image: Christian Alvarenga/Getty Images