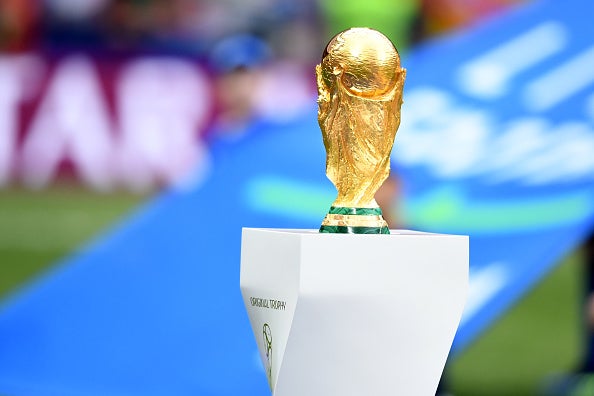 Neither Fifa or Uefa, soccer's international and European governing bodies, respectively, are backing down from their diametrically opposing stances on the former's biennial World Cup plans, with both organizations having turned to their own surveys and studies to back up claim and counter-claim over the last 24 hours.
The 211 Fifa national soccer associations are set to be lobbied by the governing body's president Gianni Infantino on the benefits of such a project, (which Fifa claims has undergone a feasibility study) at a summit next Monday (20 December).
As such, both bodies have been using the last few days before that crucial vote to provide those who will decide the matter with as much evidence to support the respective stances as possible.
Fifa, which has been talking up the idea of doubling the frequency of the World Cup (which is currently held once every four years) since it was first proposed as an option by the Saudi Football Federation at the last Fifa congress in July, has released the results of a survey it commissioned that it says shows 64% of fans want a more frequent men's World Cup.
Uefa, on the other hand, has opposed the idea ever since its inception (along with the South American soccer governing body Conmebol), with its president Aleksander Ceferin having been particularly vociferous on the subject.
The European body has now wheeled out what it claims to be an independent study conducted by consultancy firm Oliver & Ohlbaum, which it said: "projects a deeply negative outlook for European national team soccer, should the Fifa plan be implemented."
Fifa said that its survey took in the views of around 77,000 people and that 30,390 of those identified soccer as their favorite sport. Of those, the governing body asked whether they would be in favor of a more frequent Fifa World Cup, "provided that player workload does not increase."
Fifa has reported the results as showing that, as stated above, 63.7% said they would like to see the prestigious tournament played more frequently, with 23.3% replying 'maybe', 11% replying in the negative, and 2% having no opinion.
The age category Fifa reported as being most supportive of more frequent World Cups was the 25-34 demographic, while the 55+ age bracket (which given its wider age range is significantly larger) was the most opposed.
The international governing body said that approval for the idea was found to be particularly strong in the following countries – South Africa, India, and Turkey.
On the other hand, it found that opposition was (unsurprisingly) most entrenched in traditional European soccer markets, such as Germany, England, and France.
The survey also asked whether fans would be in favor of a more frequent Women's World Cup, currently also held once every four years, with Fifa having reported that 52.4% of supporters said they would approve of that plan.
Again, the survey found that the geographic divide in terms of who supported and opposed increasing the frequency of the women's tournament was much the same as for the men's.
The study brought out by Uefa, meanwhile, assesses how a biennial World Cup – and accompanying Fifa plans to shift the entire international match calendar to more set windows throughout the year – would impact that body's finances.
O&O says in the survey that holding a Fifa World Cup twice as frequently and shifting qualifying matches into as few as two slots throughout the year would have five main impacts that would in turn negatively impact revenues.
These are increased frequency and proximity of events, more final tournaments, fewer qualifying matches, squeezing Uefa national team games into fewer, larger windows, and lower broadcaster and sponsor willingness to pay.
The study claimed these factors would in turn lead to issues such as viewer fatigue, cannibalism within constrained media and commercial rights budgets, reduced revenue from all sectors with fewer qualifiers, lower match attendances, and shrinking advertising and pay-TV subscription revenue.
This research meanwhile claims to have found that – in numbers which differ substantially from those in Fifa's fan survey mentioned above – in Europe, only 25% of 'World Cup fans' think a biennial World Cup would be an improvement, while across the rest of the world that figure only rises to 35%.
In total, the O&O study claimed to find that the overall combined loss of centralized revenue for Uefa national associations if the wide-ranging calendar changes are put in place would be at least €2.5 billion ($2.81 billion) between 2026 and 2030.
If a biennial World Cup is introduced, it could be done as early as 2028, which would be the next free two-year slot after the 2026 World Cup in the US, Mexico, and Canada.
That would mean a direct clash with (among other events) every edition of the summer Olympics (unless either event shifts one year in its current cycle), starting with the 2028 games in Los Angeles and then again with Brisbane 2032.
The International Olympic Committee is by far the largest sporting body to have had its say on the biennial World Cup proposals so far, although all of Fifa's continental confederations have also issued statements.
Three of those bodies – North and Central America's Concacaf, the Asian Football Confederation, and the Confederation of African Football – have previously said they either support the proposal or are willing to approach it with an open mind, while Uefa and Conmebol (which between them have provided all past men's World Cup winners) have said they are categorically opposed to the idea.
The original suggestion for a biennial World Cup from the Saudis was referred to by Infantino as "an eloquent and detailed proposal" earlier this year, and the subsequent vote to set up a feasibility study secured 166 votes in favor from the various worldwide national federations, with only 22 federations standing against.
The Fifa president has previously defended the idea of doubling the number of World Cups, saying: "The prestige of an event depends on its quality, not its frequency…You have the [American football] Super Bowl every year, [tennis'] Wimbledon or the Champions League every year, and everyone is excited and waiting for it."
Proponents of the biennial World Cup proposal have said it will give smaller nations a greater chance of competing on the world's biggest stage and play more top-tier tournaments, while those who stand against the idea have said it will overwhelm the international fixture calendar and lead to an increase in player fatigue and injury.
The next men's Fifa World Cup is set for November and December 2022 in Qatar.