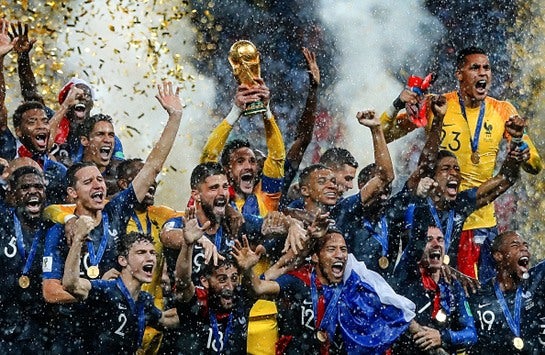 By Euan Cunningham
Fifa, soccer's world governing body, has settled a legal dispute with TUI Cruises, a German cruise line, relating to broadcast coverage on ships of previous World Cup events.
The case, which commenced at the Copyright Dispute Chamber of Hamburg District Court last July concerns TUI's showing on its liners of the 2018 World Cup in Russia and the 2019 Women's World Cup in France via feeds from public-service broadcasters ARD and ZDF, which held rights to the tournaments in Germany.
TUI is based in Hamburg but is a joint venture with Royal Caribbean Cruises.
Fifa said the dispute was the result of the cruise line "not obtaining a license from Fifa's authorised sales agency (IMG) permitting said reception and broadcast".
However, it was announced today that the case has now been settled, with an agreement between Fifa and TUI having been submitted to the court to be ratified and published.
Financial terms have not been disclosed but TUI has recognised Fifa as having sole rights to the basic video feed from matches, which the governing body produces and then distributes to broadcasters.
While 12 cruise lines were able to show live action from the 2018 World Cup via the IMG-produced Sport 24 channel, TUI was not among that number.
The Hamburg court indicated in oral proceedings in April this year that TUI should have respected Fifa's copyright over its match coverage from the tournaments.
The cruise line has also agreed that in future it will not use the feed – even if it has been received from ARD and ZDF, as in 2018 and 2019 – on board its ships, unless it obtains the necessary licence.
TUI will not be able to show Fifa tournament action anywhere on board, either via its ships' internal TV system available in each cabin, or in the communal entertainment and leisure areas, without such a licence
IMG first struck a deal with Fifa in late 2009 to act as the exclusive distributor of so-called 'in-flight' and 'ship-at-sea' rights for the 2010 World Cup, and then renewed the deal for both the 2014 and 2018 editions.
IMG distributes the content, which in 2018 included both live rights and highlights from the World Cup, through its specific in-flight and in-ship channel, Sport 24, which is now available on multiple top-tier cruise companies and airlines worldwide.
Aside from the World Cup, top sports events on the Sport 24 schedule in 2021 include soccer's rescheduled Uefa Euro 2020, England's Premier League and Europe's elite Uefa Champions League, the delayed Tokyo 2020 Olympics, golf's Ryder Cup and majors, tennis grand slams and the major North American leagues.
ARD and ZDF held non-exclusive rights in Germany to the 2018 World Cup in Russia though a deal struck in 2012, and sub-licensed some games to pay-TV's Sky Deutschland.
The two public-service networks are long-time broadcasters of the World Cup in Germany, and again have a joint deal in place for the 2022 edition in Qatar.
The pair will show 48 games from next year's tournament, including all games of the German national team, the opening game, the semi-finals and the final.