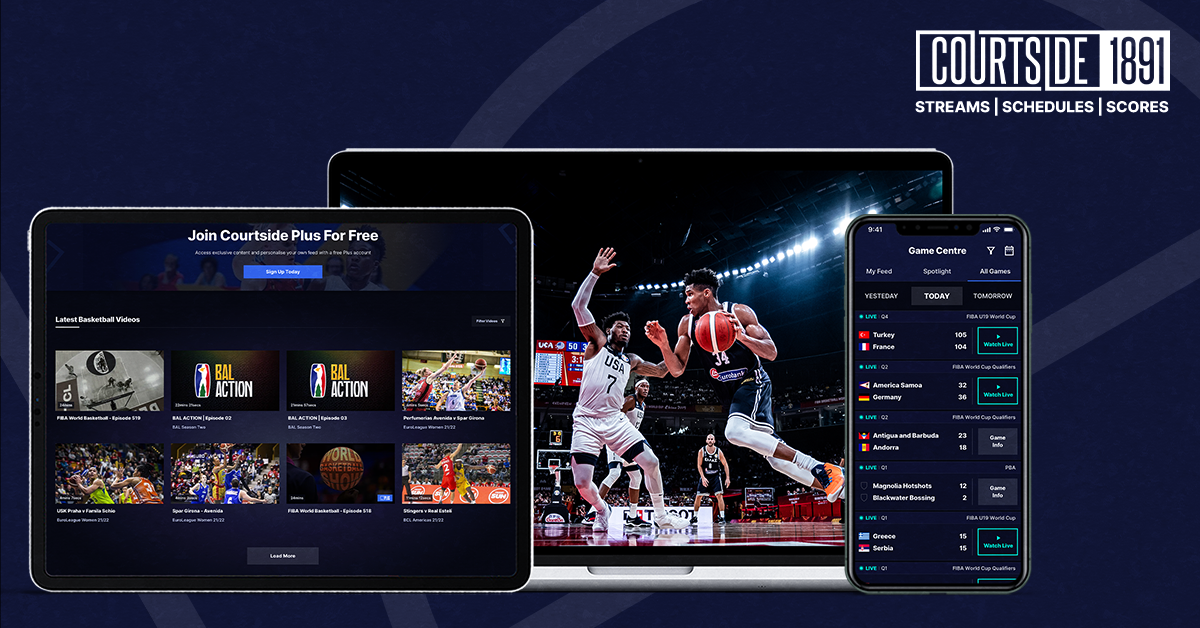 FIBA, basketball's global governing body, has today entered into a seven-year strategic partnership with international digital-focused sports agency Two Circles, which will involve the organizations combining to develop the governing body's recently-launched direct-to-consumer (DTC) offering, Courtside 1891.
The joint venture, FIBA has said, will "revolutionize the direct-to-consumer market for basketball content globally", with Courtside 1891 (which went live initially last month in select markets) to aggregate scores, streams, and fixture lists from a range of leagues and tournaments worldwide.
The site, which is available through both online and mobile browsers and gives users the choice between an annual pass and a single event pass, will feature live streaming of matches in all key markets through both free and paid subscriptions, the governing body has said.
One of FIBA's priority plans for the service is to turn it into "the easiest place for fans to discover where and when they can watch live basketball from a range of competitions."
The governing body has suggested that by giving other broadcast partners the option to advertise and place their own basketball content on Courtside 1891, it will therefore be supporting and not attempting to replace its media rightsholders.
It will take this approach to coverage of FIBA competitions themselves, as well as to coverage of other pan-regional and domestic leagues around the globe.
The initial Courtside 1891 product launch has already taken place, having been launched on limited release during the recent second window of the FIBA 2023 Basketball World Cup qualifiers, which took place last month.
When launching the product, FIBA said it would replace the LiveBasketball.tv site, which has been FIBA's chosen platform for streaming live games since 2013.
The partnership will initially run until 2029, and FIBA has said that Two Circles has already "invested substantial capital to develop new digital platforms and create a dedicated team covering product strategy, sales, marketing, data management, and analytics."
Andreas Zagklis, secretary-general of FIBA, said: "With Two Circles' expertise in digital strategies that engage audiences and grow direct relationships with fans, this partnership has already provided a new digital platform that all members of the FIBA family will benefit from and will create unprecedented levels of engagement with our basketball fanbase."
Gareth Balch, Two Circles' chief executive, added: "As an international federation, FIBA has a track record of innovation, and we are excited with the impact our data-driven approach can have in pushing the boundaries and initiating FIBA's next phase of media distribution and digital fan engagement."
Two Circles positions itself as a "data-driven sports agency that helps sports organizations grow direct relationships between sports and fans."
It has a host of high-profile clients including English soccer's Premier League, American football's NFL, the European Tour Group (which runs what is now called the DP World Tour), and tennis' Wimbledon Championships.
Last month, the agency was appointed to carry out a feasibility study around introducing a women's British and Irish Lions rugby union touring side.
The study will explore the rugby, brand, commercial, and operational opportunities of a women's team (which has never before been attempted) as well as the potential challenges involved.