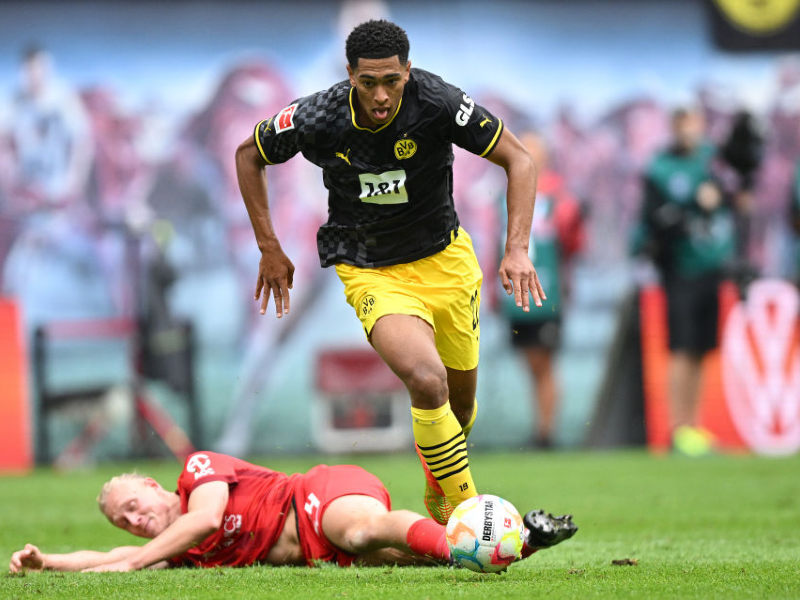 By Euan Cunningham
German men's soccer's top-tier Bundesliga needs to improve its competitive balance in terms of who wins the title each year if the league is ever to catch up with the English Premier League in terms of broadcast rights income, the Bundesliga's executive vice president of audiovisual rights has told GlobalData Sport.
Steffen Merkel, who has been in charge of selling the Bundesliga's domestic media rights since March 2020, said that in order for the German league to ever get near to the Premier League, which leads domestic soccer worldwide in terms of media rights income, it is more than likely that the reign of dominance from heavyweights Bayern Munich will need to end.
For the ongoing 2022-23 season, the Premier League is generating £1.6 billion ($1.86 billion) in domestic media fees, while the Bundesliga is generating €1.1 billion ($1.15 billion).
Bayern have won the last 10 Bundesliga titles in a row, and are currently undefeated this season, while two of their supposed main rivals, RB Leipzig and Borussia Dortmund, played over the weekend in an encounter that Leipzig won 3-0.
Speaking to GlobalData Sport after the start of the second season in the current domestic rights cycle, Merkel said: "Over the last decade we have seen one champion – it would help if sooner or later there was a second team [winning the title]. That's not been a perfect outcome."
"The league is pretty even, apart from the title race.
"Ultimately, a lot [in terms of rights values] depends on sporting factors – how close is the title race, how strong are our clubs in European competitions. It's clear, if we want to be ambitious and bridge more of the values gap to the Premier League, we must see more of this."
Merkel said: "Can we get up to the Premier League's level? That depends on the time horizon, maybe internationally we can in the next four or five rights cycles, I wouldn't rule that out but the ratio of current fees is not in our favor so we have to be realistic."
In terms of total income from its current portfolio of broadcast rights partners, the Premier League is bringing in around $5.6 billion over three seasons, while the Bundesliga is bringing in $4.5 billion over the four campaigns between 2021 and 2025.
The current portfolio of domestic Bundesliga live rights partners features pay-TV heavyweight Sky Deutschland, over-the-top streaming service DAZN, Sport 1, ProSieben, and the public service ARD and ZDF networks, with that deal having begun last season and running through to the end of 2024-25.
However, in terms of maintaining its position in second on the rights values ladder of the top five European leagues alongside the competitions from Spain, Italy, and France as well as England, Merkel was more optimistic.
He said: "I don't see a reason why in the next tender we shouldn't be able to keep that number two spot … In the next tender, consolidating that position would be a really good achievement.
"If I look at the fundamental data, it still shows we are among the markets in Europe with the most upwards potential in terms of broadcast subscription numbers.
"Looking at the last domestic tenders across the other major soccer leagues, LaLiga in Spain stayed roughly the same in terms of value, while the French [Ligue 1] and Italian [Serie A] leagues went down slightly, so we have not seen tremendous growth anywhere else in terms of the value of domestic rights."
Merkel added that, in terms of progress towards the next Bundesliga domestic rights tender, which he expects to go live in early 2024, "we are already making our minds up in terms of what we can change, and having discussions with both the federal competition authorities and various broadcasters.
"These processes have already started, we have already started talking to potential entrants into the market and will continue to do so over the next 18 months."
He said that discussions with both existing and potential new partners would be held, adding: "We will talk to everybody who shows an interest in rights, we would not be doing our job otherwise."
The audiovisual rights lead said that "overall, the broadcasters are happy and the product has domestically developed quite well" during the first year of the current deal, last season."
He said: "Given the tender is still at least 18 months away, it's pretty early to say how the relative values of the packages we offer will develop."
Merkel added that in terms of the split between value extracted from live linear rights, and digital-only rights: "In the last tender, 85% of the value still came from linear rights – the vast majority.
"The core of the value in the next cycle will still undoubtedly come from live packages, although we will try to augment these packages with even more digital content.
"Right now, for example, Sky and DAZN are not able to show free-TV clips as a promotional tool to encourage more people to subscribe – that is something we will think about changing.
"So we are reshaping our portfolio, looking at the data and numbers, and maybe in the next cycle we will give more digital rights to the domestic live broadcasters, to supplement their offerings.
"We've seen a general development from traditional linear viewership to more digital formats as a preference at every part of the value chain, both internationally and domestically."
However, he said that models still suggested the vast majority of value in at least the next tender – for domestic and overseas rights – would still more than likely be derived from live, linear rights.
One addition that Merkel mentioned would be on the agenda of the league for the next international rights cycle is encouraging more Bundesliga clubs to take part in documentaries in the style of the All or Nothing series on the Amazon Prime Video streaming service that has already featured Bayern.
These documentaries, he added, could be incorporated into the rights packages during the next tender, "for a younger international target market."
He added: 'We have already entered discussions with some clubs around this subject.
"The good thing is that we have so many interesting stories here with our 18 clubs, so we would not need to deal exclusively with Bayern."
Merkel is also hopeful that the next domestic tender will be more financially fruitful for the league than the one in tender, when "a number of different factors" contributed to the league's rights value decreasing by €200 million from the previous rights cycle (2017 to 2021, struck in June 2016).
Merkel said: "At the point, we had to go to tender, it was not optimal … We had to go to market three months after the Covid-19 pandemic started, for example.
UEFA, European soccer's governing body, went to market in Germany just before the pandemic started, and thus was able to secure deals at the market rate before Covid hit.
Merkel said, on this front: "Our biggest competitor is UEFA, they were able to sell their rights here three months before, we had to do it after …"
He added: "It was nobody's fault in the end, just a result of multiple factors.
"Would we have seen an increase in the rights fees without Covid? It's impossible to say, several different factors played a part."
Image: Stuart Franklin/Getty Images