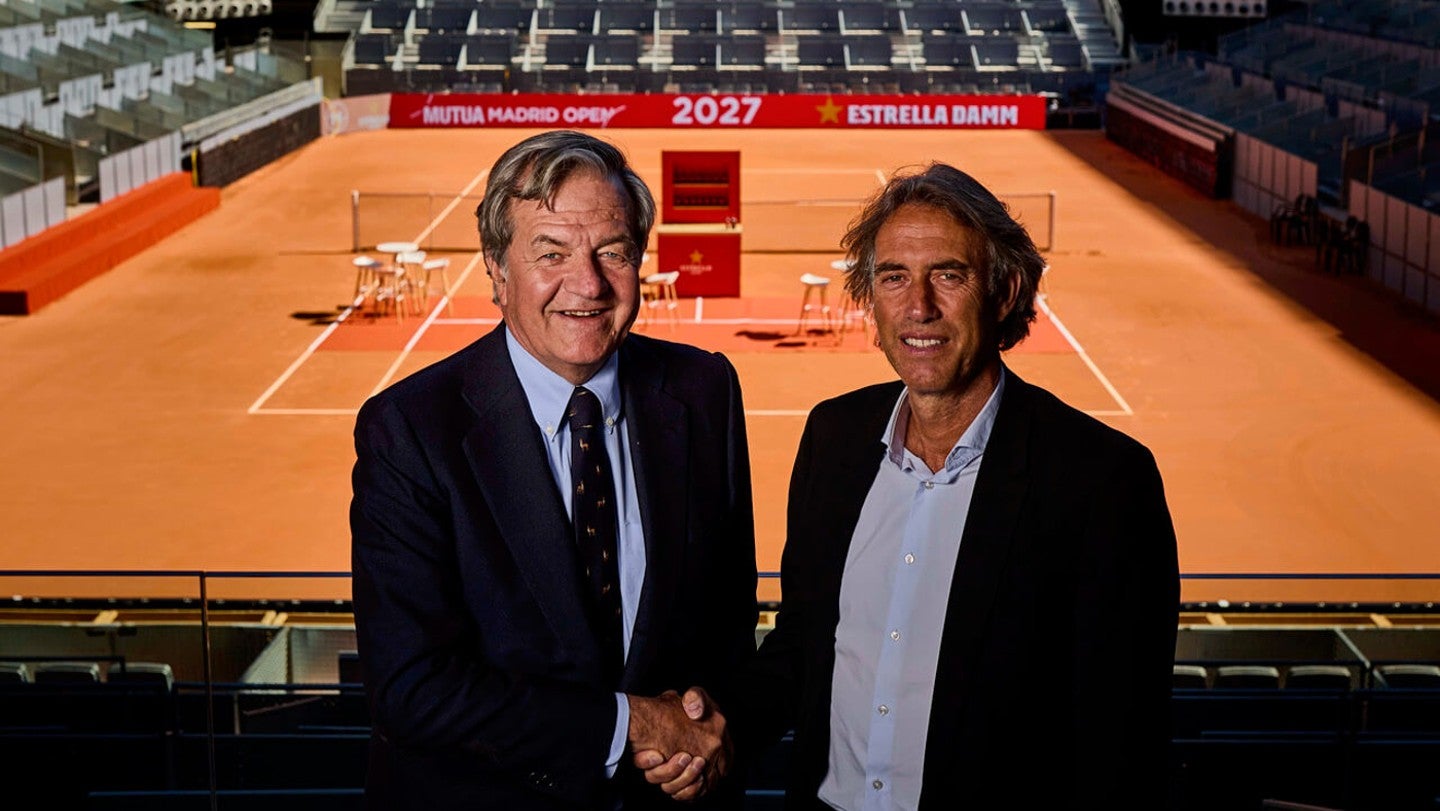 Catalan beer brand Estrella Damm will continue to sponsor Spain's Madrid Open tennis tournament after extending its agreement until the end of the 2027 edition.
Through a deal struck between Estrella Damm and the event's organizers Madrid Trophy Promotion (MTP), the beer brand will retain its status as the official beer of both the men's (ATP) and women's (WTA) sides of the annual clay-court tournament.
The agreement was signed by Jorge Villavecchia, the general director of Estrella Damm, and MTP's chief executive Gerard Tsobanian.
The new agreement also ensures Estrella Damm's presence around the venue and on the courts, while its mineral water brand Fuente Liviana will continue as an official collaborator of the competition.
As part of the renewal, Estrella Damm will use its branded lounge to offer attendees music and entertainment during the tournament, and will also sponsor the Expo Damm, which will house an exhibition on the history of Spanish tennis.
The renewal builds on the pair's relationship that started in 2008, with this year's event running from April 24 to May 7.
In October 2022, insurance firm Mutua Madrilena renewed its title sponsorship of the tournament until the end of the 2027 edition.
IMG, the international sport and entertainment firm, took over MTP in April last year, while in September 2021 an agreement was struck between MTP and the Madrid civic authorities for the tournament to stay in the Spanish capital until 2030.
The tournament, one of nine ATP Masters 1000 and four WTA 1000 mandatory events, joined IMG's roster of ATP and WTA tennis events, including the Miami Open.
Meanwhile, Swedish public broadcaster SVT has renewed its domestic media rights agreement for this year's Stockholm Open, the men's ATP 250 tournament.
The tournament, to be played at The Royal Tennis Hall in the Swedish capital, will be broadcast across the SVT1 and SVT2 linear channels, as well as the SVT Play streaming service between October 14 and 22.
Jamie Perry, the tournament's chief executive, said: "SCT as a broadcast partner is of great importance for the continued development of tennis in Sweden as well as having exciting Swedish players who always become crowd favorites here at home.
"It is fantastic that SVT will continue to show world-class tennis even for those who do not have the opportunity to experience the tournament live at the Royal Tennis Hall."
SVT also showed last year's tournament, while media giant Discovery held rights in the country for the 2021 edition.
Spring Media, the Sweden-based international sports media and marketing agency, advised SVT on the deal and will also produce the competition through its Spring Productions arm.
Spring Media chairman Manfred Aronsson said: "We are really pleased to extend the partnership with SVT and it is a great opportunity for Spring Media to combine our full-service offering with support on both the rights and production side.
"Last year's tournament had record viewing with over 1.7 million on SVT and an additional 4.2 million viewers internationally, which is a great showcase of Swedish tennis."