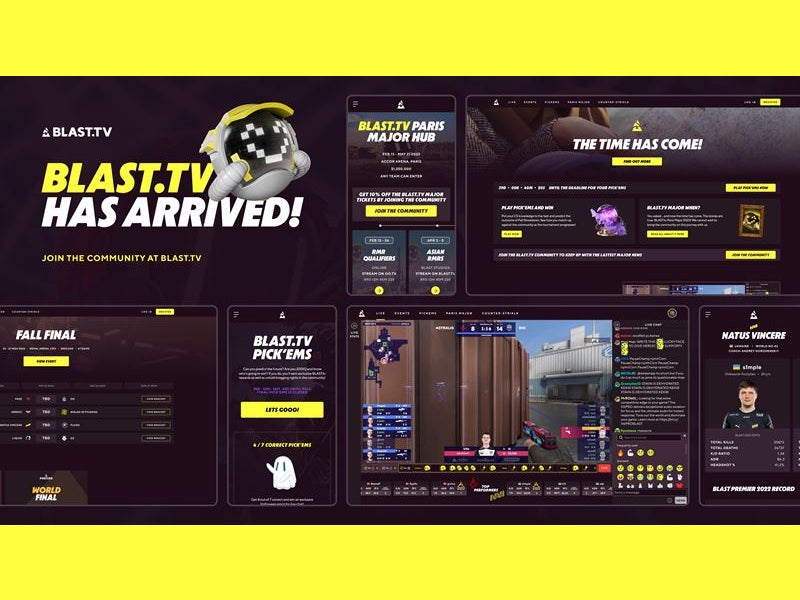 Esports organization Blast has launched its own streaming platform called Blast.tv.
The site, live as of yesterday (November 17), allows fans "to customize and elevate the way they watch esports," Blast has said.
Blast.tv features both live action and archive footage from past tournaments, as well as several integrated features.
Users can view instant replays via an interactive timeline feature that automatically catalogs highlights and discuss content with others via a moderated live chat feature. Video content is also available in 4K.
Outside of live viewing, the service offers player statistics, team standings, news, and exclusive content and experiences.
It has also given its name to the first-ever Counter-Strike major event, now titled the Blast.tv Paris Major, which was announced by French president Emmanuel Macron in September and will be held in Paris, France, next May.
The launch coincides with Blast Premier's Fall Final in Copenhagen, Denmark, and comes ahead of the World Final in Abu Dhabi on December 17 and 18.
Tim Greene, Blast's chief growth officer, said: "At Blast, our aim is to provide next-level entertainment across everything we do. The public launch of Blast.tv marks an exciting step on that journey. Over the last few years Blast has been working hard to deliver the best esports entertainment possible, and more recently we've been investing in a digital platform that will enhance and supplement these experiences even further."
The launch will not affect the coverage of Blast Premier events by the organization's range of existing broadcasting partners.
The global rights holder network stretches across 154 countries in 25 languages, Blast said.
In late October, Blast appointed UK-based international agency CSM Sport & Entertainment as its sales agency of record.
Under the deal, CSM has been tasked with identifying and securing commercial partners for Blast "that match the growth ambitions of the global tournament organizer."
Image: Joe Brady/Getty Images