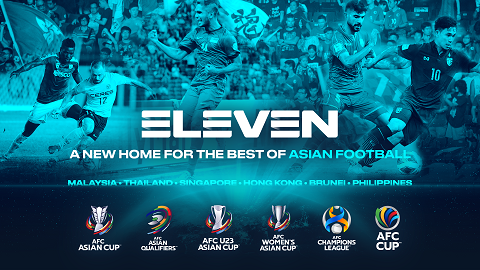 Eleven Sports, the international subscription broadcaster, is set to launch in multiple territories across Southeast Asia and Hong Kong and has today acquired exclusive rights to competitions organised by the Asian Football Confederation, soccer's governing body in the region, for the 2021-24 cycle.
By 2022, the company will roll out a direct-to-consumer service in Malaysia, Thailand, Indonesia, Singapore, Hong Kong, Brunei Darussalam and the Philippines, with plans to expand further "in the near future".
Eleven will launch with a collection of AFC rights, including the remainder of the AFC qualifiers for the 2022 Fifa World Cup for the territories of Hong Kong and Thailand in 2021.
From 2022 to 2024, the deal will extend to cover broadcast rights for all AFC competitions across all Eleven´s Southeast Asian territories, with the exception of Indonesia.
The agreement was negotiated by the AFC's commercial partner Football Marketing Asia, which has a contract for the 2021-24 and 2025-28 rights cycles.
The AFC said to maximise the coverage of the 2023 Asian Cup in Southeast Asia, FMA has retained the rights to further commercialise any AFC competition matches featuring the national teams of Thailand and Malaysia as well as the final match of the tournament separately, with the objective of broadcasting these matches on a co-exclusive, free-to-air basis in Thailand and Malaysia.
Eleven, which is owned by Aser Ventures, Andrea Radrizzani's global investment platform, said it will be "rapidly expanding its content portfolio with a focus on local and locally relevant rights."
The broadcaster added that "an OTT first approach will be employed in all territories".
Each local service will be accessible on Eleven´s new global streaming platform ElevenSports.com. D2C distribution will be complemented by partnerships with local linear operators.
Eleven's offering will be tailored to each market, with local teams to be installed in its core territories and its Southeast Asia operations to be headquartered in Kuala Lumpur, Malaysia.
Team Whistle, the US sports media and entertainment company acquired by Eleven in May this year, will bring its production capabilities to the new network of platforms in an effort to "engage younger audiences."
Eleven's expansion in Asia builds on its operations in Taiwan and Japan in recent years.
In Taiwan, it offers a mix of premium local and international sport including the Taiwanese and Japanese baseball leagues, English soccer's Premier League and North American basketball's NBA. In Japan, Eleven employs an OTT-only service for its local baseball rights.
The Elevensports.com service launched this summer, following Eleven's acquisition of international soccer streaming platform MyCujoo and its proprietary streaming technology in November 2020.
The new global offering sits alongside Eleven's other regional platforms in Belgium, Italy, Portugal, Poland, Taiwan and Japan, which continue to serve local fans directly with live sport and entertainment.
Elevensports.com provides live and on-demand content to fans in more than 230 countries and territories.
Eleven's activities in Asia are supplemented by LIVENow, the international sports and entertainment streaming platform also owned by Aser Ventures.
LIVENow launched an OTT platform with an accompanying linear service in Singapore earlier this year armed with premium soccer rights.
Marc Watson, Eleven Group executive chairman, said: "The Eleven Group has been growing rapidly over recent months. Our mix of sports and entertainment content attracts over 4 billion views each month and we want to continue building and innovating our offering to deliver for more fans than ever around the world.
"Our expansion into multiple markets in Southeast Asia is an important step in delivering on that ambition. We will use the capabilities we have in our Team Whistle division to produce extra digital content to appeal to younger fans and complement our live matches."
The AFC has signed a host of rights deals across several markets for its next three-year cycle, most recently concluding a deal with major sports broadcaster ESPN across Latin America, Central America and the Caribbean.