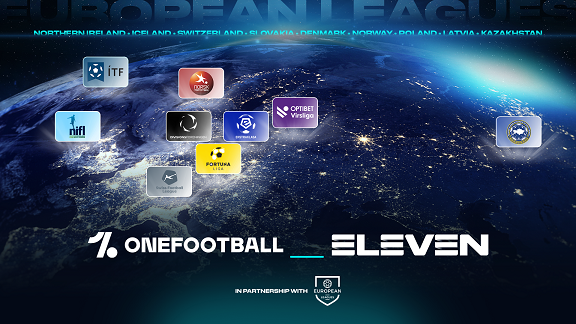 Eleven, the international subscription broadcaster, and OneFootball, the expanding digital soccer platform, have secured live global broadcast rights to nine European soccer competitions in a "landmark" agreement with European Leagues, the organisation that represents the continent's top domestic leagues.
For the first time ever, European Leagues worked with nine of its members to bundle their broadcast media rights outside their domestic markets.
As part of a joint initial three-year deal with Eleven and OneFootball, fans around the world will be able to view matches live and for free from the top-flight leagues in Denmark, Iceland, Kazakhstan, Latvia, Northern Ireland, Norway, Poland, Slovakia and Switzerland.
The new strategic partnership will provide viewers with year-round, free-to-air live action. Live matches will be available across select Eleven linear channels, and the ElevenSports.com and OneFootball platforms, and will be complemented by shoulder programming, highlight clips, archive material and editorial.
On top of securing guaranteed international broadcast revenues, the nine leagues and their clubs are seeking to reach new and existing global audiences through the deal.
The partnership kicks off this weekend with live matches from six leagues, including the Professional Football League of Kazakhstan, the Northern Ireland Premiership, Norwegian Eliteserien, Polish Ekstraklasa, Slovak Fortuna Liga and Swiss Football League.
The respective parties said the structure of the agreement "will allow further members of the European Leagues to easily join the partnership at any time."
Jacco Swart, European Leagues managing director, said: "This represents another innovative example of how we at the European Leagues aim to provide valuable services to our member leagues. We are uniquely positioned to take advantage of opportunities such as these and we will continue to support the development of our members in relation to league business development.
"I'm excited about how we can leverage both the Eleven and OneFootball platforms to amplify the international reach of our member leagues and their clubs. Our intention is for sure to increase the number of participating leagues over time and to keep on exploring new business areas so as to collaborate with the companies we partner with in the most mutually beneficial way and grow the relationship over the long-term."
Nikolaus von Doetinchem, OneFootball's vice-president of OTT and media rights, added: "OneFootball is thrilled to be part of such a ground-breaking deal, setting a new precedent in the wider football media rights industry. This deal provides obvious benefits to fans around the world who will now have access to a huge range of live action at their fingertips, for free.
"Partnering with OneFootball gives these nine leagues and their clubs an unprecedented global audience and we are convinced that many other leagues will see the benefits of agreements like this over the course of this season and beyond."