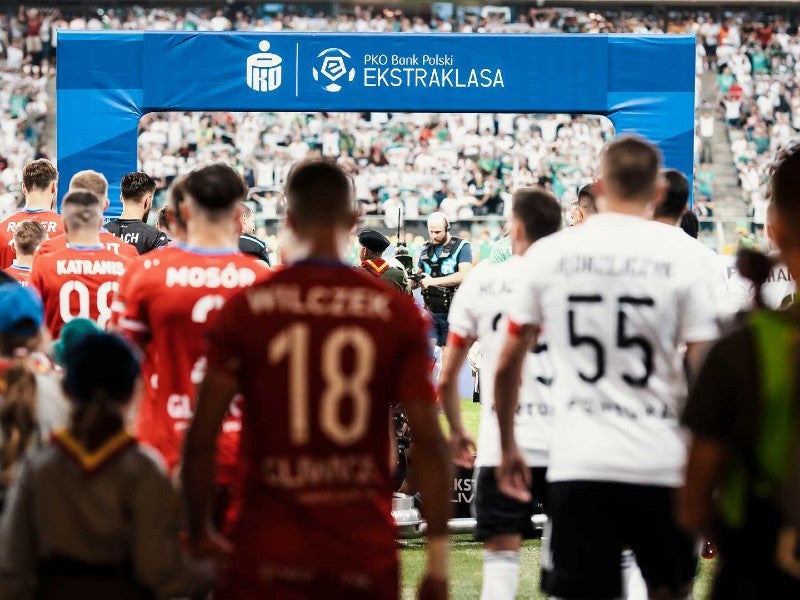 Canal Plus, the pay-television giant, has retained domestic media rights to Polish soccer's top-tier Ekstraklasa for the 2023-24 to 2026-27 cycle.
The broadcaster will continue to show every match from the league in Poland after agreeing a new four-year contract worth PLN1.3 billion ($261.5 million), or PLN325 million a year.
This represents a significant increase on the PLN250 million annual sum being paid by Canal Plus and public service broadcaster TVP in the current 2019-20 to 2022-23 rights cycle.
Ekstraklasa said the new deal, which was unanimously approved by the clubs, is "the highest media contract in Poland in terms of generated value."
As well as live games, Canal Plus will have rights to air highlights, magazine shows, and near-live clips online across its digital platforms.
As with the previous deal, at least one match and a highlights show will be shown free-to-air which Canal Plus must sub-license under the terms of the contract.
The broadcaster will also produce new programs aimed at younger viewers across its TV, streaming, and social media channels in an effort to attract new fans to the league.
Marcin Animucki, president of Ekstraklasa, said: "We are glad that we will continue to cooperate with Canal Plus, as it has been our proven partner for years, not only in good times but also in bad times, as demonstrated by the pandemic period.
"The contract guarantees us financial stability and conditions for the further development of the league and clubs. This will be possible thanks to a significant increase in value, but also to redefined areas of league promotion, which we will implement together with television and clubs."
Ekstraklasa launched its domestic rights tender in late May and set a deadline for the end of June.
For the first time, the league offered a single rights package containing all matches as well as more freedom in terms of digital rights.
The tender also contained flexibility around the potential timing of matches. One option is for five matches (more than half the total number for each game week) to take place on a Sunday, with four of them to be held at the same time. Currently, all games are held at different times each weekend.
The tender process was conducted by Ekstraklasa itself, rather than through an agency.
Animucki added: "We wanted to develop a model that would allow for the broadest possible coverage of match materials with fans and promotion of the league. We take into account the preferences of viewers, especially the young generation, who view mainly short video content on the internet.
"Therefore, the tender included a number of new permissions for Canal Plus, regarding showing highlights online both during the match and in several selected time windows after its end. These are extremely popular formats, as we can see in the statistics of views in social media."
In their present deal, TVP holds non-exclusive rights to 37 games per season, while Canal Plus covers all fixtures.
Ekstraklasa produces its match broadcasts independently through its Ekstraklasa Live Park subsidiary (which also produces the league's international over-the-top streaming platform, Ekstraklasa.TV) and says the 100 matches a year that it produces in 4K UHD HDR are particularly attractive to broadcasters.
Through its new deal, Canal Plus has agreed to broadcast a minimum of 100 matches in 4K.
The broadcaster plans to roll out new technological innovations starting this season with the use of augmented and virtual reality in its broadcasts.
Edyta Sadowska, chief executive of Canal Plus Poland, said: "We have been supporting the development of Polish football for almost 30 years, which is why we are very happy to continue our cooperation with Ekstraklasa and Polish clubs. The contract value is once again record-breaking, but our investments in the development of Polish games have always exceeded the financial support resulting only from the contract amount.
"Our editorial and promotional activities, which we will continue, constitute a huge added value that builds the league's value. In the coming months, we will present our viewers with even more shows, new formats, and technological solutions that will show the native games from every possible angle. We will also want to attract the young generation of viewers who are looking for completely different categories of content within media."
The top Polish league claims the value of its new deal with Canal Plus is the ninth highest centralized domestic broadcast contract in Europe.
Ekstraklasa claims it will be ranked behind the Belgian Pro League and just behind the Dutch Eredivisie, but ahead of the leagues in Denmark, Switzerland, Austria, and the Czech Republic.
The league stated: "The increase in the value of rights in Poland is a significant success on the difficult market of media rights in Europe, where, after the pandemic, some leagues, including the German, Italian, and French, have had to face declines in the value of contracts.
"The rights to broadcast the Ekstraklasa games are valued much higher than the broadcasts to the Polish market of the leading foreign leagues, and even the rights package covering the Champions League and the Europa League."