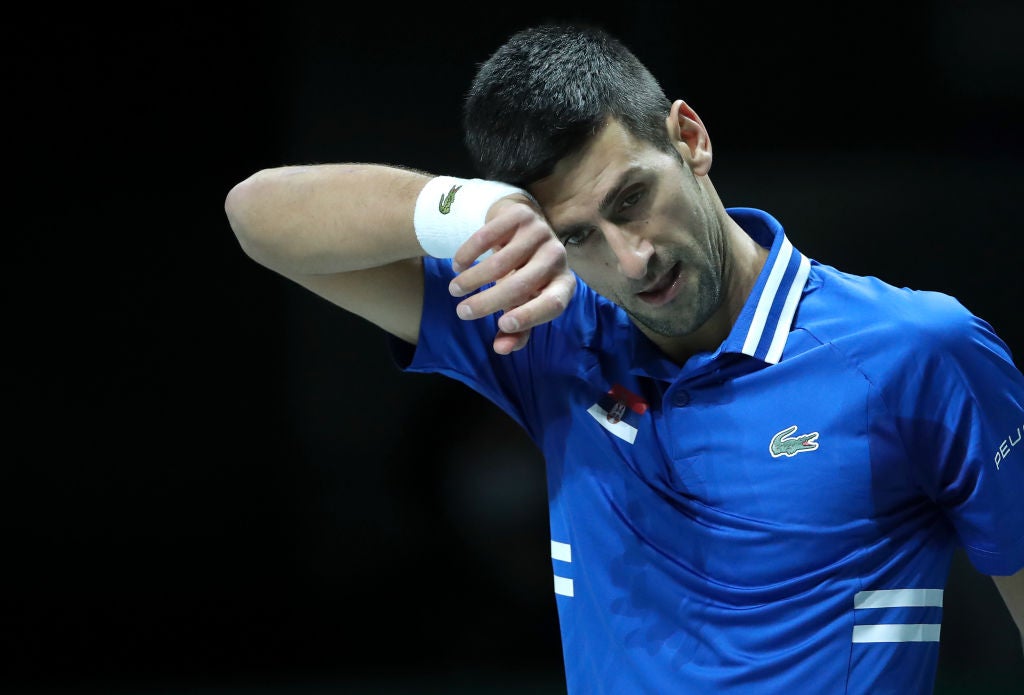 Serbian tennis star Novak Djokovic will not play in this year's Australian Open grand slam after losing his visa battle with the country's government, which could pose a problem for his sponsors.
Judges in Australia rejected the world number one's appeal after the country's immigration minister canceled his visa on "health and good order" grounds late last week.
Djokovic said he was "extremely disappointed" but accepted the ruling. It marks the end of a 10-day saga, in which the Serb fought to stay to defend his title in Melbourne, which he has won a record nine times.
Despite its efforts to grant the player an exemption after not being vaccinated against Covid-19, Tennis Australia, the national governing body, said it "respects the decision of the Federal Court".
The controversial 34-year-old's reputation has been somewhat tarnished by the saga due to his refusal to be vaccinated and could potentially force sponsors to re-evaluate their relationship with the 20-time grand slam champion moving forward.
Djokovic's biggest sponsor is luxury French brand Lacoste, which has a kit deal with the Serbian worth around $9 million.
His other major sponsors include Swiss watchmaker Hublot, Japanese sportswear brand Asics, and French car manufacturer Peugeot.
According to Forbes, Djokovic netted around $30 million from his sponsorships in 2021.
In a statement to French news agency AFP, Hublot made it clear it has no plans to cut ties with Djokovic and will "continue its partnership with the world number one in tennis."
The brand, which only partnered with the player last year, stated that Djokovic "is his own man" and "cannot comment on his decisions".
However, if Djokovic encounters further problems at this year's three other grand slams – the French Open, Wimbledon, and US Open – sponsors may look to cut ties with the player if it reflects negatively on their brands.
Conrad Wiacek, head of sport analysis at GlobalData, said: "Given the polarizing nature of the debate surrounding Djokovic, COVID, and mandatory vaccinations, I would not expect any of Djokovic's partners to immediately terminate deals in the short term. What is more likely is that deals will not be renewed and that sponsors will quietly walk away.
"However, should issues arise with Djokovic when the time comes to play the French Open, Wimbledon, and the US Open, then sponsors may be forced to act. The US Open is likely to be a significant flashpoint, given the current rules regarding vaccinations in New York forcing the likes of NBA star Kyrie Irving to sit out Brooklyn Nets home games.
"Sponsors will be trying to judge the public mood and if they feel that associating themselves with Djokovic is likely to harm their brand, then they will not hesitate to walk away."
Meanwhile, global hygiene brand Initial has today renewed its sponsorship of the Australian Open.
The UK-based company will serve as the official hygiene partner of the tournament for a second successive year.
Under the partnership, Initial will provide hygiene solutions including easily accessible touchless hand sanitizer and disinfectant wipe stations across the Melbourne Park precinct and air purification devices across indoor spaces.
The hygiene brand has signed up as one of 25 third-tier partners of the competition alongside the likes of ANZ, Dunlop, Infosys, Marriott, Mastercard, Toshiba, Uber Eats, and Yonex.
Kia is the tournament's major partner, while Rolex, Emirates, and Luzhou Laojiao serve as second-tier associate partners.
Elsewhere, Nine Network, the Australian free-to-air commercial broadcaster, has unveiled the major partners and sponsors for its coverage of the first grand slam of the year.
Nine's sponsorship portfolio includes renewed agreements with the likes of Kia, Samsung, Uber Eats, ANZ, Visit Victoria, APT, AAMI, Chemist Warehouse, Peters, and Stan.
Bondi Sands, Ralph Lauren, Chubb Insurance, and Safety Culture have also taken up Nine's "AO Extender" packages.
Several new brands have also teamed up with the broadcaster including Crytpo.com, HCF, Microsoft, Peloton, TikTok, and Cancer Council Australia.
The Australian Open began today (January 17) and will run until January 30.