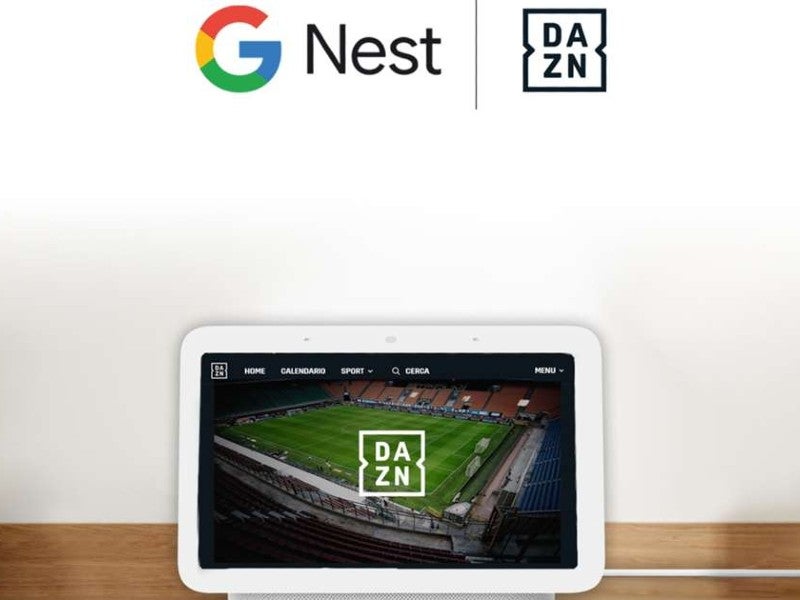 DAZN, the international over-the-top streaming platform, has agreed distribution deals with internet giant Google and electronics company Samsung in Italy which will enable new customers to access its service in a bundle with some devices.
Under its agreement with Google, customers who purchase a Google product – including its 2nd Gen Nest Hub, Chromecast, Chromecast with Google TV, Google WiFi, and Nest WiFi – in stores will be given a one-month subscription to DAZN's platform.
DAZN holds rights to most matches in the domestic top-tier Serie A soccer league in a €2.5 billion ($2.56 billion) deal where it exclusively shows seven games per week, as well as three matches on a co-exclusive basis for the 2021-22 to 2023-24 cycle.
The remaining three matches are shared with pay-television broadcaster Sky Italia in a deal worth €262.5 million over the three years.
Stefano Azzi, chief executive of DAZN Italia, said: "We are thrilled to have entered into an agreement with a major global company such as Google.
"This collaboration will support our business strategy aimed at making sports entertainment increasingly accessible to a growing number of fans through technology, making it even simpler and smarter for all fans.
"The initiative with Google in Italy is the first of this size at European level. We are confident that it can lead the way for new agreements in other countries where we are present."
DAZN's agreement with Samsung, meanwhile, will allow customers purchasing selected Samsung products, including its new Galaxy smartphone range and its Galaxy Tab S8 line of tablets, to gain a six-month subscription to the platform.
The two deals come after Sky Italia confirmed a distribution partnership with DAZN that will see the DAZN app launch on its platform, with all 10 weekly matches available via the app and new linear channel ZONA DAZN.
DAZN's new set of deals come after Telecom Italia (TIM) renegotiated its partnership with the OTT platform, giving up its exclusive right to host the platform on its streaming service TimVision.
Last year, TIM agreed to provide DAZN with financing of around €1 billion (€340 million annually) to support the platform's bid for Serie A rights – about 40% of DAZN's total payment to the league – in return for a distribution package.
However, the deal did not reach the targets that TIM set, and the pair agreed to restructure its partnership earlier this week (August 3) allowing DAZN to strike a deal with Sky, Google, and Samsung.
Along with Serie A rights, DAZN's portfolio in Italy includes Serie A Women, second-tier Serie B, Spain's LaLiga, England's FA Cup and Carabao Cup competitions, South America's Copa Libertadores and Copa Sudamericana, European soccer's UEFA Europa League, Europa Conference League, and Women's Champions League, and North America's Major League Soccer.
It also carries the channels of Serie A clubs Juventus, Inter Milan, and AC Milan, as well as the RedBull TV channel.
Meanwhile, DAZN has struck a multi-year deal with MasMovil that will see the Spanish telecoms giant show five matches per week of domestic soccer's top-tier LaLiga on a non-exclusive basis ahead of the upcoming season.
Under the deal, MasMovil will air DAZN's five LaLiga games per match week starting from the 2022-23 season, which begins tomorrow (August 12).
In December, Telefonica and DAZN were awarded domestic rights for the next five seasons from 2022-23 to 2026-27 and will pay a combined fee of €4.95 billion.
Under those new deals, Movistar will broadcast five games per matchday plus three full matchdays, while DAZN will air five games per week.
As part of its deal with DAZN, clients of MasMovil's operators, including Yoigo, Virgin Telco, Euskaltel, R, and Telecable, will also be able to set up pay for DAZN subscription through their monthly bill, giving them access to all of DAZN's portfolio of sports rights.
Orange Espana, the Spanish arm of the international telecoms operator, will also show all LaLiga matches and UEFA's European club competitions next season after renewing its carriage deal with Telefonica last month.
Through the extension, Orange customers will continue to have access to telecoms giant Telefonica's Movistar Plus pay-TV channels, which will broadcast 175 LaLiga matches in the upcoming 2022-23 campaign.
It means Orange will show all the games from Spain's top-flight after also recently agreeing a distribution deal with DAZN.