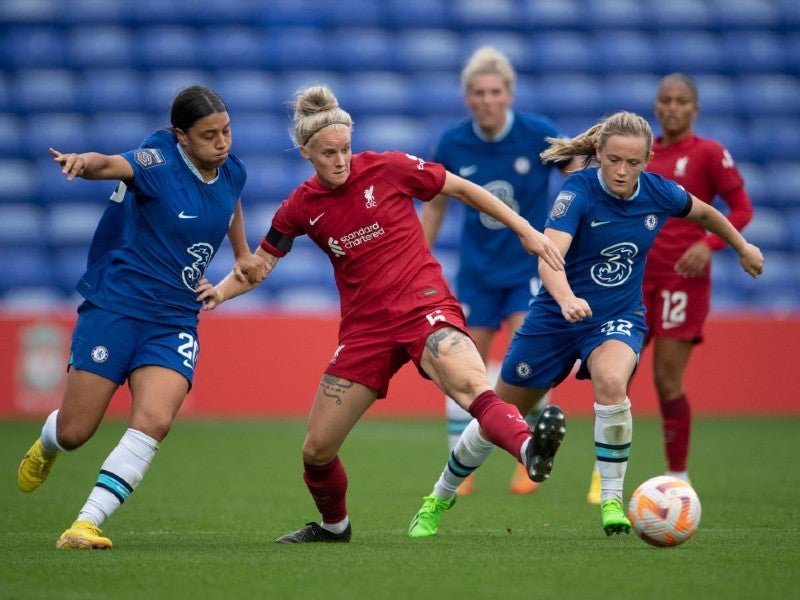 DAZN, the international sports subscription streaming platform, has acquired the rights to English soccer's top-tier Women's Super League (WSL) and Women's FA Cup for two seasons across multiple territories including key markets Spain, Japan, and Italy.
Under the deal, DAZN will offer live and on-demand coverage of at least two FA Women's Super League matches per round, while several Women's FA Cup games will be shown free-to-air on DAZN's UEFA Women's Champions League YouTube channel.
DAZN's coverage will be available in Spain, Italy, and Japan, as well as Albania, the Balkans, Bulgaria, Greece, Cyprus, Hungary, Malta, Romania, and Turkey.
The WSL and Women's FA Cup rights add to DAZN's growing portfolio of women's soccer rights that now includes a four-year global deal for the UEFA Women's Champions League, a five-year domestic deal for Spain's top-tier Liga F, a global deal with the Women's International Champions Cup, and an eight-year domestic deal to broadcast the WE League in Japan.
Shay Segev, CEO, DAZN Group said: "Acquiring the rights to the Women's Super League and Women's FA Cup is a long-term investment for DAZN and demonstrates that DAZN is truly the home of sport.
"It is our mission to grow this audience and provide global access, as we continue to invest in undervalued sports, with a long-term view to build strong commercial propositions that benefit all stakeholders within the ecosystem.
"DAZN is a leader in these key markets and this deal adds to our top-tier domestic football rights and increasing number of global women's football rights, including our ground-breaking UEFA Women's Champions League deal and recent Liga F deal."
In May, DAZN announced the final of European soccer's UEFA Women's Champions League set a new viewership record after a cumulative global audience of 3.6 million watched the match across DAZN, its dedicated YouTube channel, and 11 free-to-air channels in Europe.
The platform said the figure represented a 54% increase in audience compared with the 2020-21 final, with Spain contributing most of the audience with a total of 1.6 million views.
The 2021-22 season was DAZN's first as the exclusive global host broadcaster for the UWCL as part of the four-year deal it struck with UEFA last year.
DAZN's agreement marked the first time that UEFA had centralized all UWCL matches globally. As part of this deal, DAZN also entered a partnership with YouTube that has made the competition live and free for fans around the world for the first time.
According to DAZN, it generated 64 million views on its streaming service and UWCL YouTube channel from over 230 countries and territories throughout the season. Of that figure, 4.1 million live views were attributed to last Friday's final.
The company added that in the last three months of the season alone, more than 12.3 million unique viewers visited DAZN's UWCL YouTube channel to watch the knockout round fixtures, final, and original content.
Meanwhile, DAZN has struck a partnership with Italian fashion retailer Harmont & Blaine for the next two years.
Under the deal, the Harmont & Blaine logo will gain visibility during the platforms DAZN Talks program, which is broadcast on the DAZN app and YouTube channel and features players telling their stories and answering questions in real-time.
Cristina Cavatore, marketing and communications director of Harmont & Blaine, said: "Sport has the power to make life better, both socially and physically, it brings people together and encourages positive change.
"We are happy to enter into a partnership with DAZN, the undisputed leader of the sport system, and at the same time attentive to the social impact in the community."
The partnership follows DAZN's acquisition of Italian soccer's top-tier Serie A domestic rights last year in a €2.5-billion ($2.56-billion) deal that sees it hold exclusive rights to seven matches per match week and co-exclusive right to the remaining three matches for the 2021-22 to 2023-24 cycle.
The remaining three matches are shared with Sky Italia in a deal worth €262.5 million over the three years.
Ughetta Ercolano, senior vice president of content for southern Europe at DAZN, said: "We are very pleased to start the collaboration with Harmont & Blaine, which with its style support the 'DAZN Talks' project, a format in which we strongly believe and which breaks down the barriers between sportsmen and fans, bringing the world of social media to the app and vice versa."
Image: Visionhaus/Getty Images