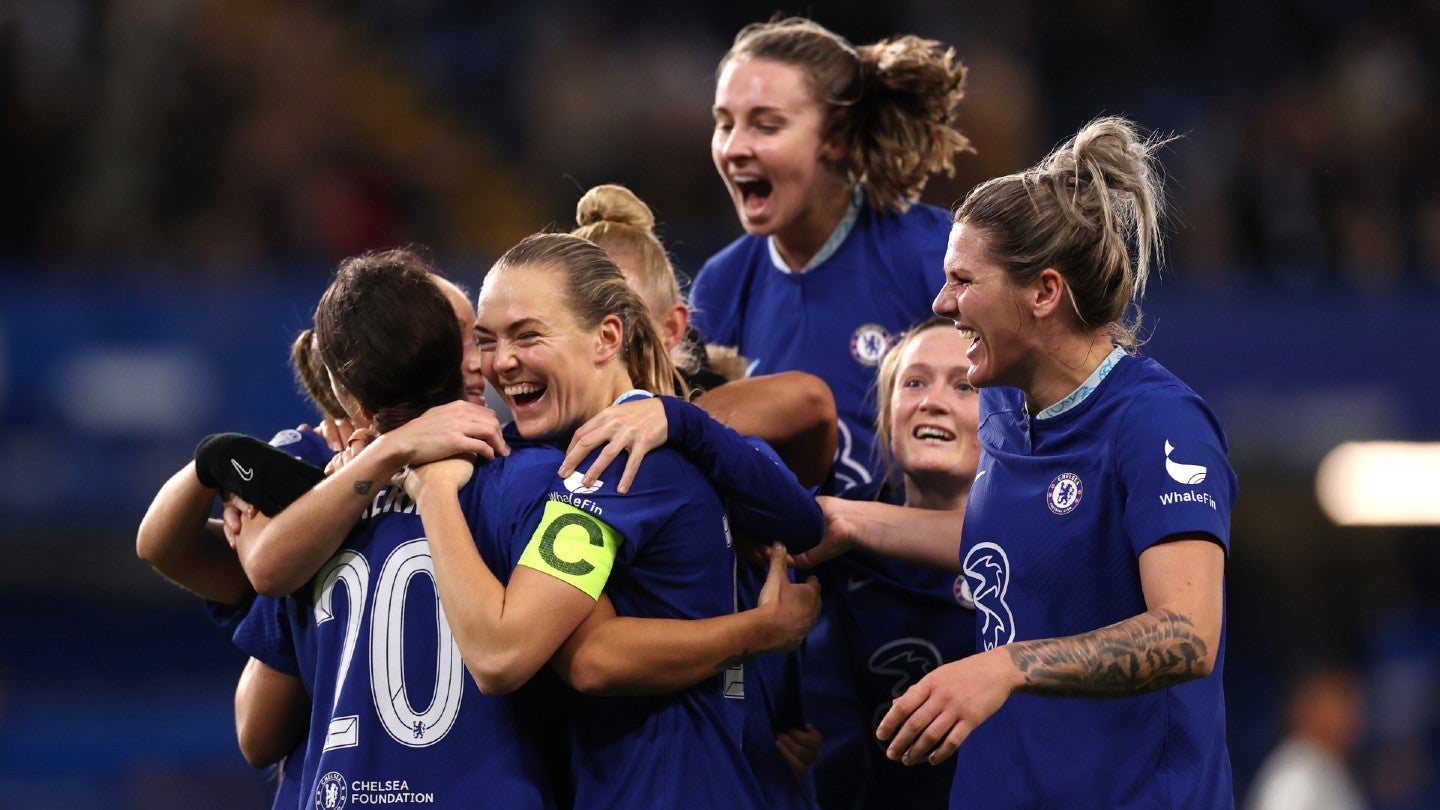 International sports streaming platform DAZN has announced over 20 million viewers tuned into its free-to-air (FTA) coverage of the UEFA Women's Champions League (UWCL) group stages this season.
The figures were released ahead of DAZN's coverage of the European club competition's knockout phase, the first legs of which start today (March 21) with Germany's Bayern Munich playing England's Arsenal and Italy's Roma facing Spain's Barcelona. French side Lyon play England's Chelsea tomorrow (March 22) while France's Paris Saint-Germain play Germany's Wolfsburg.
DAZN is the exclusive global host broadcaster of the UWCL as part of a four-year deal it struck with UEFA in 2021. As part of the deal, DAZN also agreed to show all matches FTA on its dedicated UCL YouTube channel for the first two years of the agreement to increase the competition's profile.
DAZN said the FTA element allowed the 2022-23 group stages to see a 42% increase from the more than 14 million viewers that watched the same stage in the 2021-22 season.
The figure adds to the "millions" that streamed the games through DAZN's main platform.
Andrea Ekbald, vice president of women's sports at DAZN, said: "As we move into the knockout stages of this elite competition and continue the second year of Dazn's broadcasting partnership, the audience growth has been impressive, and the figures speak for themselves.
"The football on display is world-class, which is why we have committed so strongly in our investment of the sport and are dedicated to providing the best possible broadcast output, reach, and delivery. We want to continue to drive as many global audiences as possible and are on a mission to be the home of women's football."
DAZN's coverage of this season's knockout phase will also have a new broadcast sponsor after striking a global multi-year partnership with video game developer EA last year (October 19).
The activation comes as the UWCL made its debut in the popular EA Sports FIFA 23 game and will see the developer gain a presence across all of DAZN's broadcasts globally during the competition's next phase on its platform and YouTube channel.
As part of the deal, EA unveiled its new 'Starting XI Fund', an accelerator to grow the women's game. To jumpstart the fund, EA Sports has committed an $11-million investment, which will incorporate in-game, league, club, and athlete investments.
Guy-Laurent Epstein, UEFA's director of marketing, said: "UEFA is delighted to work together with our global partner DAZN to further grow the women's game, by giving UWCL high visibility through their FTA channels till the end of the season.
"We are delighted to see that our joint investment to support women's football is successfully supporting the growth of audience figures ensuring new fans tuning in from around the globe."
Last year, DAZN announced it had generated 64 million views on its streaming service UWCL YouTube channel from over 230 countries and territories for its entire coverage of the 2021-22 UWCL season.
Last year's final, which saw France's Lyon beat Barcelona 3-1 at the Allianz Stadium in Turin, Italy, also set a new viewership record as a cumulative global audience of 3.6 million watched the match across DAZN, YouTube, and 11 FTA channels in Europe – a 56% increase in audience compared to the 2020-21 season final.
As well as DAZN and its YouTube channel, the game was shown by ITV in the UK and Ireland, TF1 in France, RTVE and TV3 (Spain), RTBF (Belgium), SVT (Sweden), NRK (Norway), Sport5 (Israel), and RUV (Iceland) after the streaming platform agreed sub-licensing deals with the 11 broadcasters.
Image: Ryan Pierse/Getty Images