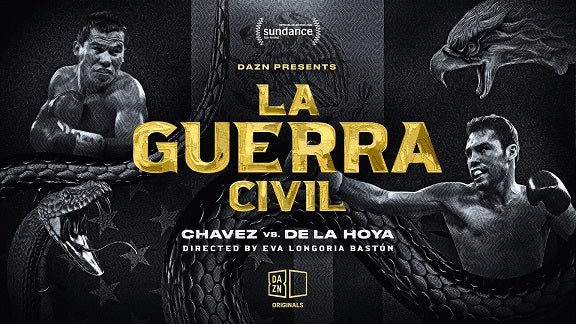 DAZN, the international sports streaming service, has today taken the next step in its global original production strategy with the launch of a specialist content development arm.
The DAZN Studios division has been created to "enhance the company's ability to create development deals, sell and license its original sport documentaries, series, and films, and explore new production opportunities."
The production arm will launch as the streaming service unveils its global original content slate for 2022, which will focus on soccer's Fifa World Cup, with the next edition of the showpiece tournament taking place in Qatar later this year.
DAZN Studios will support the development and production of the OTT platform's upcoming sporting documentaries and series, with titles to feature soccer legends such as the late Diego Maradona and Ronaldo Nazario De Lima.
Maradona: The Fall will be released in the Autumn, while Ronnie will be released in late 2022.
DAZN signed a multi-project developmental deal with Ronaldo in which it will produce three series about the life of O Fenomeno, a nickname given to the 45-year-old, a World Cup winner with Brazil back in 2002.
The first project, called El Presidente, was launched on DAZN globally last May and is a six-part docuseries about Ronaldo's current role as president of Real Valladolid, the Spanish soccer club.
DAZN's first feature-length documentary will be the World Cup Stories series focusing on Qatar 2022.
This will be followed by Green Lions, a documentary about Cameroon's 1990 World Cup campaign.
DAZN Studios adds to the company's existing DAZN Originals arm, which was launched in 2020 to coincide with the rollout of the streaming service's global platform.
Ed McCarthy, DAZN's chief operating officer, said: "DAZN Studios is going to enable us to broaden our original programming offering with productions that not only drive deeper engagement with fans but create opportunities via licensing, distribution, advertising, and commissions.
"We already work with some of the biggest names and organizations in sport and film today, but as DAZN continues to grow, we also want to enable the next generation of filmmakers and invest in the future talent of sports storytelling."
Grant Best, DAZN's executive vice-president of global commissioning and original content, added: "We are incredibly excited to be working with the next generation of creators and giving them an environment to do what they do best; create engaging and innovative productions.
"DAZN Studios will be a space where artists have the space to be creative and produce documentaries, series, and films all in the world of sport."
Other DAZN content projects include La Guerra, Como 1907: The American, The Xtra Sessions, Canelo: The Greatest Athlete You've Ever Seen, and Yuki: The Making of an F1 Driver.
Meanwhile, AGCOM, the Italian communications regulator, will require streaming platforms, including DAZN, to integrate speed tests to measure the quality of users' internet connections, it has been reported.
The move will allow subscribers to be able to determine who is responsible for the quality of a live-streamed sporting event, according to La Repubblica.
If the connection is deemed to be sufficient when a subscription is taken out, it will be the responsibility of the streaming platform to maintain the speed.
If the speed test is triggered, then platforms will be required to refund subscribers €7.50 ($8.50) per week. The consumer will be in line for compensation if they repeatedly fail to connect to a platform or if their viewing is frequently interrupted.
However, the failure to connect does not guarantee compensation, it only triggers the procedure, and a refund can only be obtained if the streaming provider is found to be responsible for the disruption.
AGCOM is taking steps after receiving countless complaints from users about DAZN's coverage of domestic soccer's Serie A.
However, La Repubblica reports that the measure will also be applied to other streaming platforms with major sports rights in Italy, such as Amazon Prime Video.