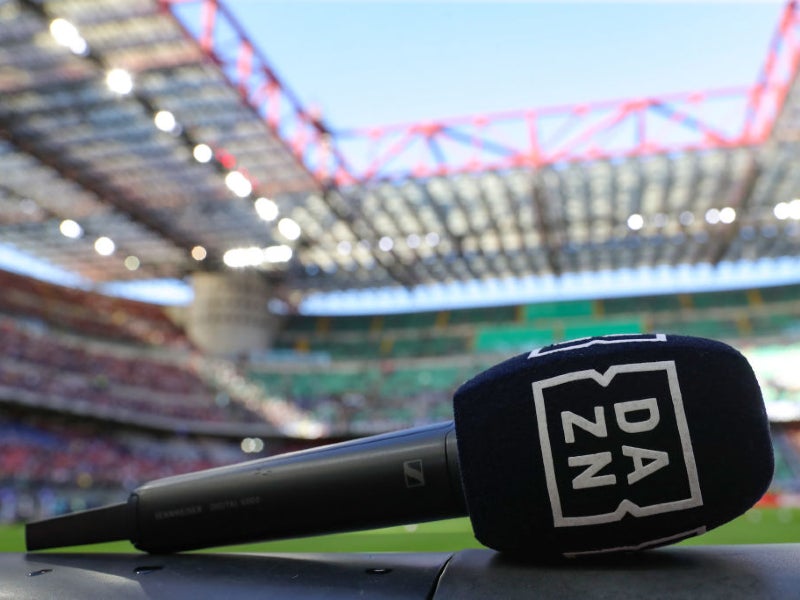 DAZN Group, the global sports media firm and parent company of the sports streaming service, has secured an agreement to acquire international subscription-based sports broadcaster Eleven Sports and digital content company Team Whistle.
The acquisition, which is subject to regulatory approval, will see DAZN boost its sports rights portfolio in markets including Italy, Belgium, Portugal, and Southeast Asia.
As part of the deal, Eleven's founder Andrea Radrizzani will join DAZN's board as an executive director and will "support the DAZN Group's business development."
The potential takeover was first reported in July by the Financial Times. At the time, the newspaper said the group, owned by billionaire Len Blavatnik, was keen to bolster its content offering and enter new markets, with Eleven operating in multiple European and Asian territories where DAZN does not have a presence.
Shay Segev, chief executive of DAZN Group, said: "The acquisition adds scale to our business. It is a big step forward in our mission to be the leading global sports platform.
"I have a great deal of respect for what Andrea, Marc [Watson, DAZN chief executive], and the team have achieved and look forward to working with them as we further expand our ambitions.
"Together we form the strongest and most credible management team in the sector.
"DAZN has invested in building a revolutionary digital sports platform, where fans can enjoy the full range of interactive sports entertainment. We are looking forward to expanding these capabilities to new markets as well as leveraging Eleven's capabilities in DAZN."
Eleven Sports was founded by Radrizzani, who also owns English Premier League soccer club Leeds United. Both Eleven and Leeds are under the umbrella of Radrizzani's global investment company Aser Ventures.
The entrepreneur and media executive founded Eleven in 2015 after selling sports rights agency MP & Silva to a Chinese buyer for more than $1 billion.
Eleven has a range of sports rights which includes deals to show European soccer's UEFA Champions League and the English Premier League in Portugal. In Italy, it has the rights to the domestic third-tier Serie C soccer league, as well as the domestic top-tier Lega Basket Serie A.
In Belgium, it holds the rights to top-tier domestic soccer competitions the Pro League, the German Bundesliga, Spain's LaLiga, France's Ligue 1, Italy's Serie A, and mixed martial arts' UFC.
The broadcaster recently expanded into Southeast Asia, launching in Thailand, Malaysia, Indonesia, Singapore, Brunei, the Philippines, and Hong Kong.
The company launched in those markets with the acquisition of exclusive Asian Football Confederation rights late last year for the 2021-24 cycle and has since added sports such as table tennis, badminton, and cricket.
Eleven's expansion in Asia built on its operations in Taiwan and Japan in recent years.
Radrizzani said: "We have developed a successful sports media company in the last six years with Eleven, and we're delighted that this journey continues.
"The merger will provide greater opportunities as a group to continue to build a global destination for sports fans, which was our mission from day one."
Watson added: "We see DAZN as the future of digital sports broadcasting and the ideal home for Eleven.
"Sport is global entertainment and joining with DAZN will be transformative, allowing us to access greater economies of scale and a global platform for our talented team."
Eleven Group, the parent company of Eleven Sports, has strategically focused on live sports streaming over the past 18 months, launching a new global Eleven International over-the-top service.
It has also made several notable purchases in recent years to bolster its digital content, acquiring international soccer streaming platform MyCujoo, sports production firm NEO Studios, and Team Whistle, the US sports media and entertainment company.
Eleven's acquisition of Team Whistle last year created a business with revenues of more than $300 million in the year to the end of June 2021.
Addressing its acquisition of Team Whistle, DAZN said: "The acquisition of Team Whistle, the Eleven-owned media business, will enable DAZN to reach younger audiences, diversify and expand its fan engagement capabilities, and maximize the value of DAZN's rights portfolio.
"Team Whistle is ranked within the top ten US media sports properties on ComScore with over 700 million followers across its channels, and a growing distribution network that generates around five billion views per month across social platforms.
"Combining the complementary business of Team Whistle with DAZN's content rights creates a powerful proposition."
The acquisition of Eleven Sports follows DAZN's failed attempt earlier this year to buy UK pay-TV operator BT Sport, another rival sports broadcaster, despite talks reaching an advanced stage.
That deal was eventually hijacked by US media giant Discovery which entered a 50-50 sports joint venture with BT Sport, which holds several premium rights in the UK such as the Premier League and Champions League.
DAZN is seeking to increase its rights portfolio in an increasingly competitive market where it is going up against tech giants Amazon and Apple, and traditional broadcasters such as Comcast-owned Sky and NBC, and Disney-owned ESPN to land the biggest sports properties.
The platform has developed a strong footing for itself globally and now owns domestic media rights to Italian soccer's top-flight Serie A, Germany's Bundesliga, and from next season, Spain's LaLiga.
DAZN also shows several other sports ranging from motorsports to boxing. However, the company continues to operate at a loss.
In February, Blavatnik's Access Industries, DAZN's parent company, and principal shareholder agreed a $4.3-billion recapitalization of the business, clearing the company's debt to allow it to carry out its sports streaming strategy and "maintain its strong commercial momentum."
At the time, DAZN said it planned to eventually become profitable and diversify its business by creating new revenue streams.
Following the acquisition announcement, US news outlet Axios reported DAZN had put its US IPO plans on hold to focus on profitability and expansion, particularly in Europe.
Asked about the possibility of an IPO now, DAZN's North America chief executive Joe Markowski told Axios: "I wouldn't say it's front and center of our minds. Our key focus obviously, is driving profitability and all of our markets."
He added that DAZN's board is open to different options for how to finance the business and grow it, but "none of those are planned right now."
Asked when the company would become profitable, Markowski said: "I think in the next 18 months, you'll see significant strides in that."
In April, DAZN announced that it will launch a betting service through a partnership with Pragmatic Group, the betting and gaming industry platform, and content provider.
A new business headquartered in Gibraltar will be launched to operate the DAZN Bet service, and it will leverage the existing DAZN customer base via a licensing agreement.
The streaming service has already hired Mark Kemp, the current chief executive of Irish bookmaker BoyleSports, to lead its sports betting business which is expected to launch before the end of the year.
Commenting on the acquisition Peter Scrimgeour, senior analyst at GlobalData Sport, said: "DAZN's agreed acquisition of Eleven Group's global sports media businesses accelerates its mission of becoming a global sports platform.
"DAZN, with a significant presence in Germany, Italy, Spain, and Japan where it holds top-tier domestic football rights, will be complemented by Eleven Sports' offering in Belgium, Portugal, Taiwan, and Southeast Asia.
"The expansion provides access to new audiences, and in conjunction with launching a betting service and experimenting with NFTs, strengthens the business offering, brings economies of scale, and will support the company in becoming profitable over the next 18 months."
Image: Jonathan Moscrop/Getty Images