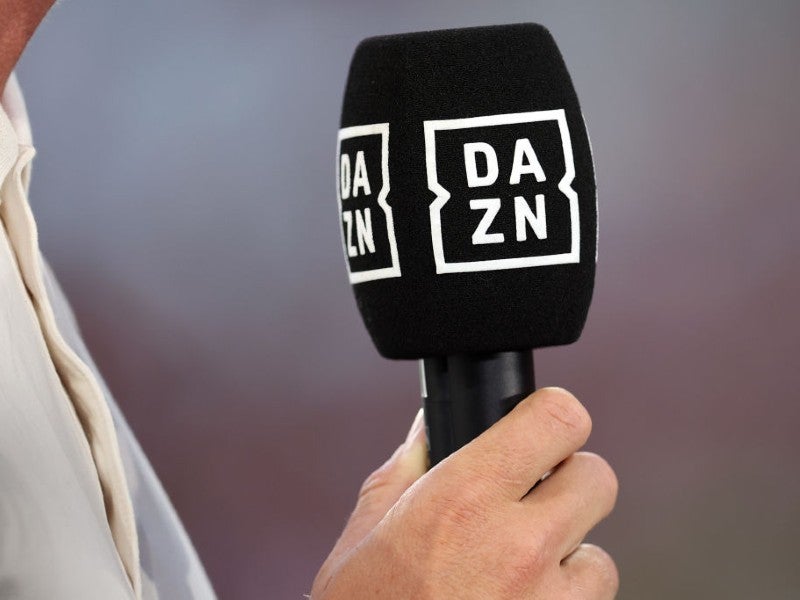 DAZN, the international streaming service, has come under fresh scrutiny in Italy after its coverage of the season-opening weekend of domestic soccer's top-tier Serie A was marred by technical issues and blackouts, leading to criticism from the Italian government.
Fans and politicians took to social media yesterday (August 14) with a laundry list of complaints about DAZN's coverage, including match feeds cutting out several times during Lazio's 2-1 win over Bologna, as well as connection issues during Fiorentina versus Cremonese, Salernitana's clash with Roma, and Speizia's game against Empoli.
Users also reported being denied access to their accounts and at times, randomly signed out while watching matches.
To rectify the issues, DAZN offered fans a link to a low-resolution broadcast of matches through social media platform Instagram, forcing them to watch on other devices.
However, today (August 15) the wrath continued with Italy's sport undersecretary Valentina Vezzali stating on Twitter that she would head an "urgent meeting" with Serie A, the country's economy ministry, and communication industry regulator AGCOM "given the serious and unacceptable problems suffered by customers unable to connect" to DAZN.
Riscontrato il grave e inaccettabile disagio causato agli utenti per la mancata connessione a #DAZN, sto predisponendo con i miei uffici un tavolo urgente che coinvolga la @SerieA, il @MISE_GOV e l'@AGCOMunica, in modo da affrontare il prima possibile quanto accaduto.

— Valentina Vezzali (@VVezzali) August 15, 2022
In a statement, meanwhile, AGCOM said: "Following the serious inefficiencies registered during the broadcasts of the football matches on the first day of the Serie A championship and the numerous reports received, urgent clarification was requested from DAZN on what happened, and AGCOM has asked how the company will avoid the issues in the future."
AGCOM added it had asked DAZN to provide compensation to users and warned the service if the issues continued it reserved the right "to adopt any measures that will become necessary".
In a statement today responding to the issues, DAZN said: "DAZN knows how important our service is for football fans; we take our responsibility seriously, and we apologize wholeheartedly to customers who could not access their accounts over the weekend.
"It was an exceptional situation that affected some customers across several DAZN markets. As a temporary solution, we gave those affected an alternative way of watching the games via a link.
"Our whole business is working around the clock to resolve the situation. If it has not been fixed by this evening's matches, we will provide an alternative way to watch the games again.
"In compliance with Italian rules, we will issue compensation to customers who were impacted. It is our responsibility to make this work. This is our commitment."
DAZN secured rights to most Serie A fixtures last year in a €2.5 billion ($2.56 billion) deal that sees it hold exclusive rights to seven matches per match week and co-exclusive rights to the remaining three matches for the 2021-22 to 2023-24 cycle.
The remaining three matches are shared with Sky Italia in a deal worth €262.5 million over the three years.
DAZN's tenure as the main holder of Serie A rights has not been smooth sailing. Last year, Serie A announced it had written to DAZN after concerns over the technical quality of the platform's coverage of matches during the opening weekend, while AGCOM called on the platform to take steps to ensure no further malfunctions during its Serie A output.
Since then, questions have been raised about the suitability of DAZN as the main broadcaster of the league given the platform's technical capabilities and the varying quality of Italian internet.
Earlier this month, the platform struck a deal with Sky to have a channel on their platform allowing all matches broadcast by DAZN to be aired on satellite television for an extra €5 per month on top of the base €30 per month subscription fee.
DAZN's coverage of Serie A continues tonight with Napoli versus Verona and Juventus hosting Sassuolo.