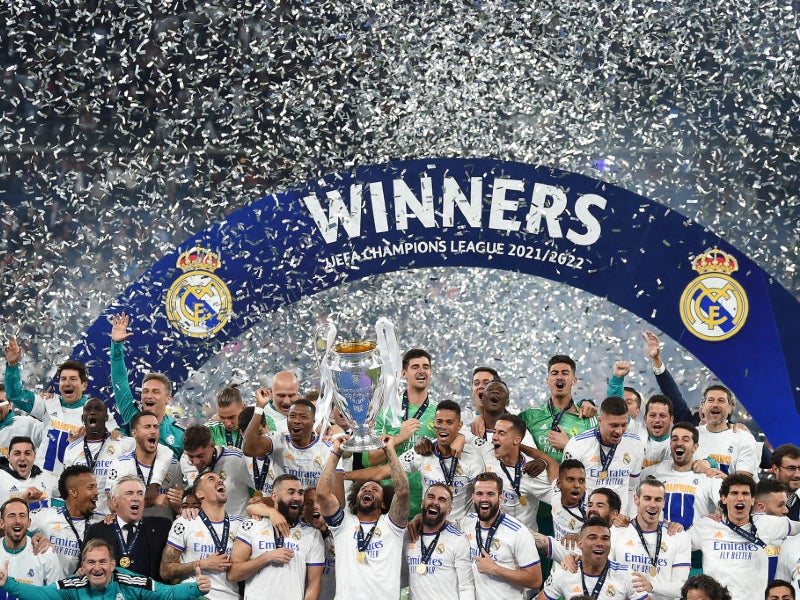 BT Sport, the UK pay-television broadcaster, attracted a record average audience of 12.6 million people for Saturday's (May 28) UEFA Champions League final between Spanish giants Real Madrid and English heavyweights Liverpool.
The climax of the European club soccer's top competition in Paris in France, which saw Real Madrid lift the trophy for a record 14th time after beating Liverpool 1-0, was watched by 7.6 million on BT Sport's linear TV channel and 5 million on its digital platforms, with the match available free-to-air online to all viewers via its YouTube channel, mobile app, and website.
The numbers broke BT Sports' previous record for a UEFA Champions League final, which netted an average audience of 11.3 million during its coverage of the all-English final in 2019 between Liverpool and Tottenham Hotspur.
BT Sport's coverage of last year's all-English final between Chelsea and Manchester City bagged the broadcaster an average audience of 8.7 million across multiple platforms.
BT Sport also achieved strong viewership for its coverage of the Europa League final earlier this month (May 18), in which Germany's Eintracht Frankfurt faced Scotland's Rangers in Seville, Spain.
With the match going to extra-time and penalties after a 1-1 draw, BT Sport drew an average audience of 6.3 million viewers for Frankfurt's dramatic win. The audience was made up of 3.65 million on the pay-TV operator's linear offering and 2.67 million across its digital channels.
Last year, BT Sport achieved record viewership for its coverage of the Europa League final between Manchester United and Spain's Villarreal in Gdansk, Poland, which drew an average audience of 7.4 million.
The weekend's Champions League match, meanwhile, was scheduled to start at 9PM CET (8PM BST) but was postponed by 36 minutes as police and security faced difficulties managing crowds outside the Stade de France.
Despite the delay, European markets secured strong free-to-air (FTA) viewing figures, with French commercial broadcaster TF1 posting an average of 5.9 million viewers for the host nation, while 1.06 million subscribers watched on pay-television broadcaster Canal Plus.
Spanish FTA rightsholder RTVE secured an average audience of 7.7 million, while Germany's ZDF recorded an average audience of 8.4 million.
Italy's Canales 5, Mediaset's FTA commercial broadcaster, netted an average audience of 6.1 million, while pay-television Sky Italia attracted 1.07 million subscribers for the match.