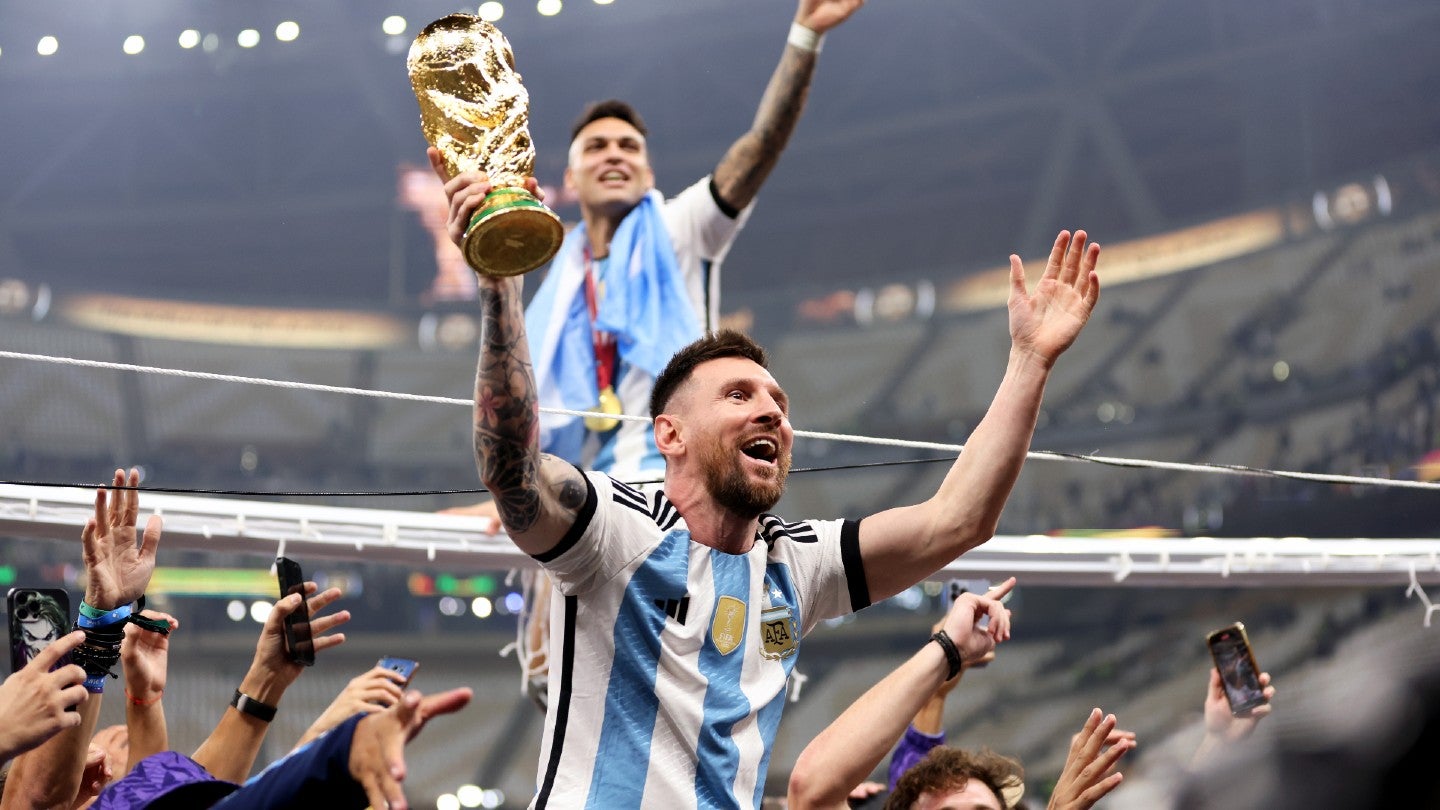 Public service broadcaster the BBC beat commercial rival ITV in the UK viewership battle for Sunday's FIFA World Cup final, securing more than triple the audience size of its rival.
Argentina's penalty shootout win over France was watched by a peak audience of 14.9 million on the BBC One channel, while ITV 1 peaked at 4.4 million.
The BBC achieved an audience share of 58% compared to ITV's 17.8%.
ITV averaged 3.7 million viewers and a peak of 4.8 million across its TV and streaming platforms.
Throughout the duration of the World Cup, the BBC's coverage had a total reach of 38.8 million. In addition, the tournament was streamed a record 104.7 million times on BBC iPlayer and the BBC Sport website.
The BBC Sport website welcomed 52.8 million unique browsers during the World Cup, while World Cup programming was played 10.4 million times on BBC Radio 5 Live, BBC Sounds, and BBC Sport Online.
England's 3-0 win over Wales was the most watched game on the BBC with a peak of 17.6 million, while the country's opening 6-2 victory over Iran was the most requested live game across BBC Sport Online and BBC iPlayer with 7.9 million requests.
Barbara Slater, director of BBC Sport, said: "A first-ever winter World Cup was a new experience for fans and the BBC has once again demonstrated the value of sport when made freely available to all, breaking new streaming records and providing the highest quality coverage, analysis, and entertainment."
ITV's World Cup coverage, meanwhile, was streamed 146 million times across the tournament on the ITVX and ITV Hub services – over 100 million more than the previous tournament in 2018.
The commercial broadcaster secured the biggest television audience of the year in the UK with over 15 million viewers and a peak of 23 million watching England vs. France across TV and streaming.
The top three most-watched matches of the tournament were all on ITV with a peak of 20 million viewers watching England vs. Senegal and 18 million watching England vs. USA across TV and streaming.
ITV's overall match coverage attracted more TV viewers than the BBC averaging 5.8 million (6.2 million across all devices) compared to 5.7 million on its rival broadcaster.
Several matches not featuring England also delivered big numbers on ITV, including USA vs. Wales, which peaked at 13 million, and the Morocco vs. Portugal quarter-final with 12 million across TV and streaming.
A total of 44 million viewers watched the coverage on ITV this year.
In other European markets, the World Cup final was seen by 13.9 million in Germany on public service broadcaster ARD, down from 21.5 million for the 2018 final.
In the Netherlands, almost 6 million viewers watched Argentina's dramatic triumph on TV and digital platforms, while NRK in Norway drew an average audience of 926,000 and a peak of 1.3 million, and RTE in Ireland attracted an average of 780,000 and a peak of 1 million.
Elsewhere, in the US, national network Fox secured an audience of 16.8 million viewers, making it the most-watched FIFA World Cup final in the US, topping the previous high of 14.5 million for the 1994 final between Brazil and Italy that took place in the country.
The viewership was across the main Fox Sports channel and its streaming services.
The final was also the most-watched men's World Cup broadcast in English-language television history, topping USA's 1-1 draw with England in this year's group stage which was watched by 15.5 million.
In India, the final drew 32 million digital viewers on the JioCinema streaming service e as Argentina secured their second World Cup title and first since 1986.
Jio Cinema, owned by Viacom18, said digital viewership surpassed television numbers for the first time for a global sports event. The company revealed that almost 40 billion minutes of watch time was clocked across its Sports18 channel and the over-the-top platform.
According to FIFA's official figures, the 2018 final between France and Croatia attracted a combined global audience of 1.12 billion, comprising 884.4 million viewers tuning in on linear TV and a further 231.8 million digital viewers.
Meanwhile, more than 1.4 million fans visited Qatar for the World Cup, according to the organizing committee.
The organizers announced that cumulative attendance reached around 3.4 million, meaning an average attendance of 53,000 fans per match and an overall capacity in excess of 96%.
Image: Clive Brunskill/Getty Images