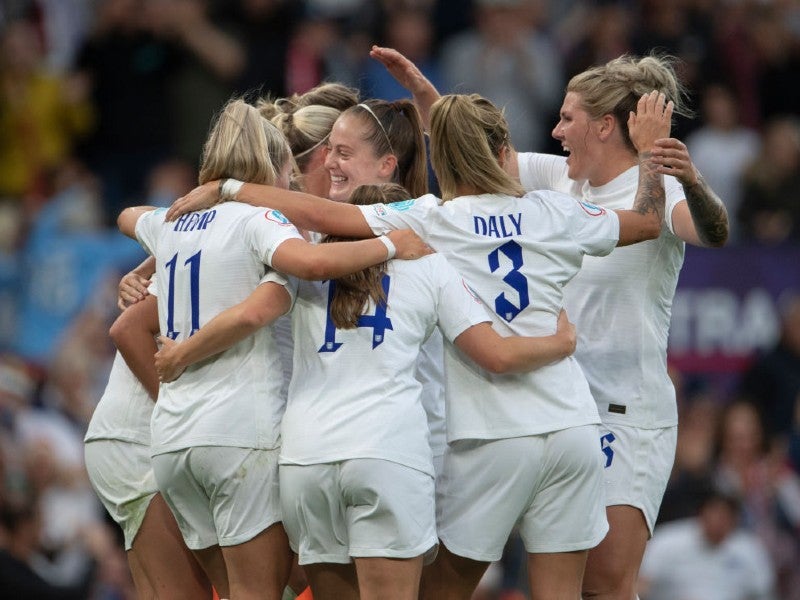 The first game of European women's soccer's UEFA Euro 2022 national teams competition secured the largest attendance figure in tournament history, with 68,781 turning up to watch hosts England beat Austria 1-0 on July 6.
The match was the opener in the 16-team, 31-game Euros, and the attendance figure was set at Old Trafford, the 75,000-capacity home of Manchester United, of English soccer's Premier League.
It has pushed the 41,301 attendance when Germany beat Norway in the final of the 2013 edition, held in Sweden, into second place.
It also beat the previous record for a group-stage game by almost 40,000. That was 29,092, when England beat Finland 3-2 in 2005 – at a tournament also held in England.
The largest attendance during the previous, 2017, edition, was 28,182. This figure was secured during the Netherlands' (the hosts) 4-2 victory over Denmark in the final.
In terms of total attendance, the record for a Women's Euros was the 2017 tournament, with 247,041 turning up across 31 fixtures in all.
In terms of average attendance per game, the 1989 tournament, held in West Germany, brought in 8,875 per fixture – a record that has not been beaten since.
Earlier this year, meanwhile, a new overall record for a women's soccer game was set in the first leg of the Women's Champions League 2021-22 semi-final between Barcelona and Wolfsburg, with 91,648 in attendance.
The highest (recorded) women's soccer attendance during an international fixture was set during the final of the FIFA Women's World Cup in 1999 when hosts USA beat China on penalties in front of a crowd of 90,185.
It is anticipated, however, that this record may well be broken by the final of the Women's Euros, set to be held at London's Wembley Stadium on July 31. The venue has a capacity of just over 90,000 and UEFA claimed in March that the game had already sold out.
Just before the tournament started, it was announced that UEFA had appointed the Eurovision Services arm of the European Broadcasting Union as its exclusive distributor for the tournament's broadcast signal.
The platform is distributing the live feeds for all Euro 2022 matches via its Eurovision Global Hybrid Network, using satellite, fiber-optic, and IP infrastructure.
In addition to the aforementioned satellite trucks, Eurovision Services is also "providing a UHD-SDR signal for all matches from the quarter-finals onwards, as well as the international signal for UEFA broadcast partners to live stream matches on their respective over-the-top platforms."