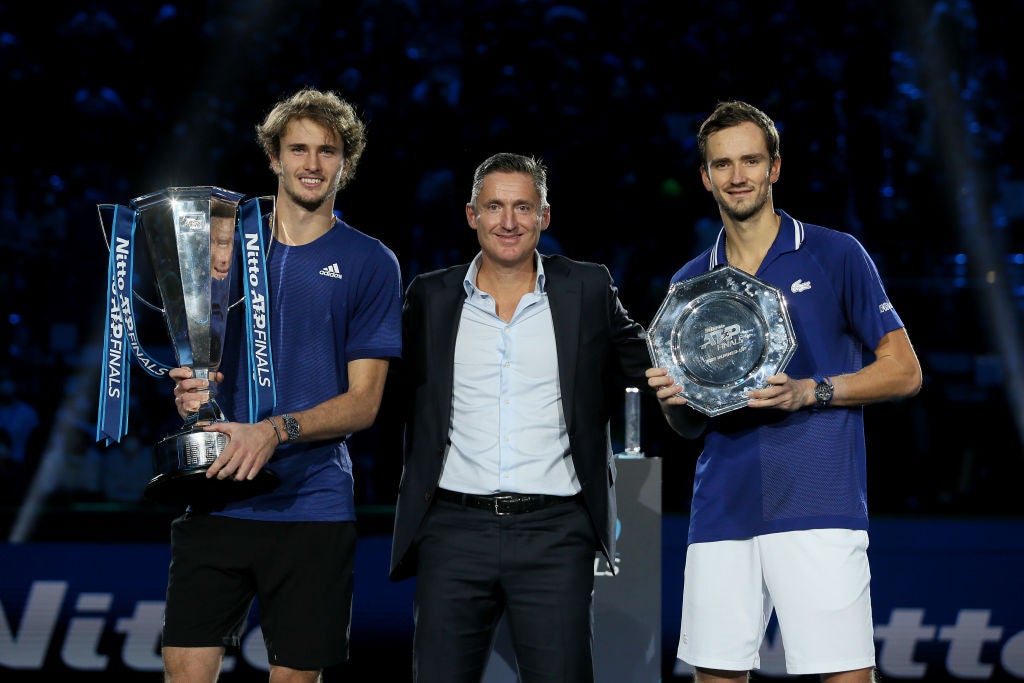 By Tariq Saleh
The recently announced documentary series with streaming giant Netflix will provide tennis with a "massive opportunity" for the distribution and marketing of the sport and a modern way to engage new and existing fans, ATP chief executive Andrea Gaudenzi has told GlobalData Sport.
It was revealed last month (January) that Netflix has partnered with the ATP and WTA tours, the top men's and women's competitions, and the four grand slams to create a docuseries following the stories of the sport's top players as they travel the world over the course of a season.
The series is being produced by Box To Box Films, which has been behind a number of other major Netflix sporting documentaries including Formula 1: Drive to Survive (about the prestigious motor racing series), and the recently announced PGA Tour docuseries that is also in the pipeline.
ATP Media, the body's media rights arm, was also involved in discussions around the opportunity.
Gaudenzi outlined that the ATP was keen to respond to consumer trends within the media and growing demand for non-live content and access.
In an interview with GlobalData Sport, he explained: "It's general knowledge that at the moment sport consumption is 50% to 55% around live action and the rest is off-court, whether it's short-form highlights or long-form highlights, but there are also behind the scenes stories that the fans actually want to see.
"They want access and to better understand the personality of the players. They also want to understand what it means to be on tour etc.
"It's a massive opportunity for the distribution and marketing of our sport and engaging potential new fans and attracting them into tennis as well as providing super entertaining content to current tennis fans who want more insight and to go beyond just the live match and what we offer on court."
Netflix said the series will provide an "unfiltered look at life inside the competitive sport of professional tennis through the perspective of the players and their teams".
The docuseries will feature action from four tennis grand slams – the Australian Open, French Open, Wimbledon, and the US Open – and, it is claimed, will also be the first sports series of its kind "to provide an equal platform to the men's and women's competitors of the sport".
Filming for the new series got underway at the Australian Open last month.
Formula 1's Drive to Survive series has been credited with driving significant fresh interest in that sport – especially from a younger demographic – since its first season aired in 2019.
F1 chief executive Stefano Domenicali has repeatedly hailed the program's role in delivering increased TV viewing figures for the sport for 2021 compared to previous years.
Asked if the ATP was inspired by the F1 series, Gaudenzi replied: "Drive to Survive and other similar series have inspired us, as well as Netflix being new to this in a way because it hasn't really fully entered the sports space yet but is actually seeing a lot of traction from its user base, which proves the theory that we are in the entertainment business.
"The numbers [for the F1 series] are quite stunning in terms of what they generated with attention and also their ratings on TV as a result of that, which proves actually that by proactively telling stories offline you can better engage the fans because it's difficult to explain a sport just by watching it live."
The deal with Netflix and the decision to create a docuseries was made in collaboration with the sport's T-7 working group which features the ATP (and ATP Media), the WTA, the four grand slams, and the International Tennis Federation governing body.
The T-7 was formed to study all elements of the sport, including governance and commercial deals, to make it more relevant in the modern world.
Gaudenzi believes one way that can be achieved is by adopting a digital strategy to fit the current age and evolving consumer behavior.
The ATP chief said: "Every content producer, not only us, will have to deal with the transition from linear to digital. At the moment, 90% of our broadcasters are still linear. It's going to be a slow transition. It doesn't happen overnight. It takes 10 to 15 years for the shift.
"We have seen a massive change and social media has sort of become the new free-to-air in the last few years. You engage for free on social media, you watch highlights, snippets, and short videos, then you move on to the live matches.
"It's not going to be easy, but the [younger] generations are shifting onto those platforms so you need to be where the people are, and you need to have those types of mediums that actually fit the new audience and the future."
He continued: "I strongly believe we are extremely well-positioned in that regard because we are global, gender-neutral, and have a very strong men's and women's product. We have a lot of volume, we are all year round, every week and every day with tonnes of matches, which, for example, other sports like Formula 1 don't have, they only have the 16 races which are two or three hours each.
"They're very limited in terms of content hours, whereas we're very rich in terms of content, diversity, and being global which in my opinion fits perfectly with the digital platforms because there is no limit in shelf space.
"The challenge we have with linear broadcasting is the programming and so this is a bit of a nightmare from a programming standpoint because you don't know when the matches start, how long they last, and when they finish, you don't even know who's playing until the day before. We're moving into an area which will provide a massive opportunity for our sport and I'm very excited about that."
Aggregating media rights is seen as particularly beneficial in tennis as it would enable fans in individual markets to watch events on a single platform.
Gaudenzi hopes the Netflix series will ultimately increase tennis' broadcast reach into new markets.
He said: "The beauty of Netflix and one of the reasons why we chose them as a partner is its wider distribution in global markets and that type of visibility and distribution.
"There are so many options across all platforms and lots of alternatives from a user perspective in terms of content, but Netflix is definitely up there and if you get a window in their hero title in terms of visibility, that's a massive reach to millions of users. From a marketing perspective, it was a no-brainer."
Gaudenzi, who joined the ATP in 2019, explained that players will have the option to opt-in or out of featuring in the Netflix series and that Box To Box will be "fully independent from an editorial perspective" in terms of producing the content.
The Italian former tennis player also stressed that the decision to partner with Netflix was not "financially driven" and was mainly about "wanting to be able to access a wider audience".