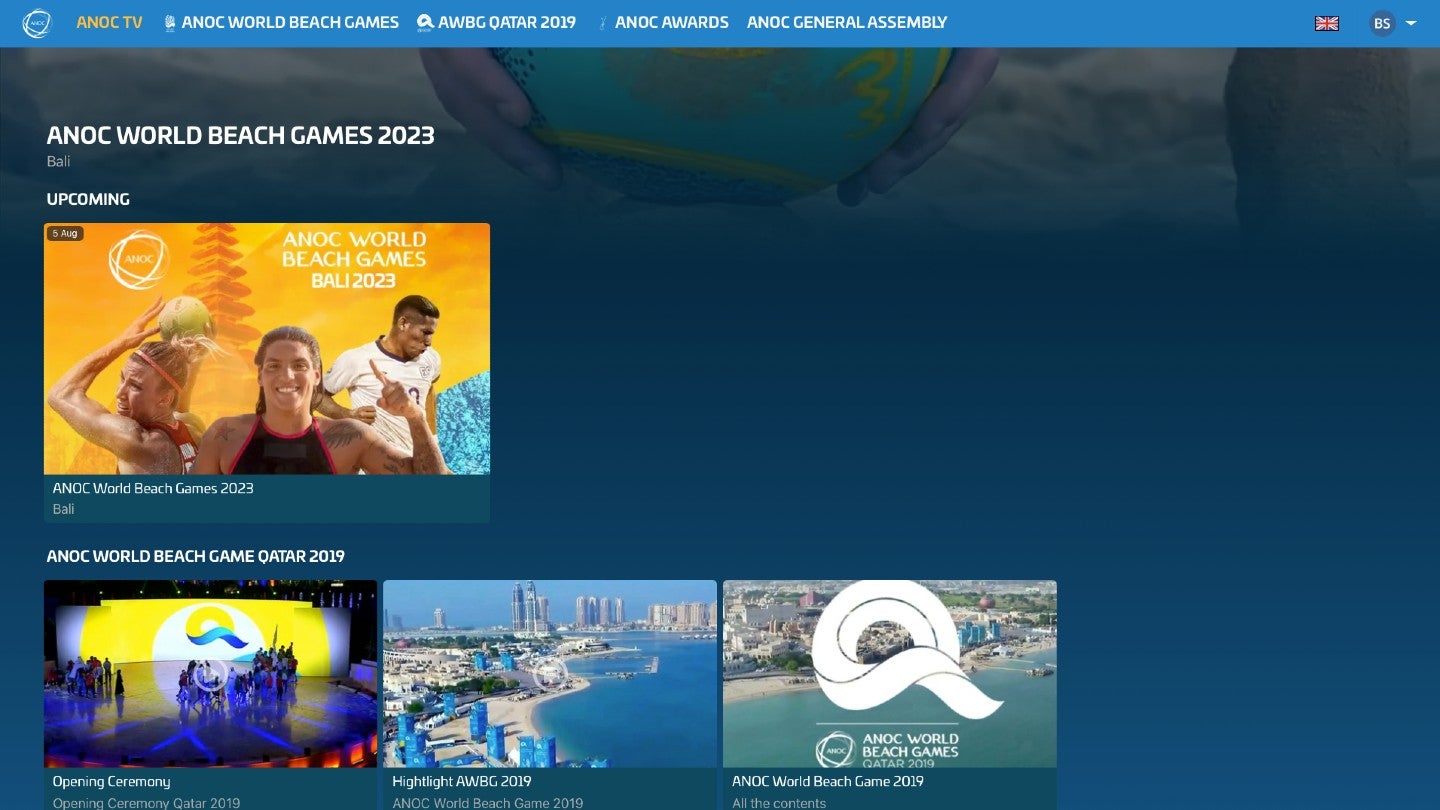 The Association of National Olympic Committees (ANOC) has partnered with Sportall, the sports streaming and distribution platform, to launch its first streaming offering.
The new ANOC.tv service has been developed to "promote ANOC's key properties and provide unprecedented opportunities for NOCs to increase viewership of their national events."
The free-to-view platform will be available worldwide and will provide fans and Olympic stakeholders with live coverage and highlights of the upcoming 2023 ANOC World Beach Games in Bali as well as other ANOC events including its general assembly and awards ceremony.
As part of ANOC's Digital Accelerator Programme, which was designed to enhance NOCs' digital offerings, ANOC.tv will also serve as a free platform for the NOCs to establish their own streaming channels.
Individual NOC channels will be integrated into ANOC.tv and become the main source of national Olympic sport in their countries, "extending NOCs' reach and engagement outside of major multi-sport events."
ANOC said the service will contribute to the growing popularity and awareness of beach sports by live streaming certain international-level beach sport competitions in the build-up to this year's ANOC World Beach Games and beyond.
The umbrella body has reached agreements with numerous international federations and is due to stream events across beach tennis, air badminton, and beach wrestling with further competitions expected to be added.
ANOC.tv already features content from the ANOC World Beach Games Doha 2019 as well as previous ANOC awards and general assemblies.
ANOC secretary general Gunilla Lindberg said: "ANOC.tv will become a hub for international and national sport. With the ANOC World Beach Games and qualification events all set to be streamed on ANOC.tv, the platform will be a must-watch for beach sport fans around the world.
"We have developed ANOC.tv to make sure it is as valuable to NOCs as possible and that it can open up exciting new opportunities to engage their national audiences. By making this platform freely available to all NOCs, they will be able to increase visibility of their athletes and national federations' events which are not consistently shown on mainstream media."
Sportall president and co-founder Thierry Boudard added: "We are extremely proud to be partnering with ANOC on this ambitious project. Sportall's mission is to accompany sports rightsholders in the exposure, promotion, and monetization of all their valuable video content, building their over-the-top solution based on our latest technology platform and with the right model for each.
"This partnership will give us the opportunity to demonstrate our competences on a truly global level."