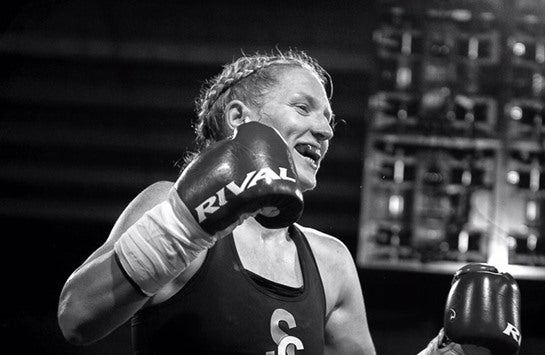 Football teams win trophies; Olympic athletes win medals; boxers win belts. That's how it is. So when welterweight Stacey Copeland became the first British boxer to win the Commonwealth title by defeating South Africa's Mapule Ngubane, in a unanimous decision at the International Convention Centre in Harare earlier this month, she had naturally been expecting to be presented with a belt.
But that's not how it turned out. Two days before the fight,
she received an email from a Commonwealth Boxing Council official saying that
no belt would be presented to the winner. The company that produced so-called
'replica' belts – the real things are expensive – had ceased production; there
was no one to make them.
The news that no belt would be awarded if she won was "like winning a cup with no cup," says Copeland. "I was really, really disappointed. I never had that moment [of being presented with the belt]. I was robbed of it forever."
When she returned home to Manchester, she contacted the official,
who told her that it could be months before a replica belt was available. How
about the real thing?, she asked. If the choice was a 'real' belt or nothing,
she would take the real one and pay for it out of her own pocket.
"The next part of the conversation was highly inappropriate," Copeland continues. A real belt could be obtained in "the next couple of weeks," the official said, but added: "It's £1,500 [$1,972], so unless you've got a sugar daddy…"
Forget Mayweather versus McGregor, and their respective purses of $100 million and $30 million. This is the reality of professional (women's) boxing, even at the international title-winning level. No replica belt, and an out-of-touch suit patronising you and telling you you won't be able to afford your real belt.
---
For someone who has been to Africa, made history, but who works full time, to be treated in such a degrading and derogatory way was very disappointing
---
"For someone who has been to Africa, made history, but who works full-time, to be treated in such a degrading and derogatory way was very disappointing," says Copeland. "When I questioned the official, he said he didn't mean it that way, but however he meant it, he shouldn't say it. These are the things Pave the Way are about. It doesn't make me angry or have extreme feelings towards him; it just shows that we need more awareness, more education, more understanding of the impact of language. It's bizarre how you can even come to say something like that."
Pave the Way is an initiative Copeland started when she turned professional last year, at the relatively advanced age of 36 (after a previous footballing career in which she played for top English club Doncaster Belles and represented England at under-18 level). Pave the Way aims to inspire and campaign for pathways for girls and women to achieve their potential in sport.
Copeland has learned over a long sporting career not to
accept the status quo, ever since she was told, aged 11, that she couldn't
become a boxer because it was illegal, at the time, for women (professional
boxing for women in the UK was legalised only as recently as 1997). "I've spent
that many years waiting for things to change and being told, 'It will change,
just wait, it'll come, it'll come'," she told another interviewer. "And I've
realised that it doesn't happen unless some of us make it happen. I don't want
to be quietly waiting for other people to do something. I need to be one of
them."
We're speaking in a café at Manchester's Piccadilly station, where I've travelled to meet Copeland in a break in her schedule between a public engagement unveiling a bee sculpture, part of Manchester's response to the terrorist bombing last year that left 22 people dead at an Ariana Grande pop concert (the worker bee has long been a symbol of the city's energy and sense of community), and a training session – although with her hands still sore from her victory over Ngubane, she's resigned to having to spend most of the session on the exercise bike.
I first became aware of Copeland when she was nominated for,
then won, the Women's Sport Trust 'BeAGameChanger' award for an individual
sporting role model at a ceremony in London in May. "As one of only six
professional female boxers in the UK, she is passionate about both challenging
inequality and celebrating success of women in sport," the Women's Sport Trust,
a UK charity that focuses on using the power of sport to accelerate gender
equality and stimulate social change, said.
As she accepts the award, I can see why she's been chosen. One
minute into an anecdote about how she overcame the doubts of her father –
himself an ex-boxer – over her turning professional, by simply ignoring him,
the audience (admittedly one predisposed to like her) loves her. Copeland is
educated (she has a degree in sociology from a US university, and works as head
of personal development and wellbeing in a school), articulate, determined and
a natural but modest advocate for women's sport.
One thing the Commonwealth Boxing Council official might have been right about, though, despite the patronising 'sugar daddy' remark, was this: Copeland could well have struggled to afford that £1,500 belt. Last year, by her own reckoning, she earned less than £20,000, almost all of it deriving from her minimum-wage, full-time job at the school, plus an annual honorarium of £4,000.
Her earnings as a professional boxer can be virtually
discounted. This is because, at her level, getting a professional fight
involves hiring a matchmaker, and paying all of her opponent's expenses out of
the gate receipts, not to mention a cut for her coach and manager, leaving her
with whatever (if anything) is left over.
In June, a sold-out boxing bill at Manchester's Middleton Arena, in which she was due to fight, was abandoned when a man was stabbed and seriously injured outside. Copeland was having her hands bandaged before donning her gloves when she heard the news. "I was massively deflated," she says. "It's awful when something like that happens; if you're bringing a knife [to a boxing match] you've not got good intentions. I was worried for friends and family, hoping they haven't been hurt and hoping they haven't seen [the incident]. Then it slowly sunk in: I spent £3,500 on a fight that didn't happen.
"There's a huge financial risk in fighting. I refunded
pretty much overnight a percentage of the tickets, although some people didn't
accept it. But I wanted them to know I value their support. It was my
sponsorship money that got wasted. My manager is looking into the insurance
side of it."
Nevertheless, this year, she says, she expects to earn more
than last because, for the first time, she has a sponsor, Sports Tours
International, the sports travel group, which has offered to pay her opponents'
expenses for up to four fights.
For the Commonwealth title fight she (nominally) earned £3,000. But from that she had to pay the Zimbabawe and British boxing boards, her manager, coach, and tax on her earnings. "After all that, there's not much left," she says.
So, where is the funding for her Pave the Way campaign
coming from, I ask, expecting to be told that the local council and perhaps
even private sector sponsors are contributing. "It's financed by me," she says.
"I decided to make a project for women's sport week, which took place the week
after my pro debut. I had a logo made and planned a photography exhibition [in
the velodrome at Manchester's National Cycling Centre]. It was me and my best
mate Nige [a photographer]. I did two talks a day in schools. Then I did Pave
the Way inspiration day, and Sky Sports came down. I'd give the girls props, an
energy bottle, for example, and tell them to come up with an empowering advert,
or show them existing ads they had to update."
---
I have loads of ideas, but no funding. All my life has been doing public-sector work or doing sport. I don't know how to do business plans; that's the bit I need help with
---
Copeland gives herself two more years as a professional
boxer before she thinks she'll have to retire, to become, she hopes, a
full-time women's sport advocate. But paying to do that from her own,
relatively meagre, school earnings is clearly not sustainable in the long term,
and Copeland knows it. "I have loads of ideas, but no funding," she says. "All
my life has been doing public-sector work or doing sport. I don't know how to
do business plans; that's the bit I need help with. If it can be my living, I
can do loads more. Imagine not having 10 hours of the day on another job.
"I'm not interested in making money, I just want enough to
live off. One idea is, I do business talks and workshops, and they fund the [giving
talks at] schools bit. I don't want to stop doing that because it's what I'm
passionate about. Companies could maybe fund the schools [talks] as part of their
CSR [corporate social responsibility].
In the last year or so, Copeland has given 63 talks and been
paid for nine of them. One of them (it's unclear if she was paid for this one –
somehow, I suspect she wasn't) was to the European Parliament. A Member of the
European Parliament heard the speech she gave when she donated a pair of
specially designed boxing shorts featuring the face of Emmeline Pankhurst, the
suffragette, to the Pankhurst Centre in Manchester, the city of Pankhurst's
birth. The result was Copeland addressing a conference on women in sport in
Brussels, which she describes as a "good experience. There's a commitment to
driving things forward for women's sport. I talked about my own experiences and
background of where we've come from as women."
Copeland is optimistic about the future of women's sport. Considering
that women were banned from playing professional football in the UK until 1971,
and banned from Lord's, the home of cricket, until 1991, progress has been
"amazing," she says, citing also the inspirational story of USA's Kathrine
Switzer, who in 1967 became the first woman to run the Boston Marathon, five
years before women were officially allowed to do so, despite an attempt by an
official to physically prevent her.
Last year, on the 50th anniversary of her debut,
Switzer ran the marathon again for the ninth time, in company with over 13,000
other women, making up almost half of the field. Evidently keen to make amends
for their behaviour 50 years before, organisers awarded her the same bib
number, 261, that she was assigned (through an oversight) in her first race,
and said that they would retire it after the race in honour of her.
Copeland has earned some public recognition for speaking out against the use of so-called 'ring card girls' in boxing, appearing on BBC radio, for example, to argue that the girls, like the podium girls at the Tour de France, are an anachronism. Explaining that, instead of ring card girls, she uses young boxers as mascots at her fights, she rejects the counter-argument that the girls should be free to make their own decision and that eliminating them means putting them out of work, saying: "We're not talking about careers here. It's £50 a night. I've met loads of ring card girls, and they could do a more integral job that you can do past the age of 25. I'm talking about people being in a job they can do for ever. They do loads of other stuff, but you don't get to see it. The only bit we see is the glamour and cosmetic side.
"The other argument is freedom of choice. But is it freedom
of choice if it's affecting other people negatively? What are we saying with cyclists?
They don't need someone of the opposite sex giving them a kiss on the podium.
What message is that giving to other people? Women can't ride the Tour de
France, but women can kiss the riders at the end of the race? In football,
they're doing great, using children as mascots."
So what are the remaining barriers to women's sport being valued as much as men's, I ask. And how can they be broken down? "I don't think women's sport is separate to women in general," Copeland replies. "When you're talking about any group of people who have been treated differently, it's hard to separate the areas of oppression or disparity. When I do talks in schools I show them an old advert for the Mini automatic [car], featuring a woman and the strapline 'For simple drivers'. The sport aspect is not entirely separate, maybe because of the things we valued in society, like strength and power.
"It's a fact that women were banned from almost every sport
for the most ludicrous of things. Boxing was said not to be safe when women had
PMT. We've had many years of having to break that down. How long will it take
to be accepted in activities where people thought women might die [if they
practised them]? Nowadays, if the BBC said it was going to show Wimbledon, but
not the women's competition, people would say, 'What?'."
---
A lot of us want to be the role models that weren't there when we were growing up
---
Media coverage and sponsorship of women's sport still lags
well behind men's in most sports, but Copeland rejects any suggestion that the
onus is on female athletes to sell their sports better, saying: "I don't know
what we can do more than we're already doing. A lot of women athletes are
accessible. The nice thing is that a lot of us have got jobs, or earn a standard
living out of sport. We're trying to portray ourselves in the right way. A lot
of us want to be the role models that weren't there when we were growing up.
What we need is people in positions of power or influence to take that on. Sponsors
are beginning to recognise the benefits of having women's sports on board."
Here she cites Vitality, the UK insurance provider which has
been active in supporting a range of women's sports in the UK, including taking
on the title sponsorship of the Vitality Hockey Women's World Cup presently
under way in London, and sponsoring the England netball team.
Her mention of role models gives me the chance to ask a
question she's no doubt heard before: to put it brutally, does hitting people
for a living provide a good example for kids (whether you're male or female)?
The question doesn't rattle her. "I think about these things when people say it,"
she says. "I've been brought up with boxing being completely normal. For amateurs,
it's not a business; it's safety first. Most people only see the big prize
fights, which can be brutal. My message is not about going and hitting people;
it's about gender not being a barrier to human potential.
"My other message is to pursue what you believe in. I do
believe in what I'm doing: inspiring others is the greatest privilege as an athlete
and human being. You don't have to compete. What I stand for outside the ring,
what sport I choose to do, isn't the key factor, because I used to play football.
It's not like I'm inflicting it on someone who doesn't want to be there."
Copeland was born in Romford, Essex in 1981 but her family
quickly moved to Manchester, her father Eddie's home city, following his career
as a boxer (he had been Amateur Boxing Association champion in 1979). Copeland
began training at an early age in her grandad's boxing gym but, blocked from
continuing as a boxer, turned to soccer.
"School wasn't great for me – I was far too hyper-active,"
she says. "I found it really difficult to sit in a classroom." Nevertheless,
she went to college to study sport but dropped out after the first morning,
realising "it wasn't for me, and got a job in an office. Meanwhile, I got
picked for England [under-18s]. My boss laughed his head off when I said I
wanted time off for a women's football team. I want to make sure no one leaves
an office feeling like I did that day."
She won a soccer scholarship to St Edward's University in
Austin, Texas, aged 22, but her soccer career was ultimately ended aged 29 by
an injury, a broken leg, the 12th broken bone of her soccer career
(she endured many more injuries as a footballer than she has as a boxer, she
says). "I didn't feel the same about football after that," she continues. "The
last one [broken bone] changed something. I'd never stopped boxing as
footballer; I was in the gym through the whole closed season. Even in America I
went to a boxing gym. I never lost touch with the sport.
"Then one year, when I was home from America after boxing
became legal [for women], I saw a poster for the women's national championships
in Manchester. I went and sat at the back and watched and thought, 'I could mix
it with this lot'. It started something off in my mind, a desire to fulfil
something from years ago."
That was in 2010, when she was 29, and her first (amateur)
fight took place in February 2011.
Comparing the two sports that have made up her career, she
says: "People feel differently [about boxing] because there's what people consider
to be a violent element, an element of hitting someone that people find
difficult. I understand that, but because I was brought up with it I can watch
the Olympics and think, 'How ridiculous that millions of people want to watch the
hundred metres for just nine seconds'.
"I forget I'm hitting someone; I think of it as a point, a well-executed hook. It's not about the thing you're doing, it's more about the challenge for yourself, pushing your limits, finding out about yourself, whether you're in a rowing boat or on a ski slope. I could have loved all sorts of sports. If I was born somewhere else, it might have been, God knows, archery. I need sport to give me meaning, identity."
Returning to Pave the Way, Copeland says: "There has to be a
financial pathway [for women in sport]." Actually, she admits, there is one
(for some): the Olympics. She would have loved to fight at an Olympics, but
that pathway wasn't available to her because she was the 'wrong' weight. At the
Rio 2026 games there were just three weight categories for women (flyweight – 51kg,
lightweight – 60kg, and middleweight – 75kg), compared with 10 categories for
men. Copeland fights at 69kg, and to 'up-weight' or 'down-weight' would have
been "massive" for her, she says.
"If I was an Olympic weight I'd have been a full-time, fully-paid athlete for years now," she continues. "Because they have the Olympic platform, they get signed by big promoters. What I'm having to figure out is, how do we make it a viable option for women? What we've got is women taking horrific risks." She cites other female boxers who have seriously compromised their health by down-weighting.
It was the same story with the Commonwealth Games and the
inaugural European Games in Baku, Azerbaijan in 2015. "I've had no chance to do
a multi-sports event," she says. "I know I'd have loved it. They came at a perfect
time in my career, but the [men's and women's] weights aren't equal. I assumed
with the inaugural European Games they would just make it equal, but they had
five weights [for women], instead of 10 [for men]. Sixty-three was the closest,
but five kilos is a lot to lose."
---
We all hope and assume the IOC is legitimate and is trying to do the right things. If they're not, we're in bother
---
She's watched from a distance the financial and governance calamity that has struck AIBA, the international federation for boxing in the Olympics, and backs the International Olympic Committee, which has threatened to exclude boxing from the 2020 Olympics in Tokyo, if AIBA fails to reform. "We all hope and assume the IOC is legitimate and is trying to do the right things," Copeland says. "If they're not, we're in bother. At least they're accountable, unlike the professional game which is unaccountable. It would be catastrophic for boxing if it's not in the Olympics. It can't just say, we can do without you [the Olympics]. It's the pinnacle."
Thwarted in her ambition to represent her country at a major
multi-sports event because there aren't enough women's weights, having missed out
on what could have been the best years of her boxing career, because it was still
illegal for women: you might think Copeland has reason to feel bitter. That's
not how she sees it. "We've all been given things," she says. Wherever we can
use these things for good, then we do. I'm good at sport, so it's a vehicle for
me to do good. I have a massive amount of energy and a huge heart, and there's
a lot you can do with those two simple things. If I see something where I think
I can make a difference, it's important for me to pay that forward. You can pay
back, but you need to pay forward as well."
As for the Commonwealth title, and the missing belt, "The trip was amazing," she says. "I got to go to schools, an orphanage, an animal sanctuary. It's a massive part of what I'm passionate about. Kwesé Sports [the African sports website operated by Econet Media] put on a fantastic show. It was my first 10-rounder. I've never done that before, and you don't know if you can. The fight was very tough: she [Ngubane, her opponent] was strong, durable and she could hit. I had to change tactics quite a bit. By nature, I'm a pressing fighter, I come forward at you. With her, that tactic wouldn't be right. I still had to do that a little, but it was better to be a counter-puncher."
"I got a knock-down in the fifth round," she concludes, proudly. I've watched the fight, and Ngubane is a fearsome fighter (but so is Copeland). Was she frightened, I ask? "I'm only frightened of losing," she replies.