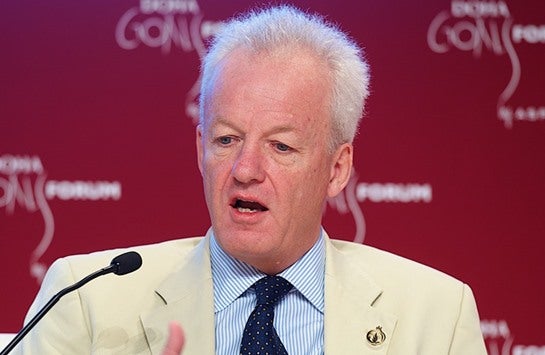 Funny where sport can take you. It's only towards the end of
my interview with Simon Clegg, the former chief executive of the British
Olympic Association and a key part of London's ultimately successful campaign to
host the 2012 Olympic Games, that it emerges that, much earlier in his career,
Clegg was Eddie The Eagle's minder.
If you've seen the recent Eddie The Eagle movie, about Michael
Edwards, the no-hope British ski jumper who, at the Calgary 1988 winter
Olympics became the first competitor since 1928 to represent Great Britain in
Olympic ski jumping (he finished last), you might be surprised to hear that Clegg
was, in fact, the character played by Hugh Jackman (kind of). Clegg seems wary
of revealing this, convinced I must know it already (I guess that in his
circle, it's at least one of his main claims to fame). But I didn't.
In a globetrotting career, Clegg has also been: chef de
mission of Team GB at the Sydney 2000, Athens 2004 and Beijing 2008 Olympic
Games; chief executive of English soccer club Ipswich Town; chief operating
officer of Expo 2020, the world trade fair, in Dubai; the chief operating
officer of the inaugural European Games in Baku, Azerbaijan in 2015; and the
executive director (part-time) of the second edition of the games in Minsk,
Belarus this year (the main subject of our interview).
This last role is part of what he describes as a 'portfolio'
career, which also includes the recent announcement that he has been appointed
non-executive chairman of Sport:80, the UK-based developer and provider of
sport management software solutions.
Sport:80 was formed in 2012 to provide up-to-date technology
to streamline and efficiently run professional sporting bodies' organisations,
membership and sporting events. The Sport:80 platform is used by more than 35
sports organisations.
There's also a mysterious role with Recast, a sports and
entertainment video platform start-up that will reward users with tokens for
their engagement, "while enabling publishers to monetise content on a
micro-transactional basis in ways that have never been possible before." Clegg
is an investor in the business, sits on the board and is its chief operating
officer – but won't say anything more about it. I think it has something to do with blockchain.
Clegg tells me: "I decided to adopt a portfolio approach to
the rest of my business career. It allows me to get involved in projects that
are interesting and exciting without the 100-per-cent demand that a major c-suite
position requires."
The most high-profile of these roles is now his job with the
European Games in Minsk (he resigned from Expo 2020 after two years in February
last year, having decided he wanted to return to sport). The Minsk 2019 job
involves him spending five days a month in the host city, plus another two days
when required, working with the organising committee and the Belarus government
to oversee delivery of the games on behalf of rights-holder, the European
Olympic Committees.
Preparations are, he says, in a "good state. Everyone who
goes to Minsk comes away very surprised at the quality of the sporting
facilities. Sport is deeply ingrained into the DNA of the people. Arrive at the
weekend and the number of people out participating in leisure and sporting
activities is significant. During the winter, it's more challenging. I first
went in 1985 as manager of the British biathlon team [he had been an international
biathlete himself], and we had to wait for the temperature to rise to minus 19
at midday [to train]."
The Baku 2015 games were criticised by some for their extravagant budget, reported to be as high as $6.5 billion overall, including games-related projects, and Janez Kocijančič, the EOC's president, has been determined to draw distinctions between the two editions, insisting that Minsk 2019 would follow the cost-saving principles laid down in the International Olympic Committee's Agenda 2020 reform programme.
Speaking at last November's EOC general assembly, Kocijančič
said: "The basic idea is we shouldn't bring financial burdens to organisers, so
we adapt to the infrastructure and national concept of sports [in the host
city]. The second difference is that, due to the rich natural resources of Baku
there was enough financing [for a games on that scale]. Belarus is a normal
country, so it's a little bit more difficult. The budget will be bigger than initially
planned, but much, much smaller than for Baku."
Clegg says: "All of the facilities are already in place. The
upgraded Dinamo stadium is a fantastic old stadium used during the 1980
Olympics in Moscow; the Olympic cauldron is still there. The only facility
built is a new shooting range. Compared with Baku, it's important that it's a
flexible model. To be sustainable, it has to adapt to the environment. No two
European Games will be the same. Baku had a significant budget of $1 billion
which allowed it to employ a significant number of international experts.
---
Baku is one of the best examples I have seen of the human legacy of hosting an event
---
"But Baku is one of the best examples I have seen of the
human legacy of hosting an event. The vast majority of the leadership team was
filled by expats, but the number-two positions were filled by Azeris. For the
Islamic Solidarity Games [hosted by Baku in 2017], all of the Azeris stepped
up. Now 15 Azeris are being used in Minsk. When we talk about legacy, everyone
thinks of facilities and white elephants, but there are lots of other ways to
look at legacy in terms of the impact on the community. Very few people think
about the human legacy."
As in Azerbaijan, concerns have been raised by some
observers about the human rights record of Belarus (Human Rights Watch, the
pressure group, said that in 2017, "The government continued its crackdown on
civil society").
This is obviously sensitive territory for someone who spends five days a month working with government officials in the country, and initially, Clegg, formerly a soldier in the British army (where he honed his biathlon skills), attempts to side-step it, saying: "Sport is completely separate from politics. My focus is on the sport not the politics. I came on board after Minsk had been selected. My job is to work with them to deliver the best possible sporting operation."
However, pressed further, he offers: "I believe sport can
act as an accelerator for change in a country. We've already seen some benefits,
including the visa waiver programme. Now you can get in from many countries. A
lot of countries in the west have a particular view about human rights, but every
country needs to be allowed to evolve at the pace that is right for that
country. You don't go from one regime to a totally different one overnight, or
you get a breakdown of civil society. It's about evolution, not revolution. Sport
can be an accelerator. You don't do these events without recognising that the international
spotlight will fall on the good, the bad and the ugly."
Returning to Minsk, Clegg says: "It's a beautiful city
during the summer months. It has great sporting facilities; sport enjoys a high
place, and the president continues to play ice hockey. It resonates all the way
through society. Belarus has a good track record in winning medals, with
biathlon especially strong, and gymnastics in the summer sports. I think they
would aspire to host nation success across a number of different sports. When
you compete on home soil in front of partisan spectators, it gives you an X-factor.
"There's very significant promotion of the event taking
place across the whole of Belarus. No one in the country is not aware that the European
Games are coming to Minsk. Visitors will find a beautiful country with warm,
hospitable, helpful people who want to showcase their country. Ticket prices are
pretty modest to reflect that the average man and woman will have access."
Since the inaugural European Games, the multi-sports
European Championships, seen by many as a direct rival to the games, staged its
first, well-received, edition, last year, in Glasgow and Berlin. Is there room
for both events, I ask? "They can co-exist," Clegg replies. "Our event is
Olympic-sanctioned whereas theirs is not. Ours is an Olympic qualifier for 10
out of 15 sports – part of the road to Tokyo, as Baku was [part of the road to
Rio].
"It's a year before the Olympic Games. One of the great
things about these multi-sports events is that they give NOCs an opportunity to
work closer with sports and athletes over a four-year period that previously
never existed. The Olympics are the ultimate aspiration, so being associated
with an NOC allows athletes to better understand the experience they will have
when they go to an Olympics. It helps break down the mystique. We are now in
the process of looking for a third edition."
Kazan in Russia has said that it wants to stage the next European
Games in 2023, despite the doping scandal in Russian sport. Kazan is an
experienced major events host, having staged the 2013 Summer Universiade, the
university games, the 2015 FINA World Championships and matches at the 2018
Fifa World Cup.
Russia had been lined up by the EOC to stage the 2019 European Games after the Netherlands pulled out citing financial reasons, but the EOC's hopes were dashed by the publication of the McLaren report, which uncovered a state-sponsored doping programme in Russia. Indeed, McLaren later alleged that the Universiade in Kazan had been used as a "trial run" for the vast doping cover-up when Russia hosted the winter Olympics at Sochi in 2014.
In January, the Polish city of Katowice sent a delegation to
the EOC headquarters in Rome to learn more about the 2023 European Games, after
the EOC sent out a bid document to all 50 European NOCs on 26 September, giving
them a deadline of 28 February to submit bids.
Wouldn't the games benefit from a western European host,
after two successive editions in eastern Europe, I ask? "A western European
host is desirable, but certainly not essential," Clegg replies carefully. "The
great strength with existing facilities and an adaptable model is we can talk
about which sports can be in the programme. We are a continent of 50 countries,
and we want to see the event spread throughout the continent."
With the addition to the international calendar of the European Games and the European Championships, among others, are there now just too many international sports events? "That's a very important question," Clegg replies. "I've been surprised by speaking with old colleagues from national Olympic committees who are having to work incredibly hard because the events programme is now relentless. The Olympics, the European Youth Olympic Festival, the European Games, Urban Games, Beach Games: I do think we need to be careful that we do not ask too much of the same people – most importantly, the athletes.
"If there is to be rationalisation, it has to come from the
IOC for all sports and all continental organisations. We are getting to the
stage where the calendar is incredibly congested, and the demands placed on
athletes and NOCs are becoming greater than the resources they have."
At the same time as events have multiplied, we've seen the
IOC, in particular, struggle to find hosts for the Olympics, so what's in it
for cities and countries? Why should they be expected to compete to host the
growing number of major events? Drawing on his own experience of London's
motives for bidding to host the 2012 Olympics (he was with the BOA for 20 years
from 1989 to 2009, first as deputy secretary general, then as chief executive),
Clegg replies: "I spent six years leading a political campaign to persuade the cabinet
to bid. We argued that, on the back of failed bids by Manchester and Birmingham
[to host the 2000 and 1996, and 1992 Olympics, respectively], nothing would move
sport higher or more quickly up both the political and social agenda than
hosting an Olympics.
---
Generally, the man and woman in the street was going to
judge if the games were a success not by transport or stadia but by how
many British athletes stood on the podium
---
"It's unusual for a bid to be conceived by an NOC. Normally, it's governments and cities. We ended with a minister for the Olympics. And after we announced our aspiration to finish fourth in the medal table, there was a drive that added £300 million ($387 million) of funding into high-performance sport. Only by setting the bar as high as it could go would we drive finances. Generally, the man and woman in the street was going to judge if the games were a success not by transport or stadia but by how many British athletes stood on the podium."
In the event, as is well-known in UK sporting circles, Team
GB surpassed its apparently impossible target of coming fourth in the medals
table, with a third-place finish, including 29 gold medals. As recently as the
1996 Olympics in Atlanta, Great Britain had finished a lowly 36th in
the table, with a solitary gold medal.
But success brings its own dilemmas. The subsequent overwhelming concentration of funding on only those sports that are likely to yield medals is "very dangerous," Clegg adds. "For the last Olympiad I was chair of British Badminton. We delivered an Olympic medal for the first time for 12 years in Rio, and still found all our funding completely cut. It's not the right policy. One needs to look forwards, not backwards. Previous results should not be the sole measurement of future potential.
"One of the great benefits of hosting is automatic entry to
all team sports. Therefore, all of a sudden, the size of the host team expands,
with the expectation that it will perform to a reasonable level, especially in team
sports. There's always a challenge after you've hosted an Olympic Games as to
where to place limited resources, and what potential those sports which have
secured automatic right of entry will have to qualify in their own right four
years later. If there's an unrealistic chance, it's right and proper that elite
funding should focus on those athletes and teams that are going to qualify."
Clegg was born in 1959 in London, and was educated at Stowe,
the well-known British boarding school, where he "played football and rugby and
had a good golf handicap, but very poor academic results," before going on to
join the army. Within a few months of joining a regiment with "a track record
of taking skiing seriously," he was identified as "quite fit" and chosen to
learn to cross-country ski.
Clegg's team went on to win the army championships (which in
those days also served as the national championships) and he began to take part
in international cross-country ski competitions. To his lasting chagrin,
however, he never competed in an Olympics. Despite being chosen for the Great
Britain team for the Sarajevo games in 1984, he was unable to take part because
he was called up for a tour of duty in Northern Ireland at the height of the
so-called 'Troubles' there.
"I was very upset," he says. "When I came back I was given a
whole year off on full pay, and became the manager of the British biathlon
team." Perhaps naively, I ask him if he saw action in Northern Ireland, but like
many caught up in that bitter, undeclared civil war he's not keen to open up, saying:
"I don't talk too much about my time over the water. I did serve all over the world:
Northern Ireland, Cyprus, Kenya, Australia, Brunei. When you are in an operational
environment, it focuses the mind. But I wouldn't describe it as seeing action."
From the army, he says, he learnt leadership and organisational
skills which were "the greatest assets I took into the BOA, and used to put in place
systems and structures that would allow the BOA to develop from a glorified
clothing supplier and travel agency employing six or seven people to an organisation
employing 50."
Those leadership and organisational skills were tested to
the maximum, Clegg says, when he was selected to go to Calgary as team manager
in 1988 and asked to take under his wing the unpredictable maverick who became
known as Eddie the Eagle (although, unlike the character portrayed by Jackman,
Clegg was never Edwards' coach).
"It was fascinating, quite phenomenal," he says. "Here was
an eccentric English skier who was on the verge of the Alpine team but was
never going to make it, so decided to become the best ski jumper in the UK. In
fact, the only ski jumper in the UK. I shared a room with Eddie, and trying to
manage him was…" Here he tails off, as if words can't do justice to the
experience of managing Eddie the Eagle.
Like many involved in real events that are then fictionalised,
Clegg is indignant at the liberties taken by the film makers with the truth –
especially as he claims that the truth was actually much weirder and more
extreme, and would have made a much better story than the one in the film. In
particular, Clegg is keen to point out that the freewheeling rogue portrayed by
Jackman is nothing like him.
"I offered some of my stories to the film makers, but they
were not interested," he continues. "Their story was totally fictionalised – except
all the uniforms you see in the film are replicas of mine." I ask him for an example
of what made Edwards such a phenomenon, and he responds with a tale of Edwards
arriving at the airport on an internal flight: "His skis had gone to LA, and
the carousel was going round, and just Eddie and I were left. Then his bag came
down the carousel, but it was open and empty. Then came each bit of clothing
after each bit of clothing, piecemeal."
I don't know. Maybe you had to be there. In any case, I've
seen the film and I must say I would thoroughly recommend it – even if Clegg wouldn't.
---
People will still watch live events, but the way they
consume content will be very different. The way content is consumed is
changing. Sport has to be aware of that
---
With his varied experience, and in his existing 'portfolio' capacity of working with two sports technology companies, I'm interested to hear how Clegg thinks the sports industry is set to change in the next 10 years or so. "The sports broadcasting model is broken," he replies. "The kids of today don't watch TV. It's snackable content: short-form, interactive, the mobile phone generation. People will still watch live events, but the way they consume content will be very different. The way content is consumed is changing. Sport has to be aware of that.
"The other great phenomenon is eSports. Is this just short
term, or is it significant? I don't know the answer. But the way that augmented
and virtual reality are developing means that in the not-too-distant future we
could see a boxing match in a virtual ring where there is no physical contact. [Conversely],
we are not too far away from people being able to compete [in virtual reality] where there is an element of physical activity. The difference between driving an
F1 car [in reality and in virtual reality] is pretty sophisticated."
And the biggest threat to sport in the next 10 years? "The biggest
threat to sport is if it fails to resonate and connect with the kids of today,
even if it will not be sport as we know it," Clegg replies. "Society is changing,
and organisations that do not recognise and adapt will get lost in time. Look
at 3×3 basketball. You no longer need a court. You can do it in the street. Out
of challenges also come opportunities."