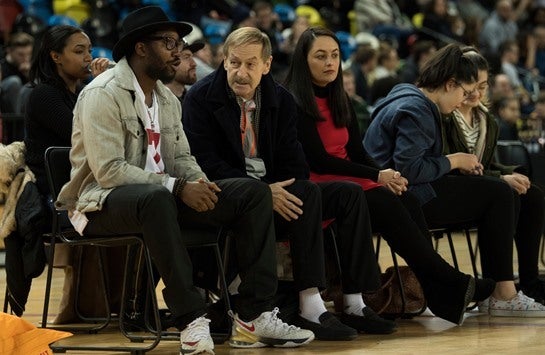 Did Peter Sprogis' investment in the London Lions come from the head or the heart? Pressed on the reasoning, he says: "I understand the cynics, but there are things in life you have to try. If I give up and say it can't be done, what's the point? I received the same reaction to the Fifa plan; people said it couldn't be done. I'm not risking a lot of money or even a lot of time. It's worth a flyer."
Asked how much time he is actually devoting to the project, he admits: "Right now, since I started, it's every day. Is that going to continue? I don't know." In November, the BBL received a 10-year licence from the British Basketball Federation to continue to run the league. One thing Sprogis is certain of: "I wouldn't have invested if they hadn't got it. I wasn't born yesterday – the day before, maybe."
Sprogis was born in Bradford-on-Avon in 1949 to Latvian
parents who, he says, walked across Europe to escape the Nazis, staying a few
years in England before finally moving to Canada and settling there.
The young Sprogis, who was regarded as a basketball prodigy at high school in Toronto, once scoring 73 points in a game, then went to Dalhousie University in Halifax, Nova Scotia, but dropped out "because I got bored." The holder of a British passport as well as a Canadian one, he says he decided to move to England after a dream involving a tree and a garden – go figure.
"I was young and stupid and had £150 when I came to England," he says. "I was going to work on the oil rigs, but when I stepped off the train in Aberdeen I couldn't see my hand in front of my face, so I went back to London where I got hustled by the London Latvian team." This was his introduction to sports marketing. He typed a one-page sales letter 160 times, he says, and "that's how we looked for a sponsor." The team, which had been known as LLSK, changed its name to Embassy All-Stars after Sprogis signed up one of the best-known cigarette brands of the day. "Learning how to find them a sponsor, and then taking care of Embassy: that was my foundation" in the business, he recalls.
Sprogis, who also played for the Great Britain national team, retired from playing aged 29 and joined the England Basketball Association as marketing director, eventually becoming commissioner of the league which he ran for two years. He was then headhunted by West Nally, the pioneering UK-based sports agency, where, he says, he "knew what to do straight away," thanks to his apprenticeship with the Embassy All-Stars and EBBA.
A year later, in 1984, he joined ISL, then one of the top international sports marketing agencies and the marketing partner of international federations such as Fifa, FIBA and the IAAF. We now know that ISL was operating a sophisticated system of bribes which eventually contributed to its spectacular collapse in 2001, but it took four or five years, Sprogis says, before he realised something was amiss.
---
There's nothing complicated about TV rights. The value of advertising derives from the size of the audience
---
Reflecting on those days, he says: "Do I know where the money went? I could guess but people were very careful of covering their tracks. It was the accepted way that federations lived, without exception. A lot of people didn't think there was anything wrong with it, but I was totally uncomfortable with it. It's the major reason I got out and formed Prisma. I didn't go to Kirch to form Prisma. They came to me. But it was a lightning bolt from heaven, and I said yes in two minutes." Prisma subsequently changed its name to KirchSport and ultimately became Infront Sports & Media, still one of the world's top sports marketing agencies.
One of his colleagues from those days describes him as "very driven. Peter clearly is mesmerised by and enjoys numbers. Yes, he was a hard negotiator, but he is a numbers man. By [the World Cup of] 2006 he had substantial experience in the field and knew the numbers inside out and where it was going."
Sprogis's own assessment of his World Cup coup is that, while "a lot of people think I'm a genius," he disagrees. He says: "The EBU [European Broadcasting Union] was giving Fifa SFr140 million [now $140 million, for the European rights], I upped it to SFr1.3 billion in a four-year cycle. So why do I not think I'm a genius?"
Reading a report in the Hollywood Reporter, he says, he discovered that Brazilian TV was charging $1.4 million for a 30-second advertising spot during the 1998 World Cup, amounting to overall advertising revenues for the broadcaster of close to $300 million; yet it was paying less than $15 million for the rights. "A light clicked on, and I said, 'Come on, this is ridiculous', he says. "It's just basic logic. There's nothing complicated about TV when it comes to rights. The value of advertising derives from the size of the audience. So I made a proposal to Kirch on the back of an envelope. I said if he was willing to back me, I'd present it to Fifa. I'm surprised no one else figured it out."
Kirch's own media empire collapsed into insolvency in 2002, but Sprogis defends the mogul, who died in 2011, saying, "Leo Kirch was very dynamic," albeit he adds: "I personally wouldn't have made the rushed decisions they sometimes made. I would have put more thought into it."
Kirch's memory was "vindicated," Sprogis argues, when in 2014, after a lengthy legal battle, Deutsche Bank agreed to pay Kirch's heirs more than $1 billion in a legal settlement, after being accused of helping bring about Kirch's bankruptcy through claiming that the financial sector was unwilling to lend to the Kirch Group, its own client at the time.
---
We bankrupted ISL almost on purpose. We made bids – and ISL would top us – that we had no intention of signing
---
Sprogis says, "If you're over-extended as a company and not preparing for the worst-case scenario, you're leaving yourself vulnerable. But I would love to be still in business with Kirch." Of his former employer, ISL, he adds with relish: "We bankrupted ISL almost on purpose. We made bids – and ISL would top us – that we had no intention of signing. They were greedy. They wanted retribution against me because I helped Kirch get the TV rights. Also, they were preparing for an IPO, and they needed the maximum number of events."
Sprogis has returned to the sports industry armed with some predictions. One of the social media giants, such as Facebook, will buy the worldwide rights for a major sporting event within the next 10 years, he says. With a membership of 2 billion people worldwide, Facebook can offer three times as many potential viewers as "all of the world's broadcasters put together." He adds: "Twitter, Facebook, Netflix, Amazon: anyone with a massive number of people signed up will become a global broadcaster of sport. It's the biggest threat to national broadcasters. It's quite possible that some of the international federations that signed long-term contracts may live to regret it as Facebook and others with billions in potential audience and a ready social media infrastructure become the weapon of choice for major sports."
The only snag he can foresee is "the commentary part of it. If you're getting a Facebook feed in India, how do you get commentary in the local language? But I think that can be overcome. Mind you, the English language is taking over the world."
He also regards Turner Ignite Sports, the US media group's recently-announced initiative to connect fans directly with advertisers through its owned and operated media as an "all-encompassing threat to all agencies," saying: "It's a development I predicted some time ago: content optimisation across various media, so that corporate partners and brands don't need to use other agencies. It's a major trend in the globalisation of sports by digital media. Why have two of three other agencies? Turner is very clever."
He also predicts: the continuing growth of athlete power through social media, with players being hired or not depending on the size of their social media following; an explosion in the use and importance of player data provided by wearable devices; a similar explosion in the application of virtual reality to sport; the advent of 5G,enabling any live sport to be received on a cellphone with no latency; fold-out and/or bendable cellphone screens, perhaps in a 'clamshell' format, enabling users to "roll out 15-inch screens"; and artificial intelligence having an increasing influence over sport, with, for example, super-computers "looking at a video feed and calling plays" in NFL games.
As for himself, Sprogis says he has "no other ambitions in sport. I don't want to go back to an agency, or start my own company. I've been through that. I'm modest and realistic enough to understand I don't bring anything special to the industry as a whole, but I do to the London Lions because of my experience."
---
Every federation should be involved in impact investing, and should be looking into corralling sponsors into fighting obesity worldwide
---
He is, however, "very caught up in 'impact' investing," he says, which he defines as: "Investing in assets that offer measurable social and environmental benefits as well as financial returns." In particular, he is appalled at the obesity crisis sweeping the world, saying: "I believe there will be a sugar and fast food tax. Those companies will be seen in the same light as tobacco. But there shouldn't just be a sugar tax, because that money will just go back to government.
"This is high on my agenda, more important than even the London Lions. Every federation should be involved in impact investing, and should be looking into corralling sponsors into fighting obesity worldwide. There is a tremendous obligation to get kids active. Obesity costs governments $2 trillion annually worldwide, according to the WHO, and 39 per cent of adults aged 18 and over were seriously overweight worldwide, and obesity more than doubled between 1980 to 2014. We have a serious worldwide epidemic on our hands and every federation, and agencies, and the IOC in particular, have a moral and ethical obligation to be in the forefront of this fight. Our children's lives depend on it. Kids eating improperly have hardening of the arteries by the age of 10.
"Instead of wasting billions of dollars each Olympic cycle on wasted stadia, the IOC should spend it on kids' activity programmes and force sponsors to match their sponsorship dollars with an equal amount for fighting obesity with smart programmes to get kids active. The same can be forced upon official broadcasters of the IOC: to donate free [air]time to promote kids' activity programmes as well as ads produced free of charge by ad agencies who aim sugar and fat fast foods ads at kids and make tons of money and then go to sleep every night content with their lives. It's time Bach and his boys did something progressive and save the Olympic movement and make it really meaningful!"
Sprogis stops short of any call for the IOC to ditch its long-running sponsorship deals with Coca-Cola and McDonalds, saying: "I think they can keep their sponsors, but only if Coke puts a percentage of its ill-gotten gains into programmes developed by the IOC to fight obesity. Getting rid of companies like Coke is tough. So why not use them to help society? It's more important to use their money for a good cause."
Sprogis has the reputation of being spiky and sensitive, but I find him genial enough, albeit with a tendency to try to seize the conversation and steer it down some unexpected byways. Was he liked in his first incarnation in the sports business? "I never got the sense it was of interest to him," his former colleague says. "He made no effort to be liked. Respected and feared, yes. A good number of staff were in fear of his temper. It was: 'What are we going to get today?' He could turn on a sixpence from being overly positive to a rage. There were two sides to him."
Sprogis himself says: "I don't care how other people regard me. One of the worst fallacies is to be concerned. They don't know me, if they judge me from a distance. One thing I'm proud of: I never did a bad deal in my life. I always left a dollar on the table. I was never crooked or devious. No one can say that about me. If they do, they're liars."