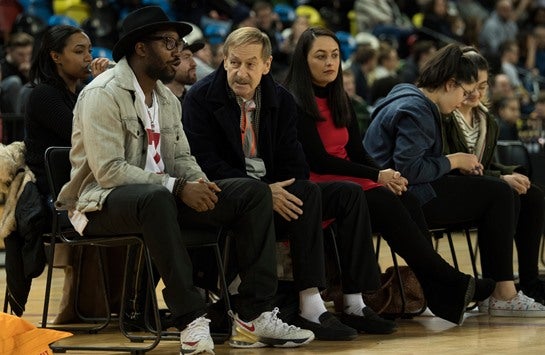 Remember Peter Sprogis? The man who, by his own estimation, recognised that the media rights for the World Cup were massively undervalued and persuaded the German media mogul Leo Kirch to launch a SFr2.8-billion (now $2.8-billion) bid for the rights for the 2006 edition, making himself a fortune into the bargain?
Well, he's back. After a 14-year absence from the sports industry, he is an investor in the London Lions, the professional basketball team that competes in the lowly British Basketball League – not one of the world's top basketball leagues, to put it politely.
Sprogis is a rich man. Speaking at an apartment he has rented in Covent Garden in central London for a week of meetings, and to attend a couple of Lions games, he says he received what he describes as "a really neat pay-off, I mean really neat" after Kirch went bankrupt. Those rights, he claims, could not be transferred to another entity without his permission, and therefore he was eligible to receive "what would have been 3 per cent of $2.3 billion." That's $69 million – although he says he settled for less than that.
Since then, and during his 'wilderness' years out of sport, he became what one newspaper described as a 'loyalty scheme pioneer', developing a series of patents (although he says, "I have no technology degrees; it's called lateral thought"), related to his company MoLo Rewards, which he then sold on to several companies including Google, making more money as a result.
So why on earth return to the sports industry now (he left, he admits, as a result of his "disillusionment" with it)? And why to a team with an annual budget of only about £1 million ($1.25 million), in an obscure league, in a sport that remains marginal at best in the UK?
"Probably because I need another challenge," he says.
In December, when the Lions announced Sprogis' investment (he has taken an initial 10-per-cent stake in the team, which will soon rise to 20 per cent), they said that he was "becoming involved at a strategic time, when the team is hopeful of admission to the new European Basketball Champions League organised by official world governing body FIBA. This competition, launched in October 2016, features 40 European teams from 22 countries playing 324 games across eight months. The inclusion of a British team would transform the horizons of basketball in this country."
Sprogis himself claims to have no illusions. Basketball is "totally a fringe sport [in the UK], and that is hard to overcome," he says. "But there is general agreement, even from the BBC, that if we get a team into Europe that is competitive, then national TV and media will start to pay attention. The real reason for getting involved is to see if I can push us into Europe, not through money but expertise."
---
I don't expect to make money. But I don't expect to lose money either.
---
Sprogis is a basketball man. Born in the UK, but brought up in Canada, he returned to the UK at the very start of his career and played basketball in an earlier incarnation of the BBL, and he still coaches aspiring young players on a one-to-one basis in Vancouver, where he now lives. He was initially approached to invest, through his basketball contacts, by Vince Macaulay, chief executive and owner of the Lions. "A year ago he asked me, but we didn't reach agreement – he wasn't really interested, he was just testing me," Sprogis says. "But we came full circle in November and I decided to do the deal."
However, he is determined to limit his involvement with the Lions. His stake will not exceed 20 per cent because, he says, "I don't want the headache of running the team. Do I expect miracles? No, I'm a realist. I don't expect to make money. But I don't expect to lose money either, other than my initial investment."
He shows me his marketing plan for the Lions and the hardest thing to believe is that a professional basketball club has not already implemented most of the points he outlines: basic things like 'structure the sponsorship hierarchy', 'develop a promotional plan', 'launch a new website', 'link sponsors to community initiatives', 'develop a social media strategy', 'create a venue dressing plan', 'design a new uniform', 'introduce wearable technology for the players', 'launch in-game promotional activations', and 'increase media coverage stimulated by public relations'.
The Lions have potential, Sprogis believes, because, uniquely in the BBL, they play their home games in an 8,000-seat arena, the so-called Copper Box in east London, which hosted handball during the London 2012 Olympics. At present, the Lions get crowds of about 2,000, but if, Sprogis says, "you increase that by 6,000 you get the possibility of almost £200,000 per match over 30 games a year. There's a lot left on the table, so I saw the opportunity and said 'Let's go'.
The key to increasing crowds four-fold lies in the team raising its profile through playing in the Champions League, Sprogis firmly believes. To be selected to join the league, the Lions need to finish in the top two or three in the BBL – or an existing team needs to drop out. At the time of writing they were in fifth place, six points behind the team in third.
It looks like the Lions might miss out on qualification for the Champions League in Sprogis' first season but, he says, "I wasn't expecting to go into Europe right away. We need better coaching and better players to make the team successful. We won't go [into the Champions League] if we're not competitive." Asked if he is himself able to judge a player's abilities, Sprogis, who has never lacked self-confidence, says: "Sure, I can judge, no doubt about it. I know my horseflesh. I can tell if a player is any good – but not his temperament – within one minute."
The Champions League, which is in its inaugural season, was created by FIBA and a group of 10 national leagues as a merit-based alternative to the existing competitions run by the Euroleague, which are marketed by IMG.
---
Of all the major sports, basketball is one of the few universal sports

How well do you

really

know your competitors?

Access the most comprehensive Company Profiles on the market, powered by GlobalData. Save hours of research. Gain competitive edge.

Company Profile – free sample

Thank you!

Your download email will arrive shortly

Not ready to buy yet? Download a free sample

We are confident about the unique quality of our Company Profiles. However, we want you to make the most beneficial decision for your business, so we offer a free sample that you can download by submitting the below form

By GlobalData
---
Asked if he would consider a bid to join the rival Euroleague, Sprogis is surprisingly vehement, for a man who spent most of his sports career working for agencies. "We will not go with the IMG one, that's my condition," he says. "I won't go against FIBA. I'm a believer in supporting the federations that help sport, even though some of them are crap at it. Let me rephrase that, even though some of them have the wrong emphasis on development. The Euroleague is a professional league. That's it."
Joining the Champions League will, Sprogis claims, "provoke a weakening of the national media [towards basketball] – slowly, not overnight. If we did really well it would happen. It will not happen unless the national team or the London Lions are successful in Europe. You know how the UK is in measuring greatness: if Chelsea don't do well in the [Uefa] Champions League, it's not the same."
Sprogis agrees that the UK does not have an ingrained basketball culture, in the style of other countries, but insists: "Of all the major sports, basketball is one of the few universal sports. There are usually a die-hard 2,000-plus fans at the Copper Box. There is appreciation of the game. If the right ingredients are put into it, the game can reach a high level. For example, there is no uniform look to the [competition] floors. Unless we duplicate the NBA, with the exact same look at each venue, that's a problem already."
The Lions "break even on a day-to-day basis, but we need to find a naming sponsor," Sprogis says. "We're pricing that at £150,000 a year. By football [soccer] standards, that's not a lot, but it's quite a lot here. Our budget is close to £1 million. We're paying the players peanuts. We need more money. Ninety per cent of our revenues is from tickets and sponsors in kind. We should devote 90 per cent of our time to selling tickets. We need to hire other people. If we find a naming sponsor, we need a full-time sponsor activation person."
Some of Sprogis' planned innovations, such as a uniform look to venue floors, will require the agreement and co-operation of the league. So has he begun talks with the BBL? He is guarded in his response, saying: "That's a big question mark in my own personal future. The choice is stepping in and doing things with the league. I'm having meetings with agencies heavily into sports marketing, some of the most powerful in world. If we get onside, I will see if I can get them involved with the league. But I'm not sure I want to. Most leagues have internal politics, I don't want to go back to that. If I do advise, it will be from arm's length. I can do my own thing in London pretty well. There's hardly anything the league does that influences me. I can be my own island."
Sportcal
The second half of this exclusive interview, in which Peter Sprogis talks about his early days in sports marketing, the Kirch deal, the collapse of ISL and his predictions for the future of the sports industry, will be published next week in Sportcal Insight Online. Don't miss it!