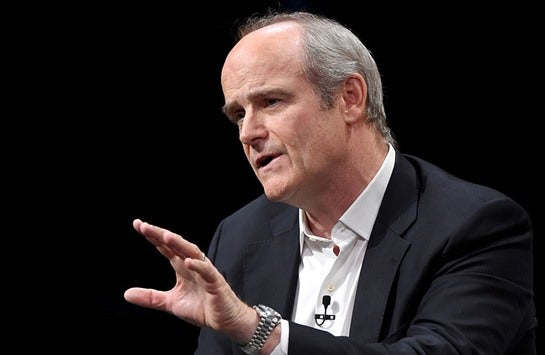 Getting an interview with Michael Evans, the Canadian
Olympic gold medal winning rower and former banker who is now president of
Alibaba Group, the self-proclaimed "largest retail commerce group in the world,"
is not easy.
(An interview with the much sought-after Jack Ma, Alibaba's
billionaire founder and executive chairman, is of course out of the question.)
The company's fabulous wealth (its US IPO raised $25 billion
in 2014, making it the biggest US IPO in history), combined with the suspicion
that it somehow holds the keys that will unlock all our futures, have made it
an object of worldwide fascination.
Ma's utterances have only served to stoke this fascination.
In a letter Ma sent to employees on the day of the IPO, for example, he
apparently sought to cut the company's own investors down to size, saying: "A
public listing has never been our goal… Lying behind the massive allure of the
capital market, there is unparalleled ruthlessness and pressure… We will
continue to adhere to the principle of 'customers first, employees second,
shareholders third'."
The winter Olympic Games in PyeongChang are the first to be held since Alibaba became a TOP partner of the International Olympic Committee, in a surprise move announced in January last year. The company's identification with the 'little guy' can be seen in its 'greatness of small' advertising campaign around the games, based on the premise that, in the words of the advertisement, 'Alibaba empowers small businesses and young people around the world', through e-commerce and its other activities.
For example, one of three films focuses on members of an
amateur ice hockey team in Kenya, which against all odds (none has ever even
seen snow or ice) are determined to make their dream of competing at the winter
Olympics a reality. Alibaba has invited members of the team to be guests in
PyeongChang to observe the games in action.
With more than half a billion customers, and acting on
behalf of more than 10 million small businesses and 100,000 brands at present, Alibaba's
long-term goal is to reach 2 billion customers and tens of millions of
merchants.
The 12-year Olympic partnership, running until 2028, makes
provisions for Alibaba to: provide cloud computing infrastructure and cloud
services; customise the Olympic Channel for a Chinese audience; and create a
global e-commerce platform for Olympic stakeholders.
At the time that the deal was announced, Thomas Bach, the
IOC president, said the "ground-breaking, innovative alliance… will help
drive efficiencies in the organisation of the Olympic Games."
So what does the company hope to achieve from its presence
in PyeongChang? "This is the first Olympics for us," says Evans. "We entered
into this strategic partnership last January with two verticals: the cloud and
e-commerce. We spent last year getting ready. It's an incremental approach, but
you can see some interesting things in our showcase."
We're speaking in a dedicated Alibaba room at a smart waterfront hotel close to the Olympic Park (and the Alibaba showcase) in Gangneung. The room has been Chinese-themed, complete with hostesses/waitresses in traditional dress.
Alibaba's Olympic showcase offers fans, media and the
Olympic family the opportunity to see first-hand how the company's technology
aims to "bring the Olympic Games into the digital era."
Evans describes its demonstration of facial recognition
technology as "the most interesting thing we're doing this year, other than branding
and messaging. It's a look into what we'll be focused on in the next couple of
years."
---
Digitising the games will be a massively enhancing experience for the fans
---
In the next eight to 10 years, the changes will be
"transformational," Evans says. "Digitising the games will be a massively
enhancing experience for the fans." And not just the fans. "One of the biggest
challenges is traffic," Evans continues. "I've had that experience as an athlete
and I'm having it here [a few days later organisers admit that their 1,800-strong
fleet of shuttle buses is insufficient to cope with demand and announce that
they will spend an extra Won3 billion ($2.77 million) to increase capacity by 10
per cent].
"The IOC typically says to the organising committee, 'Make it happen'. We have a cloud-based 'City Brain' service to optimise traffic flow at peak periods. Its application in host cities is potentially significant. It's optimisation of not just 5 or 10 per cent. It could be 40 or 50 per cent better."
City Brain has already been integrated with existing traffic
management systems in cities such as Kuala Lumpur, where it sorts data from 300
traffic lights, 500 CCTV cameras, public transport systems and other streams,
in order to minimise road congestion. City Brain uses data mining, video and
image recognition and other processes to determine live traffic predictions and
recommendations.
The system is powered by Alibaba Cloud's Aspara, a computing engine which uses the technology underlying Alibaba's e-commerce marketplaces.
Evans cites another Alibaba product Smart Pass, which focuses
on the travel experience for visitors, using facial recognition technology to
recommend travel routes, track athletes' schedules and offer the quickest way
out of a venue. "It's a product that makes it easier for the fan coming to the
Olympics," he says. "How will I get there, what are the arrangements, how do I
get from the train station, book a hotel? It's about the end-to-end experience.
We think that should be defined digitally from the moment you think of coming
to the moment you get home, and everything in between.
"How do you navigate now? You ask the 'experts'. And you know you're going to get lost! All these things are focusing on, and designed to change, the experience through technology. The impact will be huge!"
Last week at the showcase, Alibaba unveiled Alibaba Cloud ET
Sports Brain, its integrated solution for providing technological support for
major sporting events. The Sports Brain is a system that "enables various
stakeholders to leverage cloud technologies to deliver the future of sports
events in a secure, stable and cost-effective manner and to provide fans with a
convenient and engaging experience," the IOC said.
Alibaba's ambitious 'vision' is described on its website: "We aim to build the future infrastructure of commerce. We envision that our customers will meet, work and live at Alibaba, and that we will be a company that lasts at least 102 years." Why 102 years, I wonder? Later, I'm told that it's because Alibaba was founded in 1999: "So if it lasts for 102 years, it will span three centuries."
Anyway, sport has played an increasingly important role in realising this vision, from the time the company was founded in 1999 by Ma and 17 other founders as an online marketplace named 'Alibaba Online', to the creation of Ali Sports Group (now Alisports) in 2015 together with domestic online media giant Sina and private equity firm Yunfeng Capital, with the aim of "transforming the China sports industry through the use of internet-based technologies to bring greater and better products and services to consumers, sports participants and sports fans alike," to a deal agreed in January 2016 by Alisports to stream American football's NFL throughout mainland China, to the IOC deal.
"Sport complements e-commerce," says Evans. "The Olympics is
the largest sporting event in the world, with 3.5 billion watching. The Olympic
ambition is to get everyone to participate. Sports are a huge unifying
opportunity. Most people like sports, although not necessarily the same sports.
The same is true on our platform, where people come to buy, but also to be
entertained. It's lifestyle. If you just want to buy, go to Amazon. If you want
lifestyle, go to Alibaba. We're offering our customers opportunities to watch
videos, to see sports, to listen to music."
But surely, I interject, the aim is to get people to buy
stuff? Evans neatly sidesteps this one, saying: "The endgame is engagement. If
you can engage people, and never give them a reason to leave, they'll do
everything you want. It's not always about buying, it's about offering them the
opportunity to get educated. A lifestyle is different from shopping, as a
platform. The average consumer is spending 25 minutes a day [on Alibaba's
sites] and they're not buying all day."
---
You have to have content. The question is, what content and how much? We're not interested in joining the long list of people buying XYZ rights to ABC. We're not interested in rights that are not differentiating
---
So where does acquiring rights to the likes of the NFL come
in? "You have to have content," Evans replies. "The question is, what content
and how much? We're not interested in joining the long list of people buying
XYZ rights to ABC. We're not interested in rights that are not differentiating.
Two years ago, we weren't looking at the Olympic opportunity, but we had been thinking
about our sport strategy, and then we started looking at the Olympics, and
asking ourselves, what is our vision, mission and dream? And the more we looked
at it, we saw a huge convergence. When we talk about 'the greatness of small',
to us it's about small businesses and young people. That's the foundation of our
platform, that's what we do. Underdogs are all about what we are. We help lots
of small businesses and young people."
Still, Evans admits, Alibaba took something of a punt with streaming the NFL in China. "The big question is the extent to which our consumer base will gravitate towards it," he says. "Soccer we know. But as for the NFL, we just don't know. There are not a lot of Chinese [American] football teams. A lot of expats are very interested. We've had a lot of discussions about, how do we export the sport? China remains a question mark, but it could be interesting in future."
In October 2016, Alisports committed to invest $100 million
over 10 years in rugby union in China, as part of a long-term partnership with
World Rugby, the sport's international governing body.
The fund will go towards developing the sport in China,
including the creation of the first-ever professional men's and women's
leagues, as well as a national rugby sevens programme, as the discipline now
forms part of the Olympic Games programme.
In addition, Alisports and World Rugby will collaborate on
marketing initiatives and e-commerce platforms in China, including an extensive
media platform for rugby, with exclusive World Rugby content to be offered
across multiple online channels.
Why rugby, I ask? "Why not?," counters Evans. "Our
commitment is not just to invest money in rugby, but in the education and
training of coaches and students. I come from a sports background myself and
I'm interested in how a country where sport hasn't been a priority responds to
the introduction of new ideas, new opportunities. The fact it's a team sport is
very important. It's a kind of middle ground between soccer and American
football, it's fun, it's easy to play and doesn't require massive facilities."
Also in 2016, Alisports agreed a deal to invest $150 million
into the International e-Sports Federation (IeSF), the governing body for the
nascent sport, with funding to be initially used to launch the World Electronic
Sports Games.
The first edition attracted 63,000 participants battling for
a share of $5.5 million in prize money, but Alisports is said to have lost 70
per cent of its investment.
Subsequently, Zhang Dazhong, Alisports' chief executive,
admitted that he is not expecting returns in the short term, saying: "We
estimate that we will be losing money for the next five years.
"We estimate that in five to 10 years… the business model
will be more complete. On top of the competitions, we have to bear in mind the
electronics business and marketing related to eSports."
Evans dismisses the question of how to make money out of
eSports as irrelevant, saying, "Eventually we'll figure it out." The real
question, he says, is, "How do you fold eSports into your overall sports
strategy? It's not our top priority, but when you don't understand something,
sometimes it's a good strategy to invest to get a better insight." Hmm, there
speaks someone whose company raised a record $25 billion at its IPO.
As a further illustration of this approach, Evans cites
Magic Leap, a Florida-based augmented reality company in which Alibaba has
invested. Magic Leap is partnering with the NBA to create digital basketball
games that people can watch through its goggles. We're talking about technology
which today doesn't have commercial applicability," says Evans. "So, we want to
understand what it is and how it's developing and evolving. It's the same with
eSports and dozens of other things every year. If we don't do it, we will eventually
miss important things. The disruptors need to beware of the disruptors. We need
to be looking over our shoulders while we look ahead."
Alibaba is, of course, one of several Chinese companies that have been disrupting the sports market over the last few years. Some of these have run into financial problems, like LeSports, which has lost various rights after parent company LeEco admitted to 'overextending' itself in a lavish spending spree, and Wanda, which has just sold a 17-per-cent stake in Spanish soccer's Atlético Madrid as it seeks to reduce debt amid increased scrutiny from regulators and a clampdown on foreign spending.
What has Alibaba learned from the troubles of these
companies, I ask? Evans' reply suggests he thinks they just got their
investment targets wrong. "We have watched," he says. "Something like over 100
soccer clubs have been invested in and purchased by Chinese entities. Why? Very
few had large consumer bases and very few were planning to come to China. Many
thought the assets would be worth more in future. It's not rational, but it
hasn't stopped them spending a lot of money.
"Where have we seen that elsewhere? In Hollywood, where
[Chinese companies] have moved in to buy movie slates, studios, movie theatres…
It's very complicated, when money is available and good-to-high-quality assets are
also available. Why aren't we doing the same? Our strategy is to think very long
term, to think about what our consumers are telling us, and it's not obvious to
us, the need to buy clubs."
---
Our strategy is to think very long term, to think about what our consumers are telling us, and it's not obvious to us, the need to buy clubs
---
How did Evans, a Canadian, come to be working for such a
very Chinese firm as Alibaba? As a banker with Goldman Sachs, he says he "did a
lot of privatisations in China" in the 1990s, eventually moving to Hong Kong
and playing a role in the bank investing in the nascent Alibaba in 1999. "I wish
we had kept it," he says, "but we sold it in 2001 when the bubble burst."
However, Evans kept in touch with Ma, who was "one of the
first to call" when Evans left Goldman Sachs in 2013. "After we went public, he
asked me to stay on board and join as president. Having lived all over the world,
it seemed like an interesting thing to do."
Evans was a member of the Canadian rowing eight that won the gold medal at the 1984 Olympics in Los Angeles. He studied at Upper Canada College, Princeton and Oxford, where he rowed in the Oxford-Cambridge boat race. Unsurprisingly, his favourite Olympic moment was standing on the podium in LA listening to the Canadian national anthem as the maple leaf flag was raised. "There aren't too many other moments that are close to that," he says. "But I'm enjoying partially reliving it here in PyeongChang."
To Evans, the Olympics are no different from any other business. They need to engage with their consumers. "How is it that all businesses can connect to Chinese consumers?," he asks. "The answer is technology. The internet is the great equaliser. It's not just for multinational corporations. We all need payments, logistics, cloud services. When they're packaged together, that's how we achieve that goal. If we package that around the Olympics we can do that for this big 'business' as well. The two verticals we want to control didn't exist before. New verticals for a new way of thinking, and a new direction for the Olympic movement."