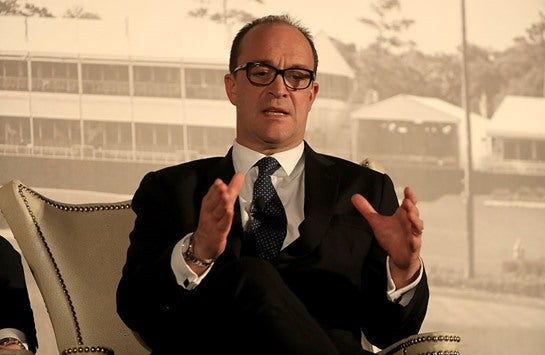 Giles Morgan had worked in sponsorship for 12 or 13 years
before landing the job for which he became known: global head of sponsorship
and events at HSBC, the multinational bank and financial services firm.
Now that he is "unleashed," (he left HSBC to become an
independent consultant in November last year), he's able to speak more freely
about the industry – not that he was in any way muzzled by HSBC, he hastens to
add. He won't reveal the identity of his new clients, but I can assume most of
them are rights-holders, he tells me.
During those 12 or 13 years of working for various
sponsorship agencies before joining HSBC, he learned a lot about the various
disciplines of sponsorship: media value, branding, engagement, activation and
so on. But it wasn't until he worked for a sponsor that he learned the true
value of business investment in sponsorship.
---
Once I decided that I was simply there to help that company achieve its business objectives, it became much clearer why sponsorship matters
---
At HSBC, he says, he was regarded as a "cost centre," and
was summoned to the chief executive's office soon after starting work there to
be asked: "What is the point of you?" The question, he says, concentrated his
mind, but "once I decided that I was simply there to help that company achieve
its business objectives, it became much clearer why sponsorship matters. Still,
in the industry, that's not clear to everyone."
Morgan announced his departure from HSBC, after 12 years, at
an interesting – some would say challenging – juncture for the sponsorship
industry. Having taken the decision to set up as a sponsorship consultant (or,
as he puts it himself, 'International Partnership Marketing Investment Advisor'),
it's perhaps not to be expected that he will rain on his own parade. But he
doesn't shy away from the fact that these are difficult times for at least some
sports seeking sponsors.
In a report issued at the start of this year by ESP
Properties, 58 per cent of sponsors surveyed said they were looking to drop a
deal before its renewal, up from 45 per cent 12 months earlier. ESP said this
could be explained by dissatisfaction among sponsors at rights-holders failing
to keep up with changing priorities in terms of the benefits they offer their
partners.
It added: "Properties may still be focused on benefits such
as on-site signage – which fell from second to sixth this year among survey
respondents when asked to identify the most valuable sponsorship benefits –
instead of presence in rights-holders' digital, social and mobile media – which
rose from sixth to second."
Morgan agrees, saying that he detects a return by sponsors
to outdated "badging" practices, in relation to the sports events they sponsor,
as they struggle to come to terms with the evolving world of social and digital
media. He says: "A sponsor that simply badges won't be resonating with the fan;
it has to resonate, or it's a waste of money. We're seeing a lot of brands
throwing logos on channels. But the best sponsors are those who speak the
language of the fans. Whether it's online or real time, you have to adopt the
set of clothes your fans are wearing."
Yet, he sympathises with the dilemma of sponsors trying to
get to grips with the new communication channels. "It's all so new," he says,
pointing out that some of them get their use of those new channels wrong and
then, "it's like pop-up advertisements – it's just irritating. This is the
reason why the sponsorship market is a bit sticky: people are still finding out
how to grow in a new world order."
As for the survey, Morgan points out that the sponsors
surveyed "didn't want to get out of all of their sponsorships. In 12 years [at
HSBC] I was always looking to fine-tune. If business objectives weren't being
met, there were some sponsorships that we were looking to curtail. But I'd be
disappointed if they [the survey respondents] were coming out of good sponsorships
because they didn't know how to activate them properly. Provided there has been
a process of due diligence about seeking the right partnerships, there's no
reason why they can't exist for quite a long time."
Once those criteria are met, Morgan says, "it's incumbent on
the sponsor to extract value" from the deal. With the exception of occasions
when HSBC sought, for example, to terminate sponsorship deals in Latin America
because it was selling its businesses in that market, "I'm confident that the HSBC
sponsorship portfolio was very targeted to business objectives; it would never
have been approved, if not.
"The message I would give to companies is, if your business
objectives are clear and the investment can be matched with strong activation,
then those business objectives will be reached. So many firms are, in the end,
commodity businesses. To be differentiated is quite difficult. Sponsorship can provide
a real differentiation, if activated properly."
So, it's not the association with sport that is making
sponsors wary, Morgan insists, pointing out that data from sport fanbases is
"quite compelling" for most brands. Instead, he says, "How you reach those people
and reach them meaningfully is the bit we're all going through." Such is the
pace of change, he says, that, "If we'd said six or seven years ago that it
would be possible to watch a box set when you wanted, we wouldn't have been
believed. Now Netflix is the standard for how a lot of people watch TV."
Good sponsorship "answers business needs," Morgan says,
returning to his theme. "That's why they're doing it. A financial services company
will do it for different reasons from a soft drink manufacturer. But whatever good
sponsors embrace, they need to speak the language of the fan not to the fan.
That requires – especially in more austere companies – quite a leap of faith. You
have to translate yourself in order to be appropriate, in order to matter."
Austere companies – like banks, I ask? "All banks, all financial
services have a fiduciary duty to be gatekeepers of people's wealth," Morgan
agrees, "and to do that they have to speak a language. But when they adopt a sponsorship,
they have to convert the conversation in a way that will resonate, but will also
protect what they are. At HSBC, we played the role of international economic
thought leader, so we would never be frivolous. But a beer brand, or a soft drink
or a food brand can have a lot more natural fun with the eco-system. I want to
see more sponsors getting under the skin of the associations they've made. It doesn't
cost a lot; it's just a mindset."
What about external factors, like the European Union
clamping down on corporate hospitality as part of a drive to root out bribery
and, in the UK and Europe, Brexit? Could these also be depressing the
sponsorship market? "Business hates uncertainty," is Morgan's reply. "Things
like Brexit will always have an impact, and certainly for financial services,
hospitality compliance and regulations make it harder if your primary [reason
for sponsoring] was client entertainment. But you still have the means of talking
to real people in more colourful language [through sponsorship]"
Yet, he continues, "If you like, there's been a mini perfect
storm that has created uncertainty. But I genuinely believe it's temporary.
People love sport. We all know it crosses boundaries, borders, religions. This
blending of cause-related marketing, community marketing, putting back into
communities and championing societal issues makes sport a wonderful beacon. It
provides a huge opportunity for companies to talk the language of fans.
"You've always got the big sports that command massive TV
and audiences, and they will always be attractive to companies that can afford
that reach. But there are enormous opportunities for smaller sports and rights-holders
by harnessing this cause-related approach, for example through community sport
that impacts children. There are wonderful ways of targeting demographics and
families with more data than ever before. I've never viewed sponsorship as
primarily a media buy. It's a context for brands to humanise themselves."
---
What brands want to associate with is people's passion. It's really difficult for a utility to tell people to love gas and electricity
---
The week after we spoke, Morgan was due to attend the
SportAccord convention in Bangkok. There, he said, he would urge rights-holders
to "be brave and think about the language they use. Maybe they can't compete
with Formula 1 or the NFL, but they need to think about who is passionate about
them: big chunks of societies. What brands want to associate with is people's
passion. It's really difficult for a utility to tell people to love gas and electricity."
But much easier if they associate themselves with a sport or event about which
people are already passionate, is the unspoken corollary to his assertion.
The sponsorship industry has "come on a long way" in the 25
years in which he has been involved, Morgan continues, adding: "Rights-holders
are employing marketing specialists and becoming more professional. In any
relationship, it needs to be clear from the outset what the objectives are;
they need to be set together. The best sponsorships are when there's a symbiosis
between rights-holder and sponsor, and everyone's clear what 'good' looks like.
The worst rights-holders are those that don't listen to and respect their sponsors,
and the worst sponsors are those that don't listen to and respect their
rights-holders."
Fair enough, and I'm sure no one would argue with that, but let's take the examples of the two sports with which Morgan is arguably most familiar, through his time at HSBC: golf and rugby union. HSBC sponsors numerous golf events, including the World Golf Championships – HSBC Champions in China, the (British) Open Championship and the HSBC Women's World Championship in Singapore, and is also the title sponsor of rugby's annual HSBC Sevens World Series.
We're speaking the day after the finale of this year's Masters in Augusta, Georgia, during which Morgan has posted on social media: "The Masters rarely disappoints – and along with the Ryder Cup and The Open – presents the best showcase for men's golf globally and a reminder to the naysayers, that interest in golf remains strong and that the sheer brilliance of the competitors on the course is simply jaw-dropping.
"The 2018 tournament has been no exception so far – and the
leaderboard is littered with a litany of star names at the half -way stage.
Tiger Woods may well not be measured up for the Green Jacket this year – but
the fact he is back in the hunt is so good for golf."
Which naysayers is Morgan referring to, I ask? And is Tiger
Woods really good for golf? The same Tiger Woods who became as well-known for
his extramarital affairs and his arrest for driving under the influence of
drink and drugs as for his golfing ability? Should he remain a figurehead and
role model? Why would a sponsor welcome his return to the sport's headlines?
"Golf has a number of challenges which the game is working on,"
Morgan says. "There are various issues in the professional sport: pace of play,
the ball distance debate, the environmental challenge, with courses having to
get bigger. There are issues this sport needs to resolve, and it is going
through the process. Many things about golf are very compelling. The Ryder Cup is
playing a massive role as a bridge between stroke-play golf [the established format
for most championships] and attracting the sports fan. Fifty-five million
people play golf and TV audiences are good."
As for Woods, while he has slipped down the rankings in
recent years, "He certainly was the game's greatest player," Morgan says.
"There's something mesmerising about him. Is the story over or is there more to
come? Humans have an attraction to flawed genius; to err is human. I also think
there is something about our fallen heroes returning… We want to salute and
honour them. Golf is desperate to honour him, and the best way is on the golf
course."
Addressing the issue of why sponsors should continue to
associate their brands with Woods, Morgan continues: "There is always a risk –
personal endorsements come with risk, because human beings can fail. To
identify with humanity is what sponsorship is all about. If I were representing
a brand I would look at Woods as an interesting challenge. If I was working for,
say, a Chinese brand that identified that the demographic of golfers in China was
compelling, I might look at Woods to do some work for me now. We forgive our
heroes – providing they atone."
The European Tour has been experimenting with a new,
shortened and faster format of the game, GolfSixes, following in the footsteps
of cricket's Twenty20 format, which is regarded as having succeeded in its bid
to appeal to younger (potential) viewers and participants. "I admire what Keith
Pelley [the tour's chief executive] has done," Morgan says. "Pelley is not against
shaking things up and trying things. Different formats do need to be tried. I'm
not a golf expert, so I don't know if it's right, but I am convinced there is enough
stroke play."
Rugby union has had its own difficulties in attracting
sponsors in recent years. The northern hemisphere's Six Nations Championship was
forced to agree a single-year deal with NatWest, a subsidiary of long-time
partner Royal Bank of Scotland, for this season after RBS declined to renew and
no long-term successor could be found. Meanwhile the European Rugby Champions
Cup and Challenge Cup, the continent's top club competitions, have struggled to
complete their target of five top-tier sponsors (only two, Heineken and Turkish
Airlines have been signed), having decided to embrace a multi-sponsor
structure, as opposed to a single title sponsor, as was the case for the
preceding Heineken Cup and Amlin Challenge Cup competitions.
---
What is a good media buy? In the old days you could measure that, but now the metrics have changed and we're going through a process of understanding the new metric order
---
However, Morgan plays down rugby's troubles, saying: "I
don't think it's a rugby-specific problem. You only have to look at the Rugby
World Cup [spectator and TV viewing] numbers, along with sevens and the Six Nations.
It comes down not so much to the product of rugby as to big-ticket sports. What
is good? What is a good media buy? In the old days you could measure that, but now
the metrics have changed and we're going through a process of understanding the
new metric order.
"I genuinely don't think rugby will suffer for too long, but
it may be suffering from uncertainty at the moment. It's got to be packaged properly
with the sponsors' objectives in mind. There is great contention in the English
club system over relegation and promotion."
Rugby union has only been a fully professional sport since
1995, and Morgan added: "Sports being sustainable takes a while. Sports like
soccer, golf and Formula 1 have been professional for a long time. I feel
there's probably a reckoning that is still happening. But if it can demonstrate
product value, it's very compelling."
Morgan, who was born in 1971 in London, where he still lives, is one of a generation of practitioners whose entire career has been in sponsorship. Indeed, he claims to have never wanted to do anything else, having first been seduced by the power of branding in sport through his mother, a tennis fan who worked in a sports shop and who was his introduction to the intoxicating figure of Bjorn Borg, the Swedish tennis superstar of the 1970s, with his Donnay rackets and Fila clothing.
"I had a very tennis-playing mother and a father who was
Welsh and mad keen on rugby and cricket, which I played at school," Morgan
says. "I knew from a young age I wanted to be involved in the sports business. I
was taken with Borg, this beautiful, blonde, mercurial tennis player, seeing the
adoration of the fans and the merchandising around him." In 2009 and 2010, Borg
was an ambassador for HSBC and Morgan worked directly with his former hero, who
he describes as "one of the poster children of the sports marketing
revolution," and yet, "so down to earth, for a god of sport."
Having worked for local radio and newspapers while at
university, Morgan landed his first job with Biss Lancaster, the UK public
relations agency whose brand name disappeared in 2010 after a merger, working
on sponsorship accounts including those of Wilson sporting goods and British
Steel which was "huge in South Wales where my family came from." As a result,
he says, he "got to know a number of the Welsh rugby team," and eventually left
Biss Lancaster to represent two of the team members, Robert Jones and Tony
Clement. "I didn't make much money for them, but I did meet a lot of sponsors,"
he says, which led to more agency jobs with Hill & Knowlton (twice) and Craigie
Taylor, before he joined HSBC.
At HSBC he sat through thousands of presentations by rights-holders seeking sponsorship deals with the bank. So, based on that experience, what would be his number-one tip to them, I ask? "I think the most compelling piece of information in any sponsorship pitch is the real data of the fan demographic," he replies. "Don't hide it away in the appendix. It should be on page one or two. Who are your fans, what do they like? Too often people would show a showreel of a goal being scored to convey the emotion – and that's great. The emotion is important. But good sponsorship is a very cold science, fused with warm activation. Choosing what to sponsor is a cold, analytical process. Then the activation creates the success."
---
The best sponsors think like fans, and the worst don't. It's about understanding the fan mindset
---
As for sponsors, the best are "those who put fans at the heart
of their activation," he continues. "If you do that, you've got half a chance
of them warming to you." He cites the British and Irish Lions rugby tour of
South Africa in 2009, for which HSBC was the jersey sponsor and at which it
handed out song books to the travelling Lions fans. "If you know that the travelling
fan likes a sing-song, and you give them the ability to sing a song, then you're
going to create warmth," he says. "The best sponsors think like fans, and the worst
don't. It's about understanding the fan mindset. Study them with the information
available. Even better, go and talk to them. I've spent a lot of time speaking
to fans. In Gloucester [a hotbed of English rugby], I got a sense of what the
Lions was all about before the Lions deal was done. I don't think sponsors are
always good at talking to fans."
It hardly needs to be pointed out that a head of sponsorship at a major multinational company is in a very powerful position, and as such is certain to be the recipient of waves of flattery at best ("When I went into the sports marketing world, people suddenly laughed at all my jokes," is how Morgan puts it). At worst, there is obvious potential for offers of, let's say, inducements. So how did Morgan stay grounded and avoid the inducements when working for HSBC, I ask?
"In our little world, it was a position of great privilege,"
Morgan admits. "My grounding came from HSBC. My job was simply to 'help the war
effort'. People said, 'get on with the job'. My grounding came from within. I
knew if I messed up, I'd be out on my ear. The inducements used to be really bad,
but one of the great strengths in the increase in regulation and compliance is
it makes it almost impossible [for abuse to take place]."
So far, Morgan doesn't regret his decision (a surprise to some) to leave this gilded world of privilege to strike out on his own. "It's wonderful for me, having left after 12 years. I feel like I've rejoined the world," he says. "I get to see my kids. I used to take 25 long-haul flights a year. But you can't do the same job for ever. Also, as you can tell from my enthusiasm, I believe there's a real opportunity for us all in the marketing industry, and sponsorship is one of the key pillars.
"I want to help rights holders understand the mindset of
sponsors, and also how marketing partnerships could be the means of helping
develop business. There is quite a lot of waffle [in the sponsorship industry],
but it comes down to clarity of objectives. Sponsorship investment has to sit
somewhere within a budget, but not only in marketing. It's also about other
things like staff engagement, which involves human resources. You need interaction
with different business centres in a company to achieve holistic sponsorship."
What, then, is the purpose of sponsorship? What is it actually for? "The benefit of sponsorship investment always has been, and especially now and in future will be, that it allows brands to communicate with customers in a more human way," Morgan says. "It's not exclusive to sport. Anything that matters to people is a way of getting to people.
"The great advantage to marketers is you can now track who they are. If it's clear what people's passions are, you can measure them. The evolution and revolution of new media and new channels means that, on one level, advertising is changing and the means of advertising is changing. That means that the way we, the fans, are being hit by messages is changing.
"I predict a golden age of sponsorship once we've negotiated
what those channels are."