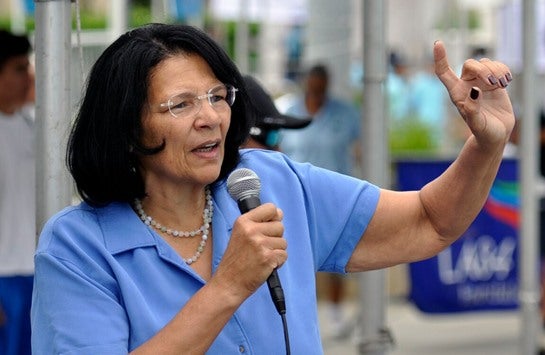 The defining moment of Anita DeFrantz's life as an athlete and as an activist was the 1980 Olympics in Moscow, which she should have competed in (she had already been to the 1976 games in Montreal, rowing in the US eight that won a bronze medal, in the first Olympics to admit women to the rowing competition).
Instead, she was forced to watch the Moscow games at home on
TV, thanks to the US boycott prompted by the invasion of Afghanistan.
In her new book, which comes properly to life when she
discusses the ban and her (ultimately unsuccessful) opposition to it as a recently-qualified
lawyer and representative of the US team (including pleading the team's case in
front of US president Jimmy Carter), she says something interesting.
---
I'm black, so my experience isn't America first, last, and always. I don't think there's any other country I'd like to live in, but I don't think this country is always right
---
Quoting from an interview she gave to the New York Times at
the time, she writes: "They [those supporting the boycott] seem to think the
president must be right. I'm black, so my experience isn't America first, last,
and always. I don't think there's any other country I'd like to live in, but I
don't think this country is always right. America didn't help me a lot, but I'm
proud America taught me to do it myself. If you're going to make it here, you
make it on your own. I don't like being told what I must give up."
This is something you don't hear every day from the land of U!-S!-A!, U!-S!-A!, and from the mouth of someone who represented her country in one Olympic Games and still resents that she missed out on the chance to do so in a second. It also resonates loudly as black NFL players continue their controversial 'taking the knee' protests against police brutality.
What does she mean by it? Does she feel alienated from her
own country because of the colour of her skin? "I'm black," she replies. "It's
never alienated me, but it's always given me the knowledge of where the country
is weak, and not fulfilling its goals. Lies were told to people. After the
Civil War, men and women were offered their freedom, along with 40 acres and a
mule. Did we get them? Not yet.
"I feel very proud to be a US citizen; proud of what it
meant to the world before we became an aggressor nation. I'm talking about
[former US president] Bush junior (I call him 'Shrub'). The only apparent plan
he had was to do what his father did not. He changed our standing in the world.
And now here we come with another that's changing our standing in the world."
This is a clear reference to the incumbent US president, but
DeFrantz won't reveal anything more about her view of the divisive Donald
Trump, beyond acknowledging that she had a meeting with him and IOC president
Thomas Bach over Los Angeles' plans for hosting the 2028 Olympics, and adding:
"We had a delegation to the White House. We agreed [not to speak about it].
It's hard for me to know what he's doing. It's challenging to follow his goals
from day to day. I will say that he has been on the right path in supporting
the Olympic movement. I don't want to jinx it, but I'm grateful for that."
Returning to her relationship with her home country, she says: "I'm proud of the good things we've done, and I want us to do more good. I also know the lack of follow-through that plagues us." 'Lack of follow-through?', I query. "Forty acres and a mule," she replies. "The things we're learning about the harassment of women…
I wasn't going to raise this, but as she has done so, I
wonder whether she's seen evidence of sexual harassment in Olympic circles, as
only the fifth-ever female IOC member, when she was elected in 1986 at the age
of 34 (young by IOC standards). Is she aware of other cases, in addition to the
allegations against Alex Gilady, the veteran IOC member from Israel, who has
taken a temporary leave of absence from his role as president of Keshet, the
Israeli television network that he co-founded, after a series of historical
sexual assault allegations were levelled at him?
Gilady, who denies all allegations, said in a statement last
month: "I am stepping aside temporarily from my job at Keshet until my
innocence will be proven. I will fight to prove my innocence of these baseless
accusations."
This is, of course, explosive territory, given that DeFrantz's
fellow IOC members are still predominantly male and mainly powerful,
internationally-known figures in sport, business and politics, and she
navigates it carefully. "We are truly international, and norms vary," she says.
"When we come together for the Olympics, it's based on mutual respect and fair
play, and we expect IOC members to recognise that.
"In my years [in the IOC], much of it has been given over to
making sure women are recognised as human beings, with much to give. We've come
a long way and we're working to that end. One time I was giving a presentation,
and someone said to me, 'Anita, you have to be patient'. Well, there's a cartoon
where two vultures are sitting on a limb and one says to the other – I don't
like to swear, but he says – 'Patience, my ass. I'm gonna kill me something!'
"We've been waiting since 772 BC [the date on which the
ancient Greek Olympics are thought to have begun], and we've waited long
enough. One of the reasons women didn't want their daughters to be part of international
sport was that they 'wouldn't come back as they left'. Coaches have not always been
the most ethical."
One of the chapters of DeFrantz's book is entitled 'The
Activist Athlete' and she also refers to her family, which has a long history
of civil rights activity, as the "fighting DeFrantz family." We're just about
20 minutes into the interview and we've already touched on Olympic politics,
patriotism and police brutality, the actions of three US presidents, black and
women's rights and sexual harassment. So is that how she sees herself, I ask: as
an activist and a fighter?
---
I don't fight, I convince. To me it's a matter of helping people come to the obvious conclusion that sport belongs to all, not just one sex of the species
---
"I don't fight, I convince," she replies. "To me it's a
matter of helping people come to the obvious conclusion that sport belongs to
all, not just one sex of the species. It's something we all enjoy. Everyone
should have access to sport. I was a latecomer, although my father wanted my
brother and me to be the first African Americans on the swim team. I still
swim. In order to row, you have to swim."
We'll return to this, but first I want to ask her: does she
still feel bitter about her (and the US team's) exclusion from the 1980
Olympics at the behest of the president and Congress, backed by a servile US
Olympic Committee? "Absolutely," she responds, without hesitation. "They took
from us something that can never be given back. That's what made it so vicious,
to take it from us for no reason. I attended a meeting of the joint chiefs of
staff, and asked: 'Will one life be spared [if the team didn't compete]? They
couldn't say that. Not one penny of federal funding went into our training, but
once the USOC made its decision…"
Given the lack of federal funding, the rowers considered defying their government and competing anyway, but were stymied by a US Rowing official who refused to supply the required team list for the Russian authorities. DeFrantz then spearheaded a lawsuit against the USOC, but it was dismissed in court. "In 1980 those who wanted to go should have had a right to go," she says, adding: "I remember saying something unkind about the people who wouldn't send me the list of team members: 'It's a medical miracle that they can walk without a spine'."
As for NFL players taking the knee, this has, of course,
caused an almighty furore in DeFrantz's home country, with critics (including
Trump) lashing out at the players concerned over their supposed disrespect
towards the US flag. Bemused by the reaction, DeFrantz says: "It has to do with
the national anthem, not the flag. They [the players] respect the flag. To me,
it's a misunderstanding. They were making a point that things are not right,
and until things are right they will continue.
"They're saying, 'we're playing to entertain you, but people
like us are being abused on the street'. Most owners got it. They're kneeling,
not desecrating the flag, reminding people things aren't right. We need to work
together to figure out why police will automatically shoot when they see a skin
colour."
We're speaking in a hotel lobby in Lausanne just two days
after the International Olympic Committee's landmark decision that selected
'clean' Russian athletes can compete in February's winter Olympic Games in
PyeongChang, but only under the name 'Olympic Athlete from Russia', wearing
uniforms bearing this name, and competing under the Olympic flag, with the
Olympic anthem (not the Russian one) to be played at any ceremony.
It's hard not to see this as the newest link in a chain of
Olympic geo-political convulsions stretching back to Moscow 1980 and beyond.
DeFrantz is a member of the IOC's executive board that made the decision (by
consensus, according to Bach, not majority vote). That decision came after some
Russian officials alleged that there was a western conspiracy at work, led by
USA, to weaken the Russian team at the games and interfere with Russian
presidential elections next year.
Nevertheless, I ask, does DeFrantz have sympathy with those
Russian athletes that will not be able to compete after getting caught up in
the doping conspiracy that led to the sanction – perhaps, having even been forced
against their will, or without their knowledge, to be part of the programme?
"Oh, I see where you're going with this," she replies, after
a pause, having evidently expected a question about why the IOC didn't impose a
blanket ban on the Russian team, instead of allowing some Russian athletes to
compete, albeit as neutrals, in the wake of the state-supported doping scandal
surrounding the 2014 winter Olympics in Sochi.
---
This is not the doing of the US. This is an action of the IOC to make sure that athletes are not robbed of their moment
---
"This is not the doing of the US. This is an action of the IOC
to make sure that athletes are not robbed of their moment. It's an action for
all those nations whose athletes competed clean, an opportunity for them to seek
and gain redemption."
Reflecting on the lengthy history of athletes being denied
the opportunity to qualify or win medals as a result of doping by their rivals,
she adds: "We used to say the East Germans got different jelly beans than other
athletes. We [the IOC] have the responsibility to make sure the games endure
and flourish. Our promise is that the athletes will have safe and fair
competition at the games, or why else do all the work? We found unusual support
systems for one team in Sochi that made it absolutely unfair for competitors.
It was incumbent on us to take action."
In her book, DeFrantz writes that as a child she was shown
movies about the atomic bombs that were dropped on Hiroshima and Nagasaki and
told by her parents to run to her grandparents' house "if something bad
happened and we were not together." The assumption was that Russia would be the
cause of such an incident, but, she writes, "even then I remember thinking that
the standoff between the United States and the Soviet Union could be solved
through sports. Both countries would gather their best athletes and compete.
Whichever country won the most contests would be the winner – and nobody would
have to die in the process."
But surely, I object, in this case the mistrust and
antagonism is, if anything, being exacerbated by sport. Does she still see
sport as a means of making peace? "I am a true believer," she replies,
expanding on an idealised vision she describes in the book of the Olympic
Village as a microcosm of the world, in which athletes of all nations learn to
live peacefully with each other, even though they are direct rivals for a
limited number of prizes: medals. "It's the respect we show one another in the village,"
she says. "We all know that there are not enough medals to go around, but all
have to believe they have a path to a medal."
DeFrantz was born in Philadelphia in 1952, the daughter of a teacher mother and a social worker and political activist father, and brought up in Indiana, described by her father (not as a compliment), as the "northern-most southern state in the country." As a child of just three years old, in what she describes in the book as "one of the formative events of my childhood," she was driven with her brother through the snow to see a sign. Her father "said something like, 'We know you kids are really young, but we want you to know that you were here at this
place in this state – in this country – that has this sign up'."
The sign said: 'Don't be here after dark – nigger'. No
wonder she's ambivalent about her country.
In the book, she continues: "Now I can see that it planted a
seed in my personal constitution that ultimately led me to spend the rest of my
life speaking up at the first blush of injustice."
The Franco-German name DeFrantz derives from the much-disputed region of Alsace, she recently discovered, and belonged to a slave owner, her great-great grandfather, who landed in Philadelphia before moving south to Louisiana and having a child with one of his female slaves. As a result, she regards herself as part European, as well as part African.
Her own introduction to serious competitive sport came when, having been a good swimmer in her childhood, she was singled out as an athletic prospect at Connecticut College, where she had gone in 1970 to study music, philosophy and government, writing an honours thesis entitled 'The Philosophical Value in the Plurality of Ideas'. "I was 5 feet 11, with legs a little too long for my frame, and fit," she writes in her book (she had been playing basketball during her first year at college), and she was told by the college rowing coach that she would be "perfect" for the sport, albeit she saw it as "an outlier of a sport if ever there was one."
After graduating in 1974, and now hooked on rowing, she went
to law school at the University of Pennsylvania, as she trained in a bid to
make the US team for the 1976 Olympics in Montreal. Law would offer her an
avenue to remedy the injustice she had already seen in her life, she writes.
"Besides, my parents always said that I was very judgmental and suggested that
I should take advantage of rendering opinions by becoming a lawyer or a judge."
In 1981, her dream of competing at a second Olympics over,
she was approached to work for the organising committee of the 1984 Olympics in
Los Angeles (history would repeat itself when she was also one of the key
figures in the city's bid to host first the 2024 and then the 2028 Olympics).
That led to what ultimately became her life's work, running the LA 84
Foundation, set up with the profits of the games to support more than 2,000
youth sports organisations in the city.
---
I had a responsibility, especially, to bring life experiences: the fact I did not have access to sport until college; the fact that's plain wrong; to make sure women throughout the world would have access
---
In 1986, she was elected an IOC member, the first US woman to join, and also the first African-American. What responsibility did this place on her, I ask? "Back then, there was not an athletes group," she replies. "This was a very young member who could ask, 'how does this work?' and get a sense of different views. My thesis at college – that really has been the way I fitted perfectly into learning to be an IOC member, learning how maybe different views work together instead of either/or. I had a responsibility, especially, to bring life experiences: the fact I did not have access to sport until college; the fact that's plain wrong; to make sure women throughout the world would have access."
How far has the IOC progressed towards the ultimate goal –
or perhaps chimera – of equal representation of men and women in the governance
of sport, a cause very close to her heart, I ask? What still needs to be done
to achieve this? "We're much further along," she replies. "The number is
increasing steadily in the IOC; and on the field of play it's fast approaching
50:50." This is important she says, because athletes – and especially team
captains (she was one herself) – are the potential sports administrators of
tomorrow.
"From 1900 to 1984, about 12,000 women competed in the
games," she continues. "From 1988 until now it's over 34,000 women. That's 34,000
potential women with Olympic experience who could get back to sport. The
international federations don't do enough to round them up."
In February, the IOC will lose one of its rising stars,
DeFrantz's compatriot Angela Ruggiero, who was elected as an athlete member and
whose term comes to an end at the PyeongChang games. It's been suggested that Ruggiero
might subsequently be re-elected as a member in her own right, but, says
DeFrantz, that doesn't look like happening any time soon because, "I'm blocking
her. Now we have only one independent member per country" (Ruggiero is neither
the leader of her national Olympic committee nor of an international federation,
so that pathway to membership is not presently open to her). Rising star or no rising
star, DeFrantz says: "She might have to wait a while. I don't know how long I'll
be useful. If I'm not, it will be time for me to stop taking up space."
The IOC and its members are once again under fire for a perception that they are over-entitled, out of touch and, in some cases, of course, actually corrupt. Has the IOC been active and quick enough in responding to the criticism, I ask? "If we were, there wouldn't be criticisms," DeFrantz replies, bluntly. "But it's [corruption] worldwide and we can't know what's happening everywhere. It takes a moment to be notified and it then takes a few more moments to know what to do."
---
We've made important changes in the bid process and will make more. But it's hard when you have a city that wants to win an election
---
With respect to the latest corruption allegations
surrounding Rio de Janeiro's hosting of last year's Olympics, she says: "We've
made important changes in the bid process and will make more. But it's hard
when you have a city that wants to win an election. We should study the processes
when cities go after World Fairs; we should take a peek at how others decide where
annual meetings should be. We've not done that recently."
Referring her back to that sign, and her resolve to spend her life "speaking up at the first blush of injustice," I ask if she thinks, over 60 years later, that we now live in a more just world. She hesitates, then says: "It would be easy to answer yes because sport is more available than ever: people have more leisure time and there are more structures to provide sporting opportunities. But there is a lot more work to do. Sport is a place where people can learn skills, success and failure, inclusion. They can learn about time: looking back to last season and forward to next season. We still have this agreement about sport. Anyone can talk about sport and have an opinion."
The book contains one major revelation, known to her close
friends and family, but not necessarily to colleagues and fellow IOC members.
She has multiple sclerosis, detected as early as 1989. Why did she tell so few
people? In the book, she writes: "I felt I had enough of a handicap getting
through life as an African-American woman, and I did not want to add another
challenge."
To me she says: "People treat you differently when they think
of you as somehow injured or lesser. I was the only one who could have any
control – although I don't have much control. But I've done OK."
In the book she writes: "At first, I was reluctant to take
medication, which is extraordinarily expensive. Although it was affordable to
me and insurance covered much of the cost, initially I wasn't willing to give
myself that advantage over people who could not afford the medication."
It's evident she has a problem with the concept of
privilege, I suggest, and she agrees, saying: "And in the US, once you hit 65,
the cost is even more dramatic. It hasn't always been easy having IOC privileges.
I used to leave the stipend aside, except what I used; I gave it away to causes
I care about. But I find over time there are more costs. Now I don't have an income
stream, except selling the book, and I do have a lot of expenses. As for flying
first class [a perk available to IOC members on official business], I fly so
much that at some point I think I'm going to go down. So why not go down
comfortably? Planes have become very uncomfortable."
The overwhelming impression of DeFrantz that emerges from 'My Olympic Life' is of someone who, all her life, has taken her responsibilities very, very seriously. It is, in fact, a serious book, written by an apparently seriously principled women. To be honest, I'd been expecting this interview to be hard work. So, this chink in her activist armour is something of a relief.
As the interview develops it transpires that DeFrantz is different from the character in the book: softer, less intimidating. What makes her tick, beyond her Olympic life? Does she still row for pleasure, for instance, despite the MS? "Yes," she says, "I love rowing. It's such a beautiful thing to do, and it doesn't hurt the environment. We put the water back where we got it and the only thing in danger of being injured is our ego."
What makes her laugh? "What makes me laugh is joy in the world, success, people coming together and sharing moments of inspiration," she says. "There is a lot of joy in the world, but also sadness and meanness. Fortunately, we're still able to have joy, share experiences, support one another, so it's all good except for the really bad things.
"I still think it's really bad for someone to steal the results of a competition. To go back to the jelly bean analogy, the brain learns a pathway. Barry Bonds [the baseball star whose career was marred by allegations of steroid abuse] was not just the most powerful. He could stay in the batting box for hours, and you can't do that unless you have support for the muscles. I don't know what the add-on was for the Russian athletes but they went from one gold medal [actually three] in Vancouver to lots of medals in Sochi."
In my research for this interview, I could find no mention of her private life. Is she married? Does she have a partner? Children? "Now I am single," she says. "I used to have 3 million kids in Southern California [those who passed through LA 84 programmes – including Venus and Serena Williams]. I have lots of godchildren. I would have had children, but I did not want to do it alone. So I didn't. It leaves me free to help lots of people. There were guys who came and went; I was almost married twice. It turned out the light at the end of the tunnel was an oncoming train! But I have lots of friends."
My Olympic Life: A Memoir by Anita L. DeFrantz with Josh Young is published by Klipspringer Press.