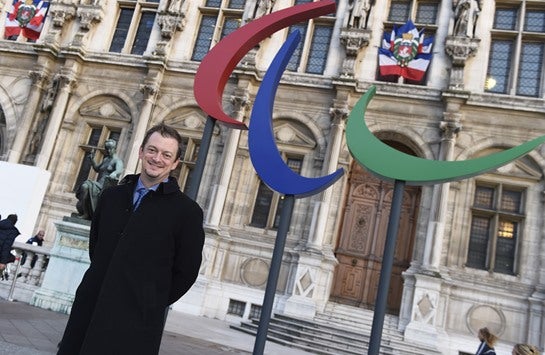 To those accustomed to the barnstorming reign of Sir Philip Craven, the firebrand former president of the International Paralympic Committee, the approach and style of his successor, Brazil's Andrew Parsons, is bound to come as a surprise.
Craven's first brush with the Paralympic hierarchy came when, as an aspiring young international wheelchair basketball player, he was summoned to appear before Sir Ludwig Guttmann, his predecessor as IPC president. In his own words, Craven was accused of "fomenting revolution in the team – I thought the coach was useless," and was subsequently banned for life from playing for Great Britain for further political agitation, albeit the ban was later reversed.
You can't imagine Parsons finding himself in such a predicament. Measured and softly-spoken, he's a career Paralympic administrator who became secretary general of the nascent Brazilian Paralympic Committee aged just 24 (he's still only 41), having identified sports administration as his chosen career as a teenager.
Craven, who became a Paralympic athlete after breaking his spine rock climbing aged 16, approached the job like an old-fashioned trade union leader, an activist and campaigner convinced that right was on his side and prepared to do battle with anyone who dissented. In an interview with Sportcal Insight three years ago, Craven, who was appointed an IOC member in 2003, looked ahead to his retirement (which came in September last year), saying: "Any successor should be themselves. When I was in my 20s I was murder on the [basketball] court. I still am if people see me as a disabled person."
Parsons does not have a disability, or 'impairment', to use his favoured term – a fact that, he says, takes some observers by surprise – and has not, so far, been proposed for membership of the IOC. Craven had a reputation for being prepared to be a pain in the a-s, if that was what was required to achieve what he believed was right. Is Parsons similarly ready to take a hard line? Is he able to be 'murder' in defence of the Paralympic movement?
Speaking on the sidelines of the recent SportAccord convention in Bangkok, Parsons replies: "I think we need strong leadership. I'm not afraid of giving unpopular opinions. We are different people, with different styles, but I'm not afraid to speak up, whether it's to the president of a country, an NPC [national Paralympic committee], an athlete, to anyone. I'm in this position because I believe in the movement. I've been working in the Paralympic movement since I was 21 years old.
---
Some people had issues with the fact I'm not a person with an impairment, and not a former Paralympian. But I have a strong understanding of how to give services
---
"Some people had issues with the fact I'm not a person with an impairment, and not a former Paralympian. But I have a strong understanding of how to give services. We need to speak up in the best interests of the organisation. The approach depends on the personality and situation. There are situations where you need to fight, and situations where you need to go through diplomacy and politics. I'm pragmatic, but I'm also a dreamer for the movement. I do not ignore the context in which we're operating."
Parsons' first 'pragmatic' act as IPC leader, a move of which he is proud, was to agree a new, long-term agreement to ensure that the Paralympic Games, up to and including the 2032 edition, will continue to be held in the same city as the Olympic Games.
The pact built on the existing partnership signed ahead of
the London 2012 Olympics, which was due to run until the end of the 2020 games,
albeit Paris and Los Angeles were already slated to stage the Paralympics
alongside the Olympics in 2024 and 2028, respectively.
The agreement followed a period in which the IOC and IPC had been seen to be at odds over their differing approaches to the Russian doping scandal. As recently as last month, the IPC said that it would not follow in the footsteps of the IOC with an early decision to lift the suspension of the Russian Paralympic Committee. Instead it chose a different path, demanding that Russian authorities "adequately address" the findings of the independent McLaren report, commissioned by the World Anti-Doping Agency. This includes the reinstatement of RUSADA, the Russian anti-doping agency, which is also suspended.
In 2016 the IPC had imposed a blanket ban on Russian athletes competing at the Paralympic Games in Rio de Janeiro in the wake of the scandal. This compared with the IOC's controversial decision to hand to the international federations concerned the decision over which Russian athletes were eligible to compete at the games.
Parsons says: "We signed the agreement, which was a very positive achievement after six months [of his presidency]. It's no secret the relationship between the IOC and IPC was not as good as it could be. After my election I had meetings with [IOC president] Thomas Bach and IOC officials. It was important to get to that agreement because it provides stability for the Paralympic movement to grow."
Last year, Craven claimed to have been the target of hoaxers, suspected to be of Russian origin, who used recordings of his voice to impersonate him in phone calls to various high-profile figures. The IPC subsequently told the UK's Guardian newspaper: "This highlights the lengths people are willing to go to in an attempt to trip up sports administrators in the current period. We told the IOC about it because someone could be attempting to impersonate Thomas Bach."
Parsons says: "There was a little bit of tension in relations in the lead-up to the Rio 2016 decisions on Russia, then there were the prank calls on Sir Philip. We're trying to put this in the past and work from a new perspective. Our new board has been really well received by the IOC. We're trying to co-operate more and be more aligned with the IOC delivery of the games contained in [reform programmes] The New Norm and Agenda 2020. It's so important for the IOC to be our main partner. We must be part of it."
Three years ago, I asked Craven whether he could foresee a time when the Paralympic Games would stand on their own feet, independent of the Olympics (under the present arrangement it has no control, or even say over which city hosts its games, now that it is without a representative among the IOC's membership). Although Craven said, "It's not my objective as president to stand separately [from the Olympics]," I sensed that the notion was tempting to him. At the very least, he welcomed the IPC's move to sell rights for the Sochi 2014 and Rio 2016 Paralympics itself, on behalf on the organising committees, saying: It's always best to take responsibility for, and take the benefits of, what should belong to you."
---
We want people to perceive that the Olympics and Paralympics combined are the biggest event in the world
---
But Parsons chooses instead to dwell on the benefits of the partnership, saying that staging games independently of the IOC is "not something we want. We want people to perceive that the Olympics and Paralympics combined are the biggest event in the world. In London it was clear to everyone everything that the Olympics and Paralympics bring to the table, so that the whole thing was known as London 2012.
"Of course, we would like to think that in future we would have the conditions to go on our own, but we don't see ourselves staging our own games apart from the Olympic Games, which we see as a good opportunity because we have a lot in common with the Olympic movement. We have similar aspirations."
Would the IPC then not like to have the choice of host city so that it could select those cities and countries in which the Paralympic message of inclusion and accessibility would have the most effect, I ask? "Every single country and city in the world have something to improve when it comes to impairments," is Parsons' answer. "Even in Tokyo, where the transport systems are very accessible. The way they perceive people with impairments is always something to improve. In Rio, it was more about accessibility. Tokyo have a lot to learn about accessible hotel rooms. Their standards of a wheelchair-friendly room are very different from the European one."
Parsons also argues that the partnership with the IOC will enable it to increase its commercial revenues, saying: "Through this agreement, we will co-operate more when it comes to sponsorship and broadcasters and so increase revenues. We also want to support NPCs in strengthening their commercial programmes and develop Paralympic branding and what the brand stands for. We need a clearer position for what we offer as a brand to sponsors and broadcasters."
Last year, the European Broadcasting Union, the umbrella
body of public-service broadcasters, agreed a multi-platform media rights deal
with the IPC for coverage of the PyeongChang 2018 and Tokyo 2020 Paralympics. As
was the case for Sochi 2014 and Rio 2016, the agreement was that the EBU would
exploit the media rights for both games in all of its territories, excluding
the UK where free-to-air broadcaster Channel 4 already holds the rights in a
deal done directly with the IPC.
The IPC acted as the exclusive sales agent of the PyeongChang 2018 organising committee, having struck similar agreements with both the Sochi 2014 and Rio 2016 organising committees, and it has also taken on that responsibility for Tokyo 2020, as well as handling production, for which it has contracted Olympic Broadcasting Services, the International Olympic Committee's host broadcast arm. Taking control of its rights a step further, it appeared that the IPC was set to take full possession of broadcast and production rights for the Paralympic Summer Games beginning with Paris 2024, following a pilot programme for Tokyo 2020.
However, asked to confirm that the IPC would take all of its rights in-house for the 2024 games onwards, Parsons responds cautiously, saying that it has not ruled out another deal with the EBU and pointing out that "operating in combination" with the IOC over rights sales "has been successful." He says: "Let's see with the new deal with the IOC how it will go after Tokyo. For LA 2028, we need a breakthrough with the US market. We still have a lot to do to develop our presence there. With London 2012 there was no live broadcasting of the Paralympics [in USA] at all, and they still have a long way to go."
The IPC, Parsons says, also sees digital and social media as "a new way of generating interactions with sport," adding: "Younger generations don't watch TV in the same way. They want different experiences from sport. It's an area where we still have to improve our presence in sport. We have to come up with new, creative ways to interact. We also will have a stronger presence on the [IOC's] Olympic Channel. We already contribute content, but also the Olympic Channel production team is processing a lot of content on Paralympic sport."
As for sponsorship, underlining further the benefits of the IOC partnership, the IPC has a line-up of six worldwide Paralympic partners, five of which (Atos, Panasonic, Samsung, Toyota and Visa) are also top-tier 'TOP' Olympic partners, with just one, Ottobock, the prosthetics and orthotics supplier, sponsoring the IPC independently of an Olympic relationship.
However, Parsons says: "We expect to announce some new sponsors in the next few months, top-tier partners in two different categories." The new agreement with the IOC, Parsons claims, "will change some of the dynamics. We will go together to the TOPs, not only in terms of revenue, but also activation. By increasing our relations with the TOPs, we increase our reach globally."
The bane of the Paralympic Games has been the complex and emotive issue of classification of impairments, and Parsons announced shortly after his election that he wanted to introduce a new, more easily understood classification system for the various classes of impairment. His aim, he says is to "professionalise" the classification system – even though he admits that it is dependent on the work of a network of volunteers whom the IPC could not afford to pay.
---
Classification is unique to the Paralympic movement and the negative part of that is you can't benchmark it with any other sport
---
Parsons continues: "Classification is unique to the Paralympic movement and the negative part of that is you can't benchmark it with any other sport. It sets the parameters for athletes to develop. We still have volunteers as classifiers in many sports, and it works sport by sport, so you need a large base of classifiers around the world, and to standardise, so you don't have different results. It's not a process we will resolve in four years."
He draws a parallel with the anti-doping movement, saying that there have been calls for the IPC to develop an independent "external body like WADA [the World Anti-Doping Agency]" to handle classification. "We need a lot of resources," he continues. "I do think we need to professionalise; it can damage our reputation in the same way as doping. It's also about how we communicate to the external world, including governments, sponsors, the media and broadcasters. We want people to be confident that the system is still fit for purpose."
Parsons denies that controversies over the (mis)classification of individual athletes are an inevitability in Paralympic sport, saying: "For example, in PyeongChang we didn't have any issues, and nothing major in the lead-up to Rio. We always have the impression that when people don't understand the rules, it's easy to blame the classification. It's a very good excuse We need to be as transparent as possible, and try to simplify the process to make it really reliable and bring technology into the process. The only way to minimise human error is through research."
Born in Rio de Janeiro in 1977, Parsons was, he says, "always sport-crazy. Being born in Brazil, football was a big part of my life and I had the aspiration to be a football player, but it became clear aged 14 or 15 that was not going to be the case." He also took part in other sports, including BMX, cycling, equestrianism, tennis, volleyball, handball, basketball and table tennis, he says, but "when it became clear I was not going to be an athlete, I still wanted to be involved in sport."
Parsons studied communications at university, having been advised that it could offer a way into sport, and subsequently worked in basketball and judo before starting an internship with the Brazilian Paralympic Committee. "After a few weeks, I decided it was my place in sport," he says. "The Paralympic movement was still not very relevant in Brazil, meaning that I was part of a sport movement that could clearly change something in society: there are 25 million people with impairments in Brazil. From a communications perspective, it was the challenge of communicating something unknown to the major part of Brazilian society, doing something meaningful for sport in a challenging situation. Also, the beauty of my experience with Paralympic athletes is knowing their sport is how they face life. That was an inspiration for me, and still is."
In 2001, four years after joining as an intern, Parsons was appointed secretary general of the Brazilian Paralympic Committee (which at the age of just 24 was "quite a challenge," he says), and in 2009 he became its president. Upon his election as only the IPC's third president last year, after a single round of voting in which he saw off rival candidates Canada's Patrick Jarvis, Denmark's John Petersson and China's Haidi Zhang, Parsons paid tribute to Craven, calling him a "legend," "mentor," "an example" and an "absolute colossus."
Asked what Craven's legacy will be, Parsons answers without hesitation: "He transformed or led the transformation of a disability organisation to be one of the top sport organisations in the world. That's a hell of a legacy already. Transforming it into a sport organisation was key. It's still difficult to measure [Craven's legacy]. We will still be measuring it for years. When it was founded in 1989, we were organised by different disability groups, and he transformed the structure to reflect a sport organisation.
"His biggest legacy is making it a sport movement, and a global movement. When Philip was elected in 2001, there were about 20 staff. Now there are more than 100 staff helping NPCs to deliver Paralympic sport on a daily basis. When he was elected, the IPC was an organisation we [NPCs] used to deal with only in the lead-up to the games. Now we deal with it on a daily basis. We now have sponsors that are IPC sponsors but also deal with groups of NPCs, like Allianz and Toyota."
---
We now have a strong product in the games, but we need to strengthen our means of delivery
---
Comparing his own approach again, Parsons says: "I will have some different focuses because I have a different background, but he will always be an inspiration to me. I will focus a bit more on membership development. We now have a strong product in the games, but we need to strengthen our means of delivery."
And the IPC's standing in the IOC? Does the IPC need direct representation in the IOC membership to ensure its voice is heard? "There is no IPC member directly representing us," Parsons admits. "It's been the case in the past that the president of the IPC was always an IOC member. I still have to discuss this with Thomas Bach. But it's more important to work across the whole membership to strengthen the presence of Paralympic sport in the games. The aspirations of the movement are something every member should take into account."
What does the Paralympic brand stand for, I ask? "We are a transparent, open, democratic organisation in the causes we support, and the organisations we're involved with," Parsons replies. "We're not focusing only on the top 15 or 20 countries, we're an organisation for all. For sponsors, it's good that they see we're an organisation of good governance. We don't just want people thinking about Paralympic sport every two or every four years.
"It has a lot to do with engaging with the youth. New generations don't only care about what you do, but how you do it. How do you communicate with them? How can you be relevant to that generation, the next generation of consumers? We need to be able to communicate with them, they need to see the IPC as relevant."
This ambition will not involve rebranding, Parsons says, but "better strategies to promote the brand, making it more known, people understanding what the Paralympic movement is about, to be perceived as positive, creative, innovative, diverse; making a better world by bringing people together. Young people don't care about traditional sports structures; they want sport to mean something to the world."
So what is Paralympic sport for? "First, it's a sport, as in any other sport movement," Parsons says. "We don't have an identity crisis . We are about elite sport, but we're a movement that wants to change the lives of people with an impairment. But in doing that, we want to change the world. Never in the history of mankind was diversity so needed. Go to any portal and you'll see that the need for change is evident. We play a part in that through sport, and that's why I think we can contribute to changing perceptions."